Unless you grew up in Southern California, it is hard to explain the urban sprawl that we live in.  Driving on any freeway or large road, you might not even notice when you leave and enter a new city multiple times.  Thus, even though I have lived here all of my life, when I noticed that many new restaurants and shops were opening in the city of Brea, I had to literally look it up on a map!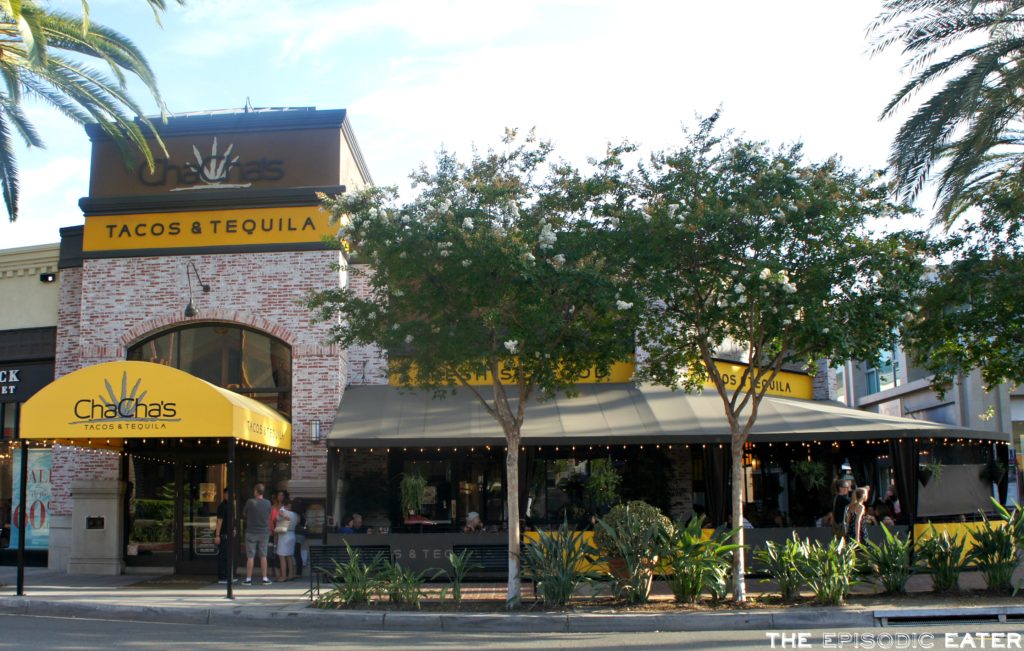 The revitalization of downtown Brea has made it a destination for new restaurants, and Cha Cha's Latin Kitchen is one of those that popped up almost 6 years ago, while I was living in Nashville.  I was so happy to get an invitation to try out the restaurant and then even more ecstatic when I found it was a preview for their new Tamale Thursdays!!!
Each week, Chef Joe will create a selection of seasonal tamales from ingredients founds at the farmers' market.  After 5pm, you can add an award-Winning classic margarita for just $5.  Sounds like a winning combination to me!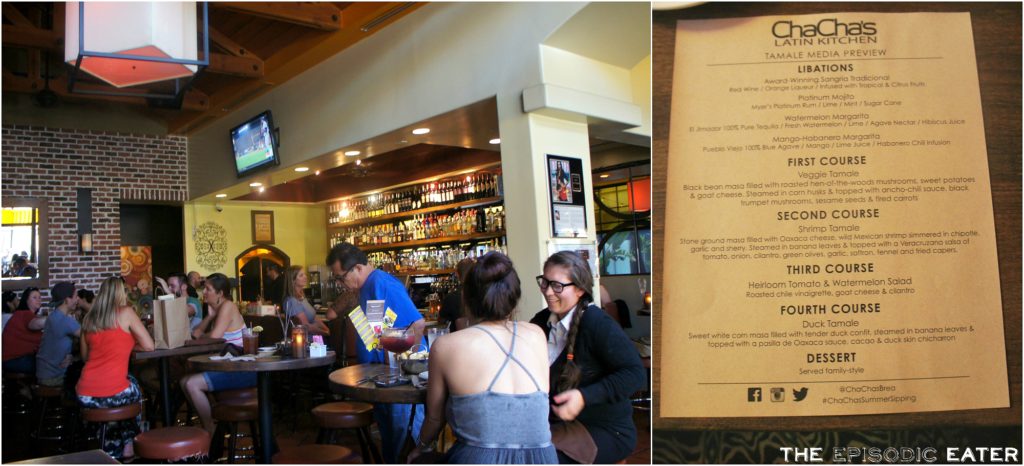 Do you see that menu?  Four courses, three of them tamales…  Get ready for some serious eye candy. 🙂  First, we began with some…
Guacamole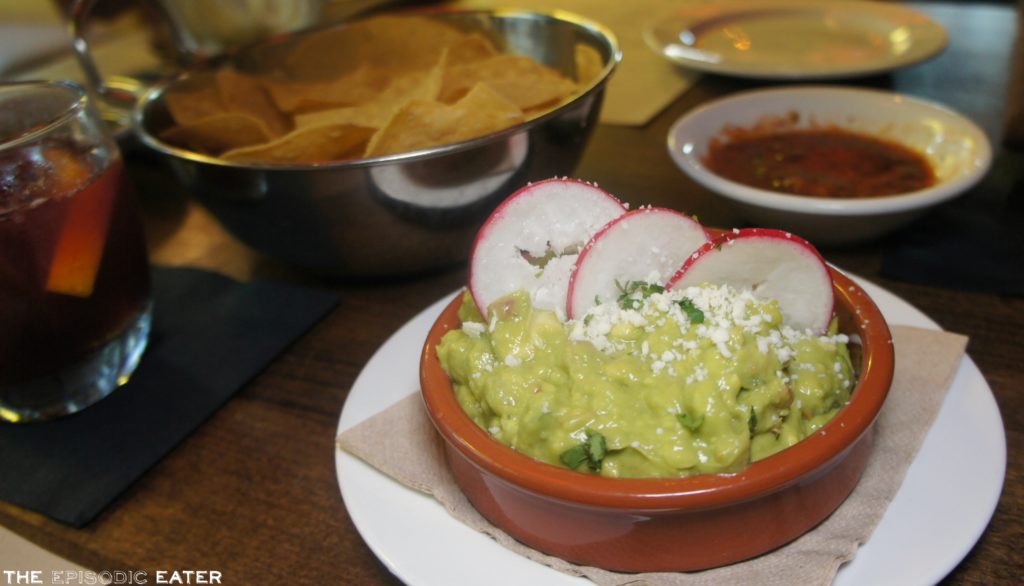 I am picky about my guacamole, but this certainly passes the test.  Also, I should mention that the tortilla chips go through quality control by the owner himself.  If he thinks that a fresh batch is not up to par, then they don't make it to the customer's table.
Now, to the menu!
Award-Winning Sangria 
Tradicional
Red wine / Orange Liqueur / Infused with Tropical & Citrus Fruits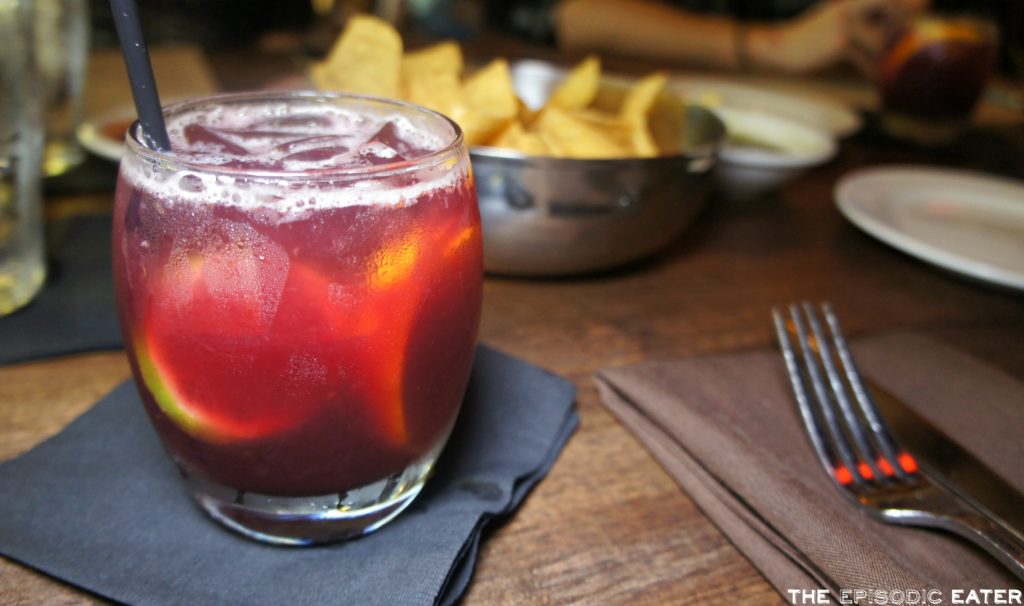 Sangria was the first drink I had on my 21st birthday at the now-closed Asia de Cuba.  Thus, it will always hold a special place in my heart.  This was lovely and sweet, without being overly cloying.  It paired fantastically with the…
Veggie Tamale
Black bean masa filled with roasted hen-of-the-woods mushrooms, sweet potatoes & goat cheese. Steamed in corn husks & topped with ancho-chili sauce, black trumpet mushrooms, sesame seeds & fired carrots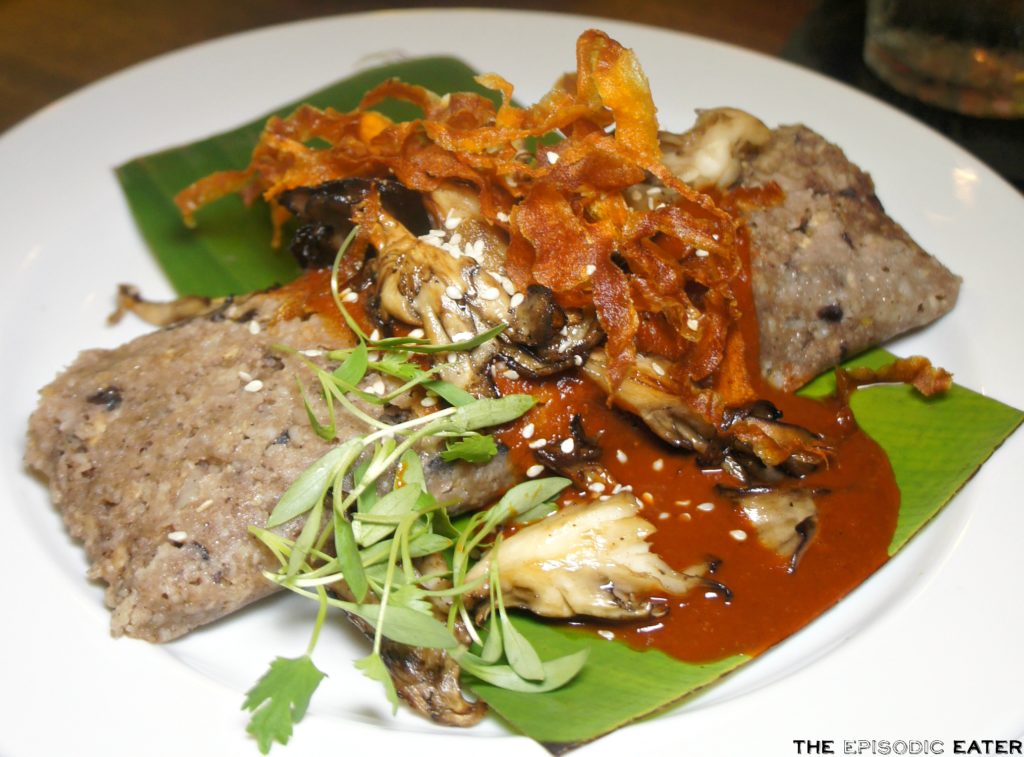 This was a hit for me on so many levels.  The ingredient list was like my favorites all combined into one (mushrooms! sweet potatoes! goat cheese!).  The black trumpet mushrooms were gorgeous as you can see, and different than the white button varities that you typically find nowadays.
Myer's Platinum Rum / Lime / Mint / Sugar Cane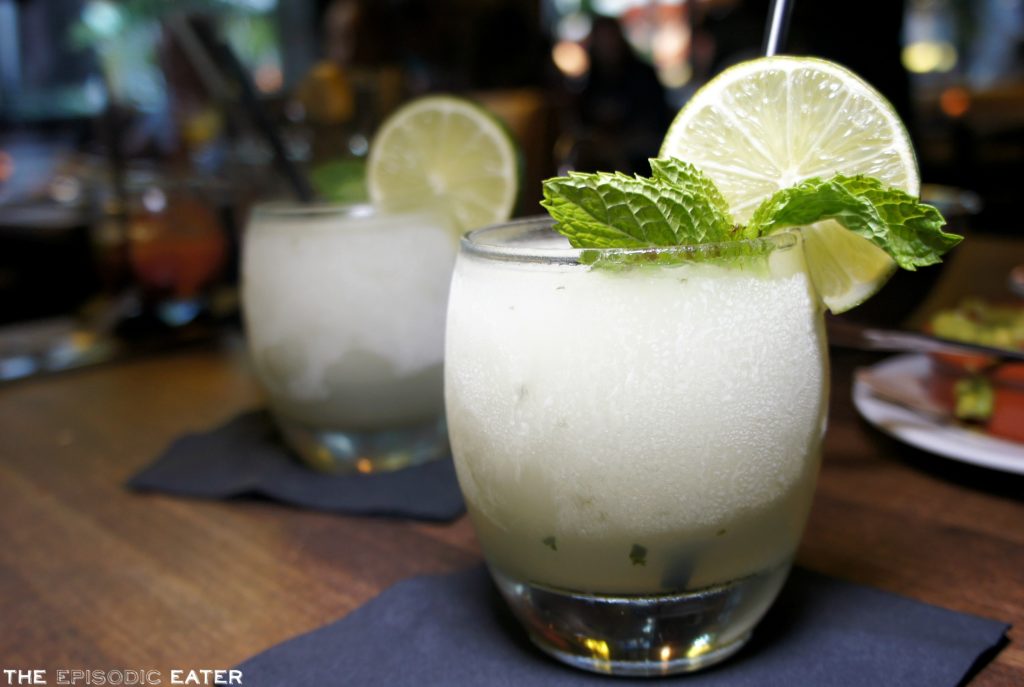 I adored this mojito!  It was totally unique since it was blended, and I really enjoyed it prepared this way.  Yum!
Shrimp Tamale
Stone ground masa filled with Oaxaca cheese, wild Mexican shrimp simmered in chipotle, garlic and sherry.  Steamed in banana leaves & topped with a Veracruzana salsa of tomato, onion, cilantro, green olives, garlic, saffron, fennel and fried capers.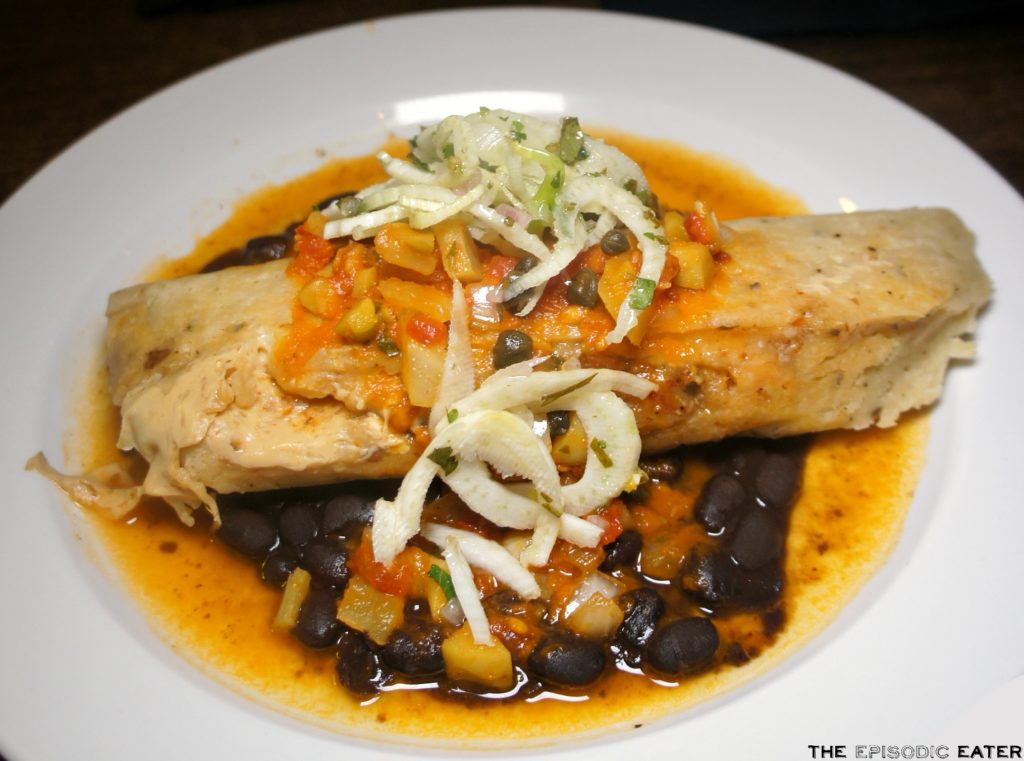 First of all, I absolutely die for seafood in Mexican cuisine.  A definite weakness of mine!  Also, this is one of those dishes that I wish you could have smell-o-vision for.  The salsa itself is fantastic and works so well with the relatively mild flavors of the shrimp and Oaxaca cheese.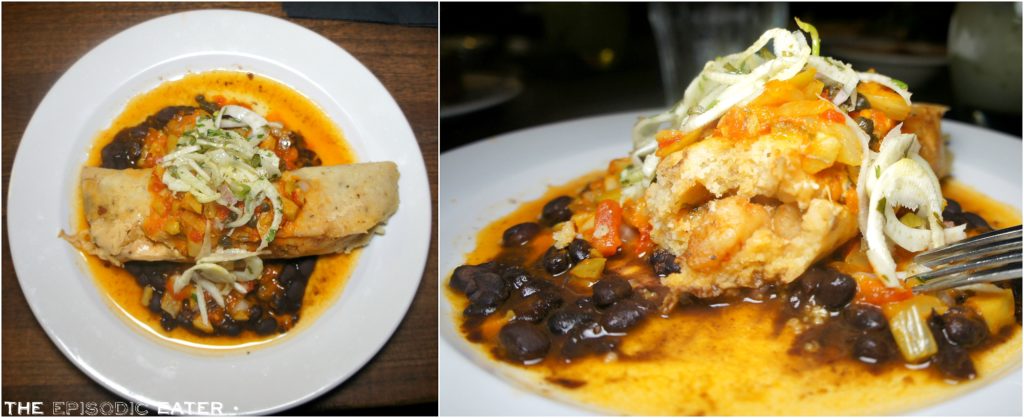 El Jimador 100% Pure Tequila / Fresh Watermelon / Lime / Agave Nectar / Hibiscus Juice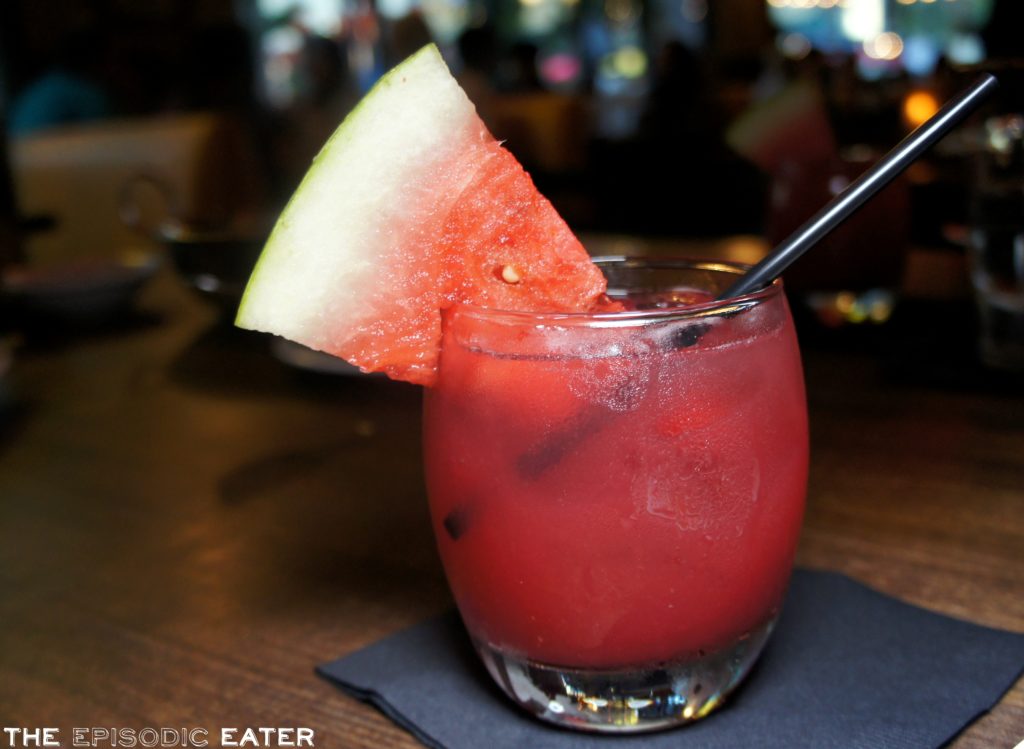 Watermelon just screams summer and margaritas are a staple of Mexican cuisine, so… this may be the  quintessential drink, am I right?  Also, it borrows an ingredient from the next course…
Heirloom Tomato & Watermelon Salad
Roasted chile vinagrette, goat cheese & cilantro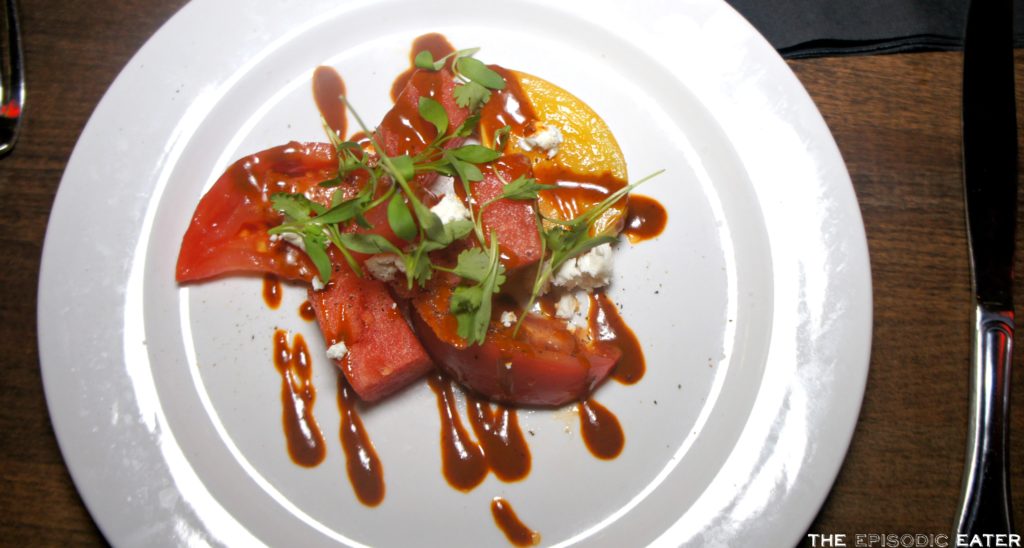 Three of my favorite ingredients ever, combined into one salad?  Heaven!  The spicy, peppery dressing is a wonderful contrast to the fresh fruit used in the salad.  (Pssst, remember tomatoes are a fruit, so it's practically like having a fruit salad!  Ha!)
Mango-Habanero Margarita
Pueblo Viejo 100% Blue Agave / Mango / Lime Juice / Habanero Chili Infusion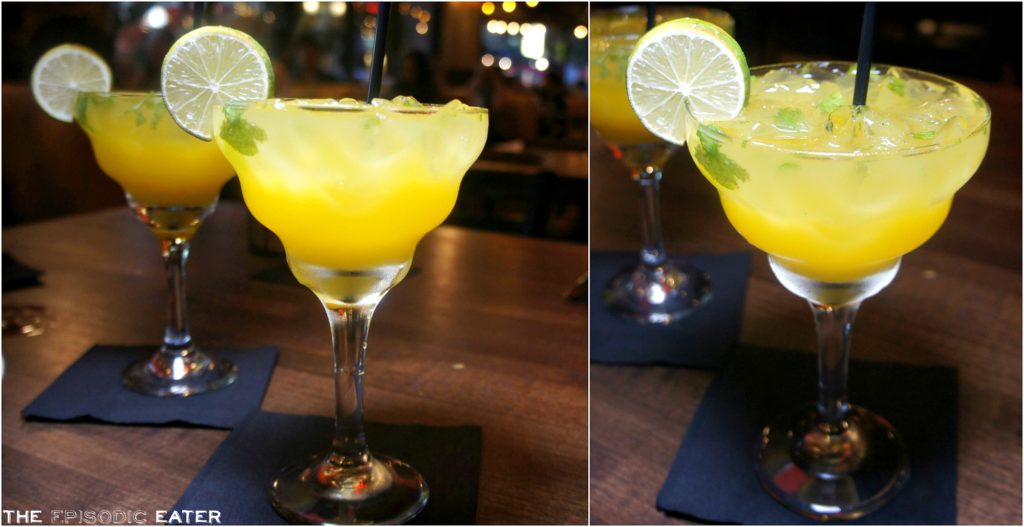 First of all, when a tray of these came to our table, you saw the heads turn.  Fantastic presentation!  As for taste, this is the ultimate sweet and spicy drink, which makes sense when paired with the…
Duck Tamale
Sweet white corn masa filled with tender duck confit, steamed in banana leaves & topped with a papilla de Oaxaca sauce, cacao & duck skin chicharron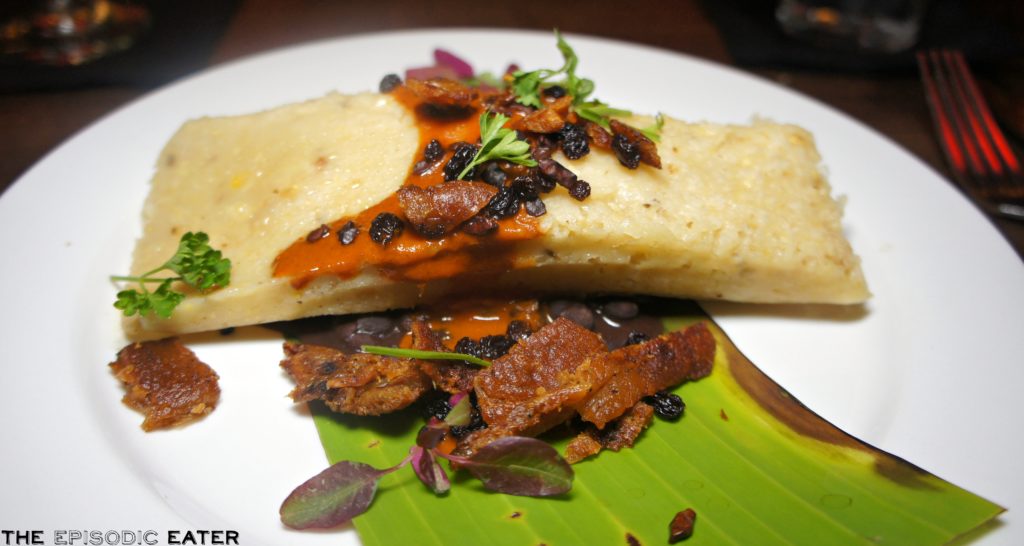 My mouth started watering as soon as it was placed in front of me.  For one thing, I get weak in the knees for dishes that utilize duck well, and this was certainly one of them.  The salty, crispy chicharron from the duck skin was a wonderful contrast to the sweet, tender duck confit inside the tortilla.  Just take a peek inside!  So droolworthy…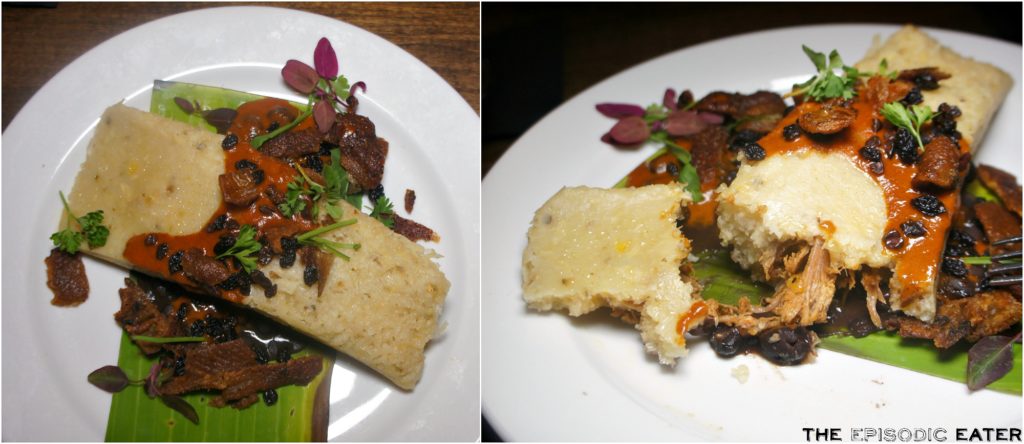 served family-style

We were full, happy, and ready to hit the road when… surprise dessert course!  As you know, this girl can't turn down the sweet stuff.  🙂
Home-baked tres leches soaked chiffon cake, coconut pastry cream served with fruit salsa
Chocolate-Kahlua Cake
Served warm, home-made chocolate sauce, whip cream & dulce de leche ice cream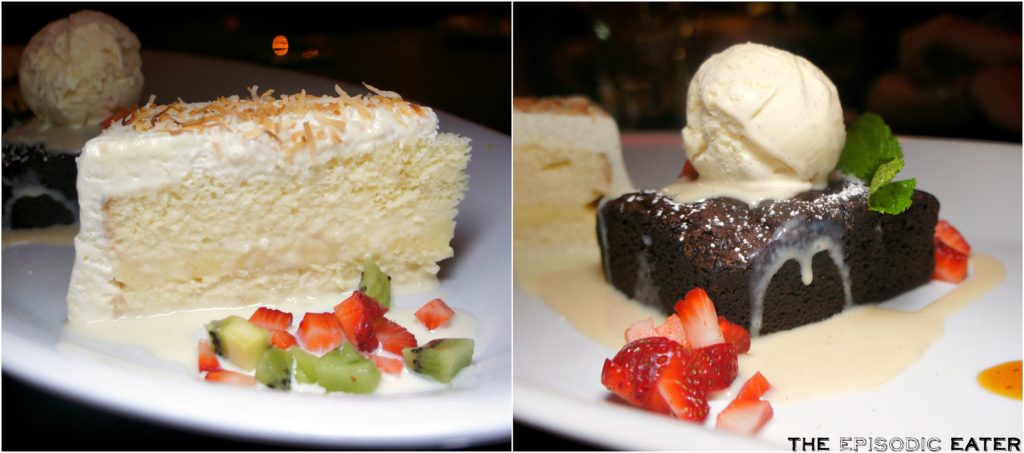 Each of the three desserts were gorgeous and yummy, but my favorite had to be the…
Flan Cha Cha's
Baked with fresh vanilla bean and served with sugar cookies and fresh whipped cream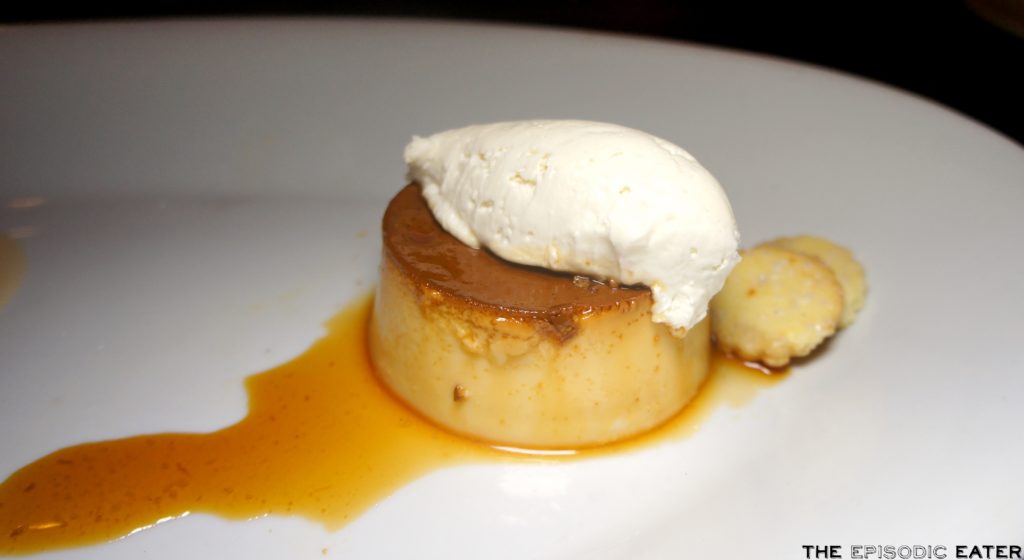 I am super picky about my flan, and I daresay that this is the one time that I have ever had it done correctly by a restaurant.  Totally impressed!
Make sure to head down to Cha Cha's Latin Kitchen for their Tamale Thursdays and one of their signature cocktails.  I think you'll be cha-cha-ing your way out of the restaurant with a happy stomach.  🙂
Cha Cha's Latin Kitchen
110 W Birch St #7
Brea, CA 92821
www.chachasbrea.com
714-255-1040