Beerface McGilicutty Back again with sharing my brewery experiences, this time at the newest kid on the block over in Costa Mesa, Gunwhale Ales. I had heard good things about Gunwhale, both about their beer, as well as how cool the tasting room was, so I had to make it out there. Gunwhale is located on Randolph Avenue in Costa Mesa, California. The outside looks really cool, almost horror movie-esq at night in its gray cement standing. Once inside, you'll see some interesting, nature oriented art, and displays, such as the stretched hide which Gunwhale's logo, underneath the name it reads, "Preserve The Wild". This motto aims at Gunwhale's appreciation for natural, sustainable ingredients in each of their products.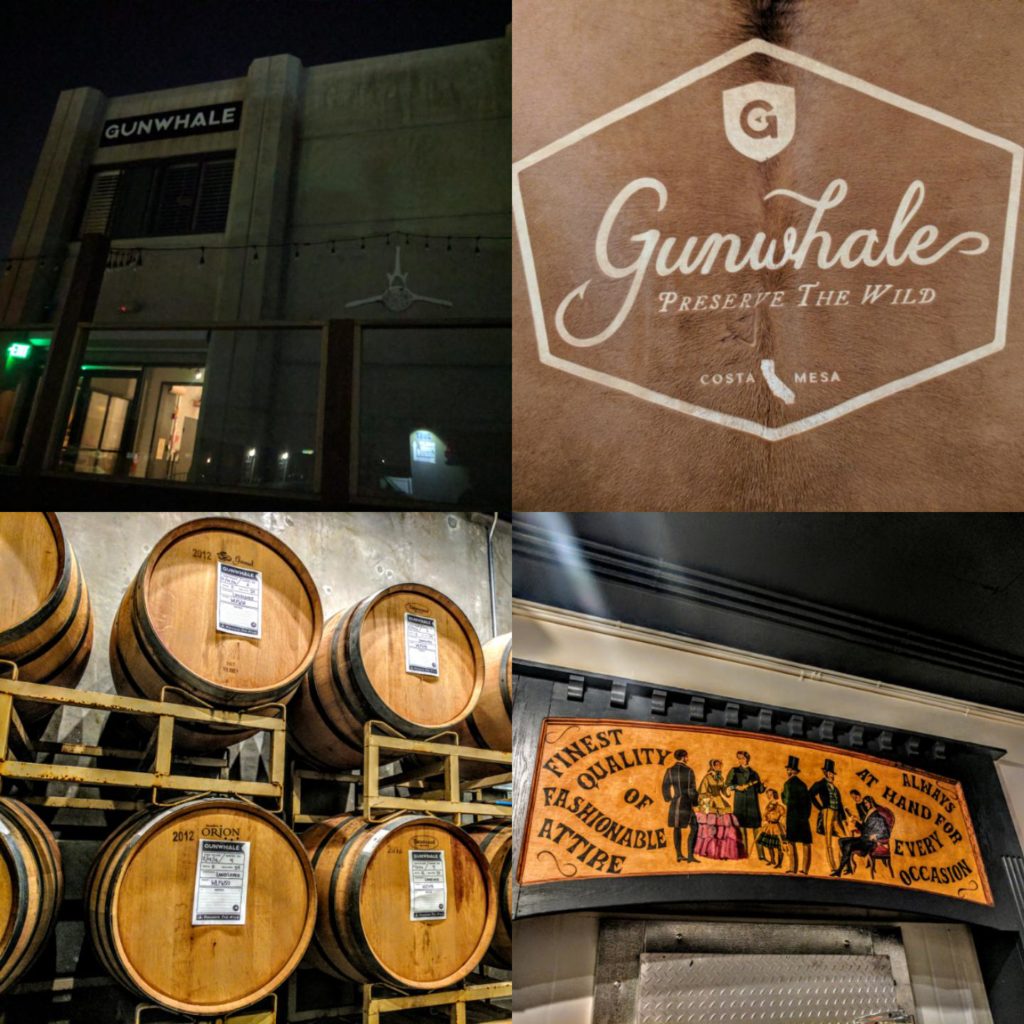 Gunwhale lends its expertise to wild farmhouse ales / saisons, west coast style hop forward ipas, and even a sour barrel program evident by their side barrel room. As told to me, much focus is on single hop, earthy grain philosophy, with intriguing earthy ingredients to drive robust notes, while retaining effortless drinkability.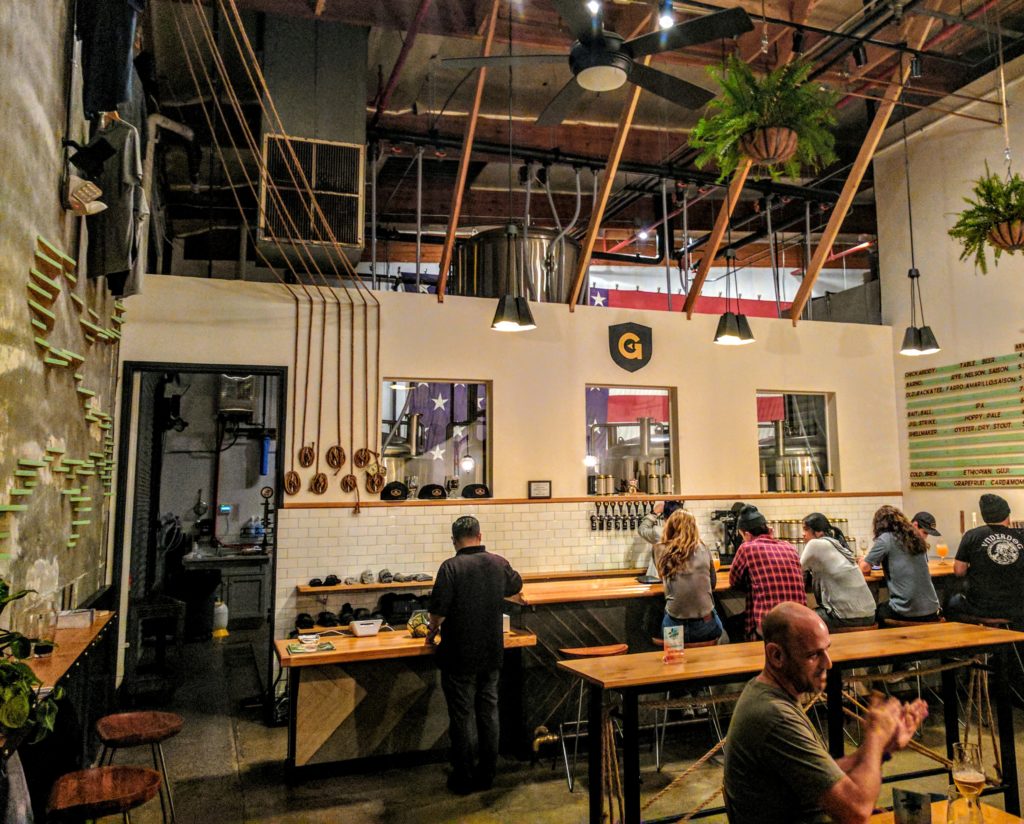 Gunwhale Co-founder Bobby was awesome in arranging this for me. I was able to grab three pours from their bar manager Kellie, who made the experience superb from start to finish. She showed me around, opened up the barrel room, let me see some of the super neat artwork as you will see in the pictures below, and explained each beer I was served. Let us go ahead and get into these flavorful offerings from Gunwhale.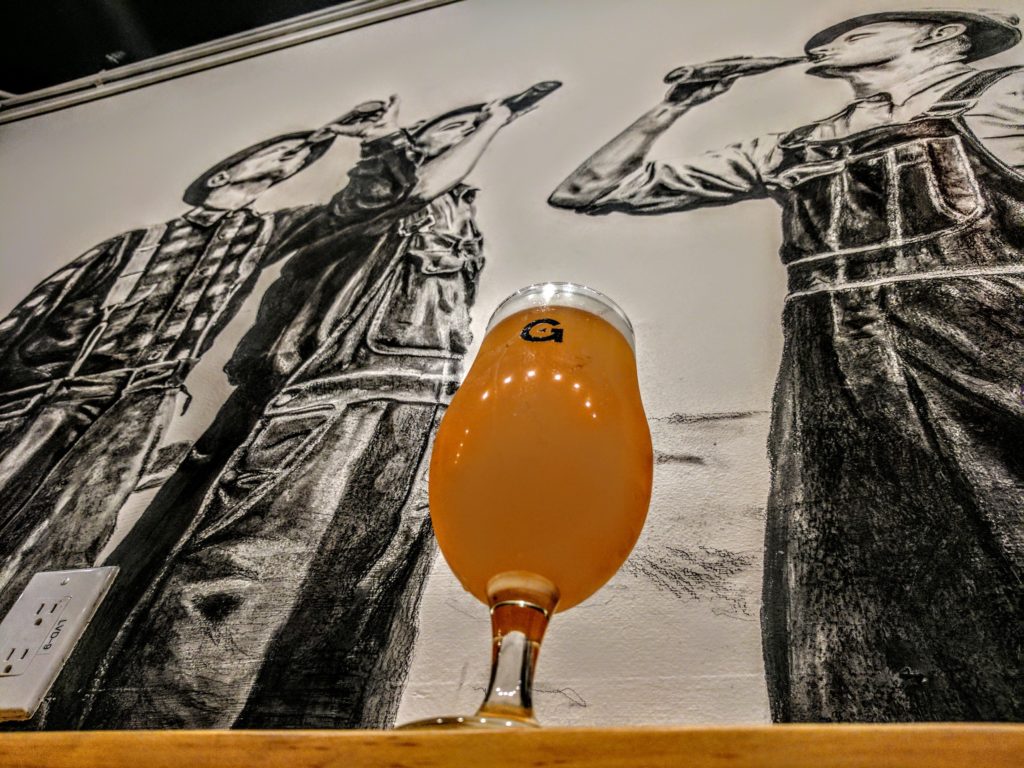 The Whip Belly was exceptional in its light body, and unfiltered goodness which did yield a cloudy visual on the pour. One the nose I got a ton of sweet blood orange essence which tickled my senses. I dove in and took a small sip. Right away the bready yeast character of a traditional saison was apparent. Then boom goes the dynamite as a the orange flavor explodes on to the scene. The subtly tangy natural sweetness sits nicely on the palate, and finishes with a refreshing, crisp break. Some more of the sweet orange notes linger on the aftertaste. A very good introduction to begin my night here at Gunwhale.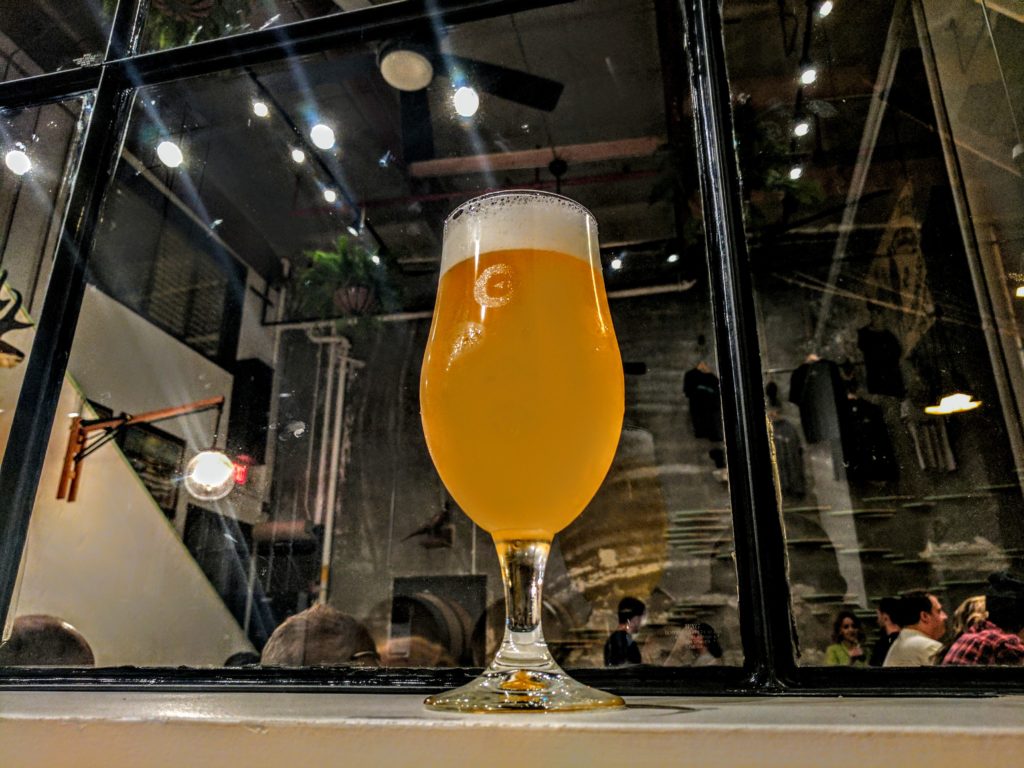 Next up was my favorite of the night, the Old Rackatee, and Amarillo a single hopped, saison with farro. If you read most of my work, you know I geek-out over complexity in beer, this Old Rackatee embodied just that. On the nose was mostly citrus hopped notes from the Amarrillo, true to that hop's profile of course. It smelled just like I was about to dive into a west coast ipa, I was wrong. Upon first sip, it was immediately evident this was no west coast ipa, as the earthy, smoky presence of the farro was pronounced right up front. It layered nicely into citrus notes from the Amarillo hops. Finishing it off dry with some subtle yeast, and the return of the smoky notes upon the aftertaste. It was very interesting, and something I really appreciated. Job, damn well-done Gunwhale.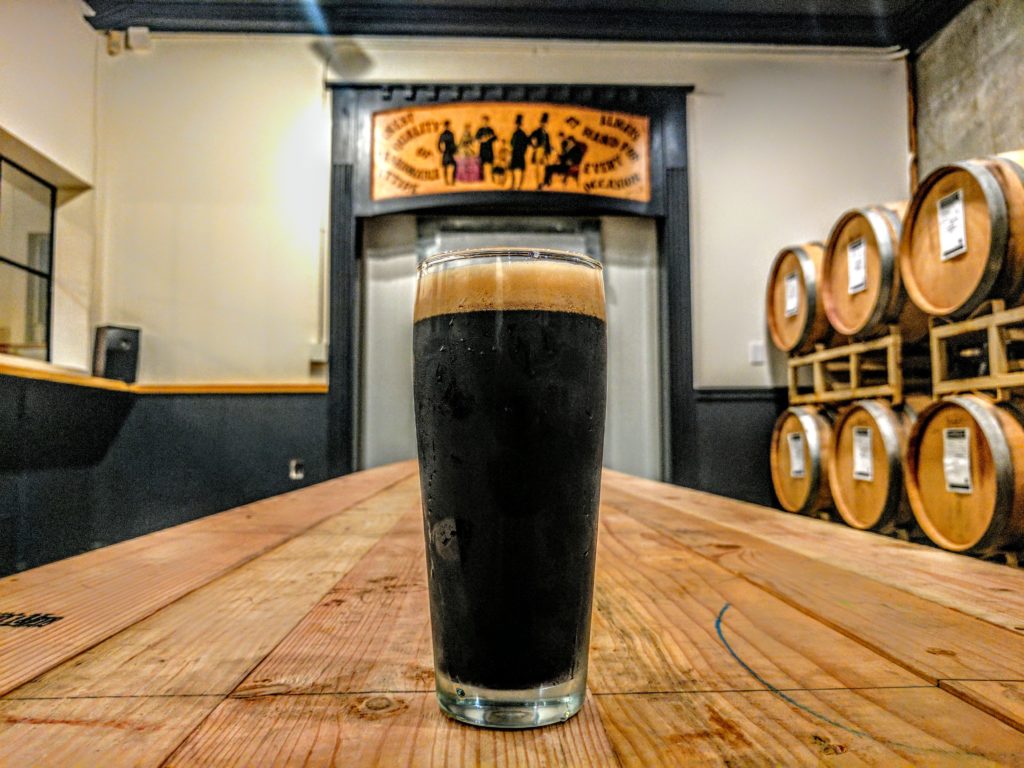 My last pour of the night was the Shellmaker Oyster Stout. Briny right away as I knew immediately what I was getting into, I am not allergic to shellfish, so I was completely fine with that. As the fresh oyster boiled into this was apparent immediately on the nose, and the flavor up front, the roasted malty profile shows up in the middle, and is subtle enough to not overpower the rest of what was going on. It was thin, I would almost characterize it as a black lager based on its thin body, certainly lighter than expected, yet definitely not a problem as a thicker body could make for an odd combination, in my personal opinion of course. It finished slightly nutty, with some more lingering of the malt. Certainly a nice offering here, especially knowing those oysters are so fresh with the ocean just a few blocks away.
*******************
I thoroughly enjoyed everything about my experience at Gunwhale Ales. The environment is super inviting, the tasting room has enough space to accommodate a nice crowd. From the staff, the venue, to the beer, I say thank you Gunwhale. These guys are definitely staying true to their namesake, and firing on all cylinders. I cannot wait to go back!
Look forward to more event and beer reviews from Beerface McGillicutty and follow on Instagram, Facebook, and Untappd @beerfacem!
Gunwhale Ales
2960 Randolph Ave, Unit A
Costa Mesa, CA 92626
www.gunwhaleales.com