Beerface McGilicutty checking in again with another monthly featured beer piece! Major releases all over the place, warmer weather, certainly an exciting time to be in California if you are a devout beer drinker. I have been enjoying some wonderful beer as of late, these are some of which I would love to share with you. Also, festival season is kicking up, so make sure to grab your tickets and be ready for that! Last month I put the New England IPA brigade on notice. I did not bring with me any fireballs to throw this month, just some outstanding beers. So I will not be having a go at anyone this month, but I did dip into my cellar for a beer I have been waiting to break out to go along with the special releases of this month, as well as one other participant I threw in simply because I enjoy that particular beer immensely. I won't keep you waiting any longer.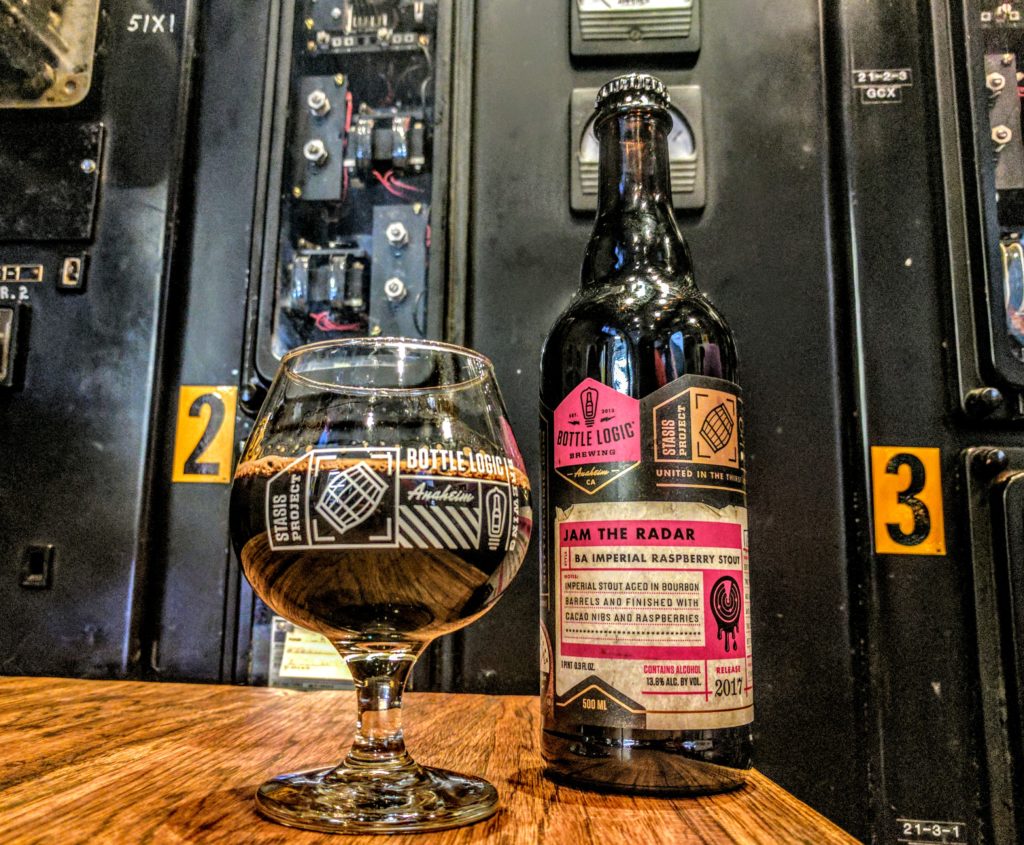 Jam the Radar (13.8% ABV | N/A IBU) – Barrel Aged Imperial Stout with Raspberries
Jam the Radar was a beer on most people's radar (see what I did there) since it was teased last year by Bottle Logic Brewing. I was extremely excited to hear it was hitting those bubble-neck Stasis Project bottles as Bottle Logic's first Level-UP special release of the year! Jam the Radar is a Level two variant of Bottle Logic's original bourbon barrel aged imperial stout, Darkstar November, a beer which was my first introduction a year ago, to the Stasis beers. The additions to the beer are as follows; cacao nibs, with black and red raspberries. Clocking at 13.8% abv, the potency certainly not indicative of its flavor. Let us begin, the nose of this beer is very rich in chocolate, make sure you stay there and take it because the raspberry aroma is revealed shortly after you senses have processed the chocolate. I was ready for dessert, so I took my first sip. Again, bearing an acute resemblance to the nose, the decadent chocolate was immediately presented straight away, followed by ripened, sweet raspberries. The very same raspberry flavor carried toward the finish as it ended slightly tangy. Likely due to the use of both black, and red raspberries. Also on the finish, a slight burn had become noticeable. This is truly a dessert beer, as it reminds me of my favorite truffle from See's Candies, the dark chocolate raspberry one. What an incredible beer, I wish I had more bottles!
How to Pair: I am going to tap into a doughnut pairing here, let us have a double devils food dark chocolate doughnut.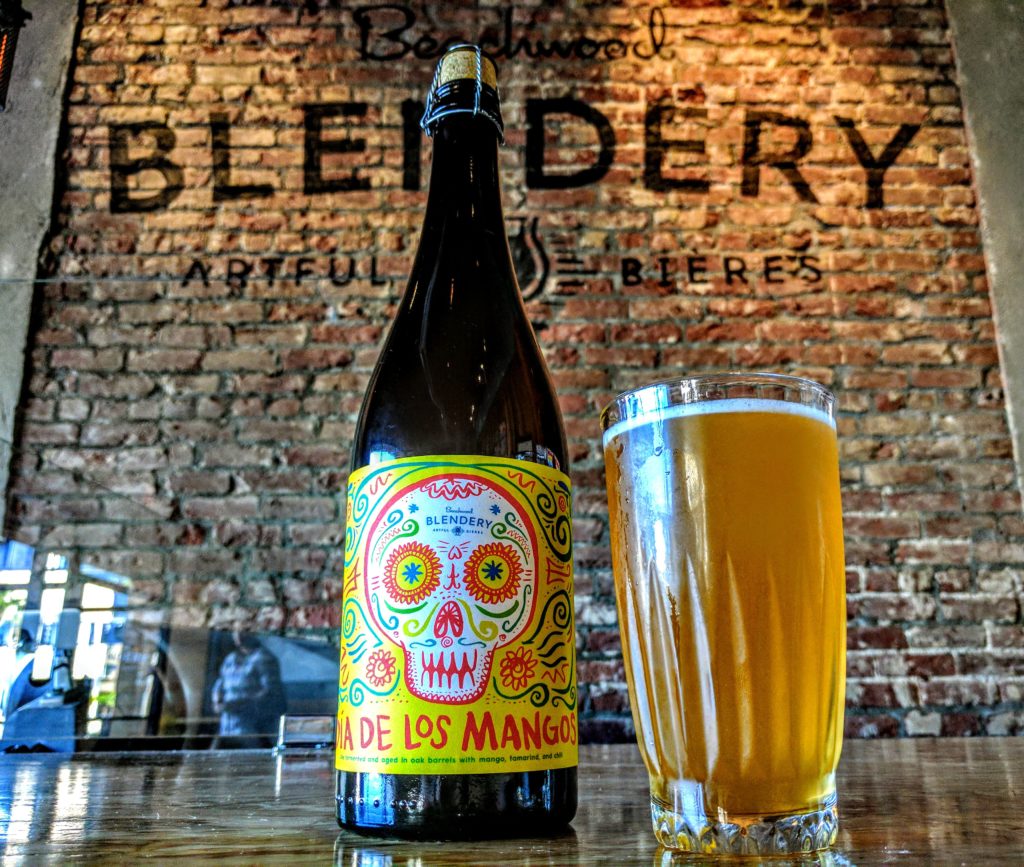 Dia de los Mangos (7% ABV | N/A IBU) – Fruit Lambic with Chiles
I was told this was a good one from my Cybeernetics colleague Mario Le Scientist, so I definitely felt obligated to pay attention to when Beachwood Blendery was releasing their next batch. Thankfully I happen to even be in the area on release day! I was so excited at the opportunity. I made way down there, ordered my bottle, and grabbed my side pour. Very sweet on the nose, picked up that candied mango right away. As soon as I tasted it was acidic, followed by very prevalent mango flavor, super fruity. As it transitioned through the middle the rich, semi sweet tamarind became apparent as well until it hit the peppers, and man, were those peppers big. I understand some are turned off by overly spicy pepper influence in their beer, but the Blendery got this one completely accurate. It was not just heat, nor was it overpowering, yet it allowed fresh pepper flavor to cut through and be enjoyed. The mango sweetness did linger on the aftertaste, along with some heat from the peppers. Beautiful beer, perfect for the season.
How to Pair: I would love to have some baja style shrimp tacos completely dressed. I feel the buttery batter would allow the acidic nature of the beer to cut through it, and the mango sweetness to really add to the flavor.
2014 Gulden Draak Brewmaster's Edition (10.5% ABV | N/A IBU) – Whiskey Barrel Aged Belgian Strong Golden Ale
So this one has been sitting in the cellar for awhile, I wanted to put some more aged on it to see how it developed, for one. I also wanted to wait for a special time to open it. Well, problem is, I forgot about it. I forgot it was even there, and was nervous I had overshot the runway, if you will. As I popped open the (thankfully) intact cork, I reluctantly brought my nose to the edge of the bottle opening, drumroll….it smelled fine! So test number two was pouring it, color looked of dark amber, and gasp, there was golden one finger head with fantastic retention! Could my perceived mistake actually turn our to be just fine? I took my nose to the pour to take in the aroma, tons of sweet notes emitting. I picked up pears, figs, dates, and some oak notes as well, surely that from the barrel. Very sweet on the initial taste, with figs being the prominent flavor along with the clove presence. In the middle yielded some smoke, and oak presence which was nice due to how sweet it was up front. It circled back around to a sweeter finish with some whiskey brown sugar, and subtle heat. Very complex, well developed flavors. I am glad I waited seemingly the right amount of time to enjoy the gem.
How to Pair: Let us go with a Neapilitan pizza, margherita style. The wood fired crust should accent the bready nature of the yeast. The sweetness can play well with the basil.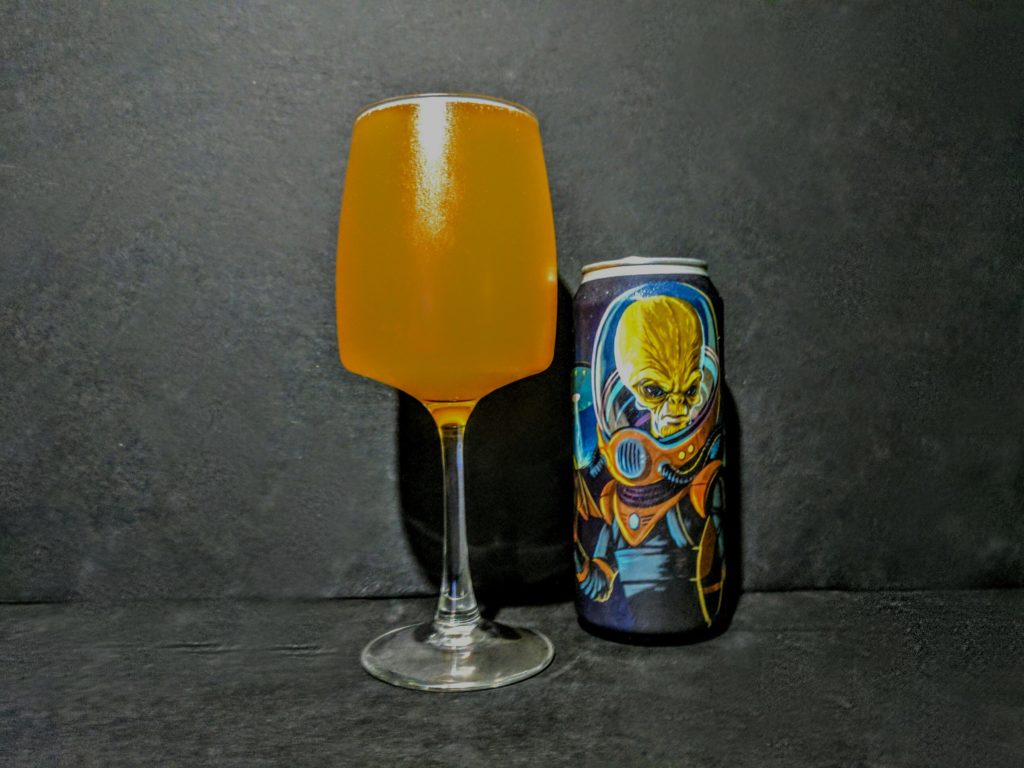 Hostile Intent (4.9% ABV | N/A IBU) – Fruit-Tart Wheat Ale
This installment being the first of the planned "Campy Creatures" canned series from a collaboration with Keymaster Games, I saw the can, and I am going to be honest, I thought it was the coolest looking can I have ever seen, so naturally I had to have it. I obviously looked at what was being made, and thought a tart wheat ale with starfruit, and kiwi sounded amazingly refreshing. I grabbed a four-pack through the online sale thankfully, here is the hilarious part, my family wanted a four-pack as well, so I grabbed one for them as well. Now to the tasting part, I opened my can to smell a burst of fresh fruity flavors blasting out the opening, that is some intergalactic level of refreshment for certain. I poured it in my glass, and picked up those sweet kiwi flavors along with some certain sour notes. The flavor was a perfect bond of the two fruits added square away. It began to get acidic, and sour through the middle, with a finish of salt, very reminiscent to a gose. Very light bodied, easy to drink, and refreshing. I am certainly looking forward to the next subsequent Campy Creatures Series release.
How to Pair: This beer would nicely compliment citrus marinated Rock fish with asparagus and mango-tomato-onion medley.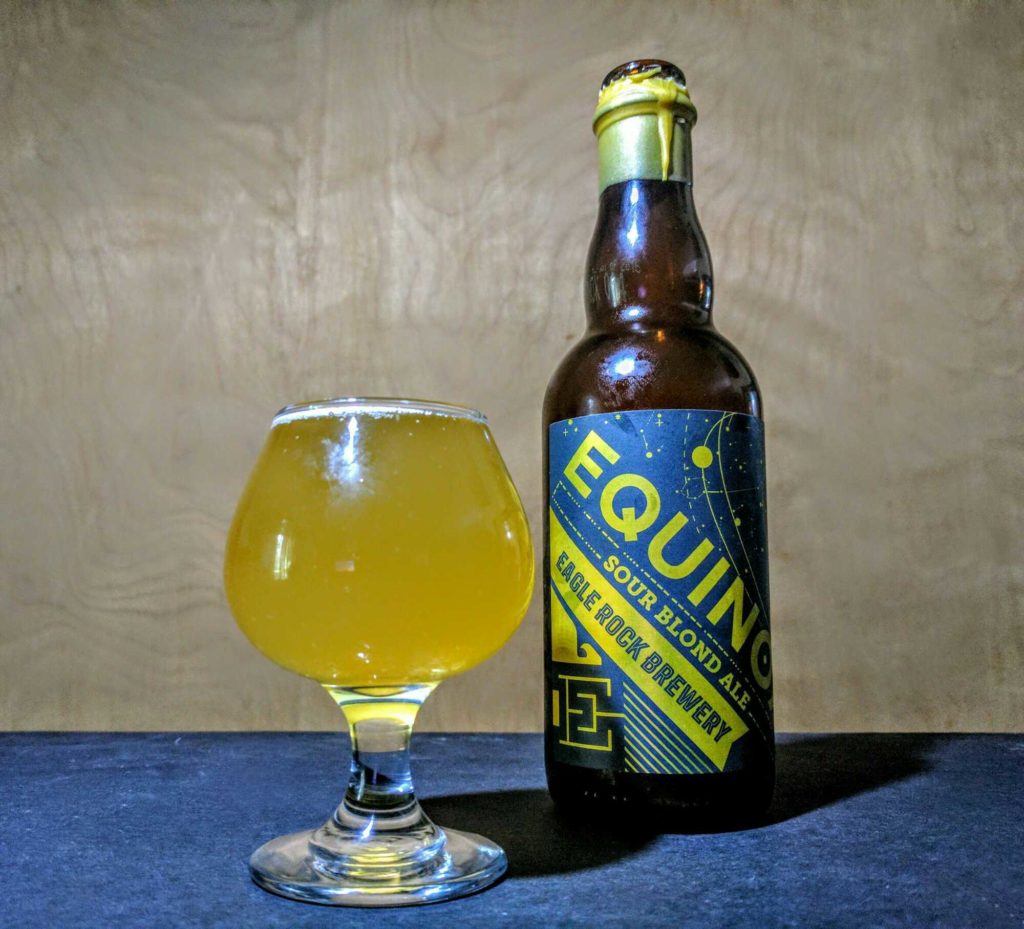 Equinox (6% ABV | N/A IBU) – American Wild Sour Blonde
Back to my visit from last month to Eagle Rock Brewery, the second half of my haul for the day, this Equinox, which I actually tried on tap, then knew I would definitely enjoy having this again. Aged in oak barrels with Brettanomyces, Equinox had the subtle layer of funk on the nose, but it was very subtle, not nearly overpowering. First taste was awesome, crisp lemon peel, acidity, mildly floral. More sour through the middle with a refreshing finish. This was not nearly as funky as others I have tried within the style, and I actually enjoyed that very much since I had it on a rather hot day, the refreshment was surely welcomed. It left some great lemon flavors on the palate, I really enjoyed this offering from Eagle Rock Brewery.
How to Pair: Let us go with something from the sea here with some Blue crab cakes with hollandaise sauce over leafy greens
******************************
What a month of beer drinking it has been for me, I enjoyed each of these in their own right, and wish I can get my hands on more of them. The Gulden Draak, I was so relieved to know it did not overstay its welcome in the cellar. The hot weather is definitely here, I am assuring to continue to move within the array of styles for you readers. I already have a plan about which ones I will be opening for the month of June, plus our Cybeernetics team has a bottle share in a couple of weeks, that will likely yield a candidate or two! Thank you all for the support, and stay ready for some more great beers coming your way next month.
CHEERS!
Look forward to more event and beer reviews from Beerface McGillicutty and follow on Instagram, Facebook, and Untappd.