I was recently invited to be a plus one to the first of North Italia's signature spring community dinner series at their Irvine, California location. According to the description I received, "the community dinner series invites people to enjoy a specially created seasonal meal in an intimate setting, developed by the restaurant's Executive Chef and his culinary team." Not having dined there for their regular menu, I was not sure what to expect. However, I knew I would be enjoying a seasonally-driven four-course meal with beverage pairings, which sounded fabulous!
When we arrived, we were seated at a table with other diners at a communal table in the smaller room off the main dining area. The place setting included a menu of the dishes we would be enjoying. I immediately noticed a table of glassware and wine bottles that I snuck off to, in order to examine the labels. Champagne was poured as the other guests arrived, and then we were greeted by the chef before we started!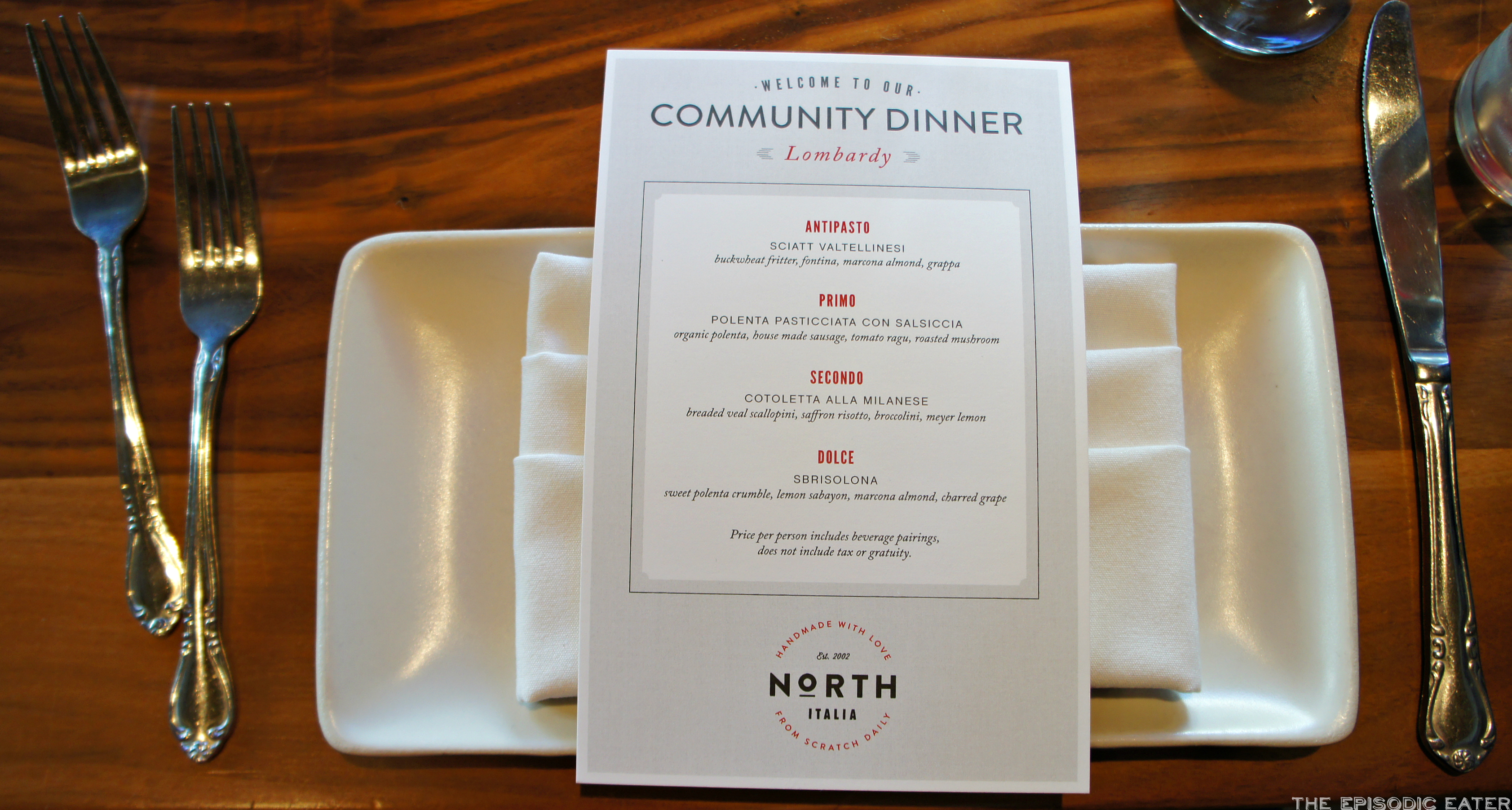 For the first month, the menu highlighted the region of Lombardy with dishes inspired by the locale as well as our own local, seasonal ingredients. At first glance, each course sounded wonderful, although the menu as a whole seemed to be very carb heavy. I'm not one to shy away from them, but I was afraid that I would be left feeling too heavy by the end of the meal. I was absolutely wrong! Lastly, I should mention that each course was paired with a wine (as seen in the video above), so it's possible that the chef knew we would need a bit of substance to ensure we would still have our wits about us with the free flowing pours all night!
Sciatt Valtellinesi
buckwheat fritter, fontina, marcona almond, grappa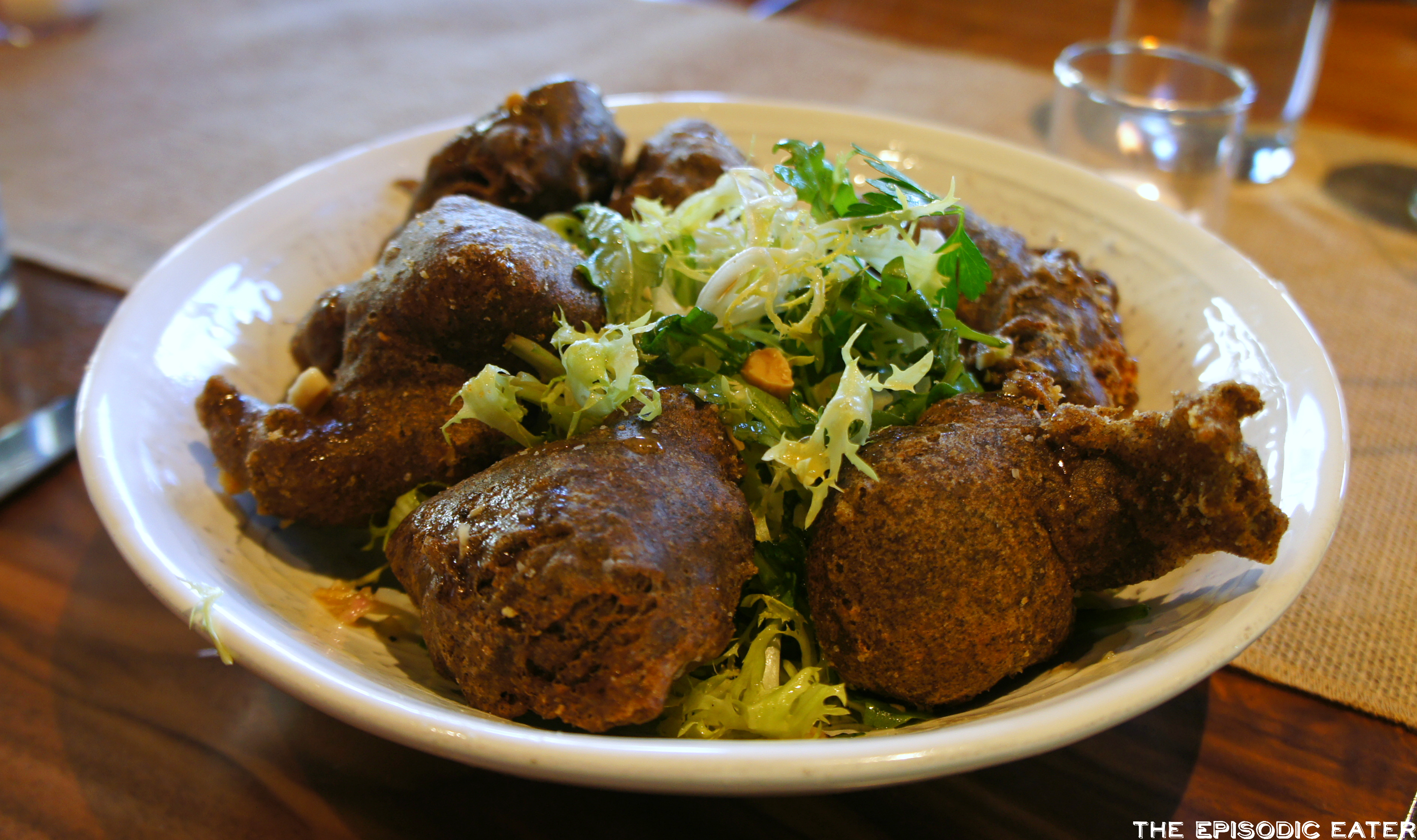 At first, I was expecting these to be either filled with cheese or airy like a gougère, but these were more bready throughout. It was very light and not dense in the least. Although the cheese didn't ooze from the center, its richness was present and the accompanying greens were a welcome complement with their freshness and bitterness.
Polenta Pasticciata con Salsiccia
organic polenta, house made sausage, tomato ragu, roasted mushroom
This is a dish I really hope they put on their regular menu. It was that good! The polenta was so light and pillowy, with a sausage layer between (which I had to skip) and the most incredible cheese layer on top with the beautiful nutty, roasted mushrooms. It almost resembled a lasagna, which made the dinner feel even more communal with everyone scooping their own portions and passing the dish around. Even though everyone took seconds (and perhaps thirds), the portions were so generous that everyone was satisfied!
Cotoletta alla Milanese
breaded veal scallopini, saffron risotto, broccolini, meyer lemon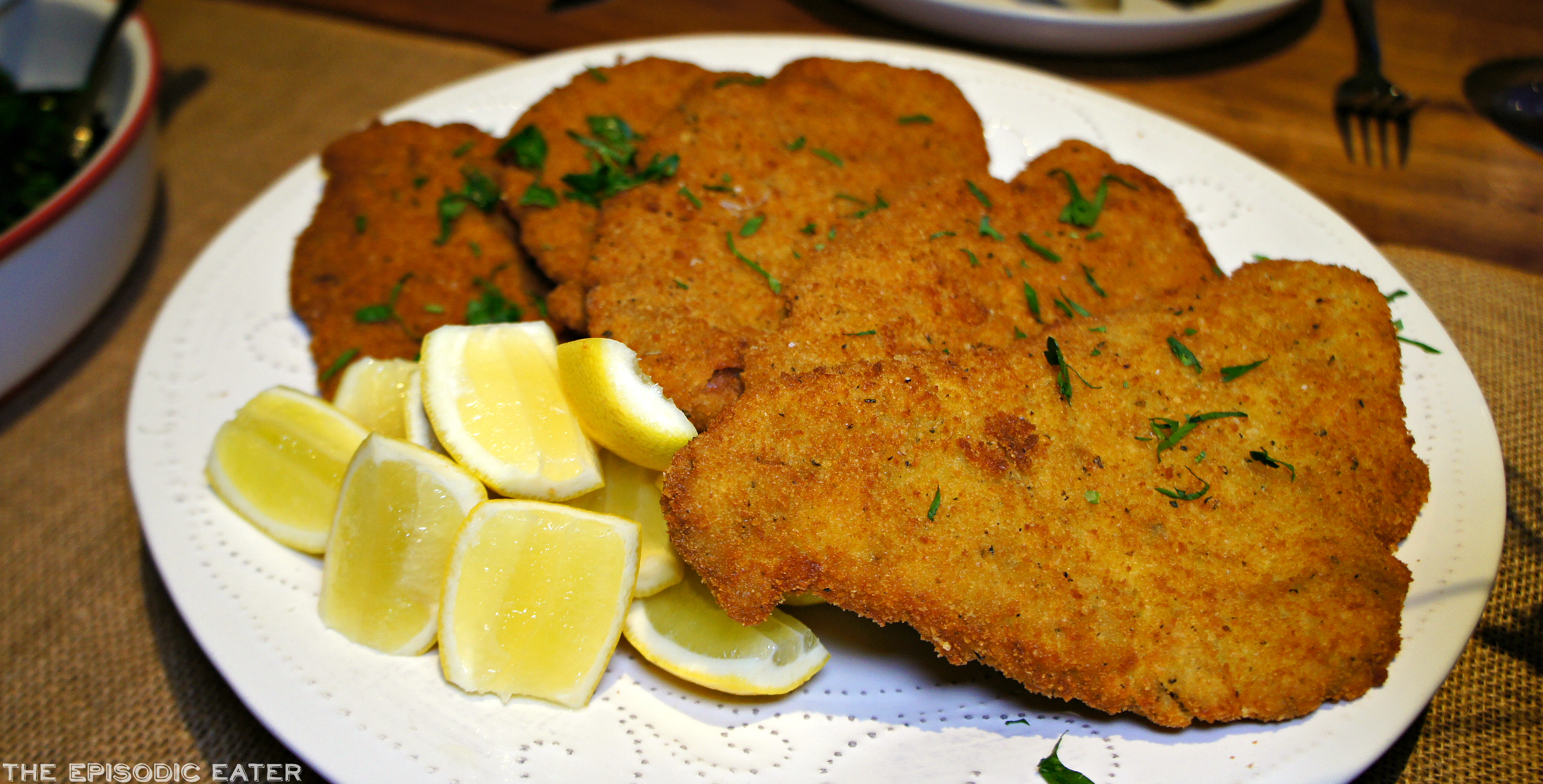 I am not someone who ever orders veal scallopini, because I typically find it dry. Not in this case at all! The breading was perfectly crispy (and not greasy at all), while the veal was juicy and cooked well. A squeeze of lemon was all it needed, but I found myself skipping it sometimes to just enjoy the lovely seasoning on its own.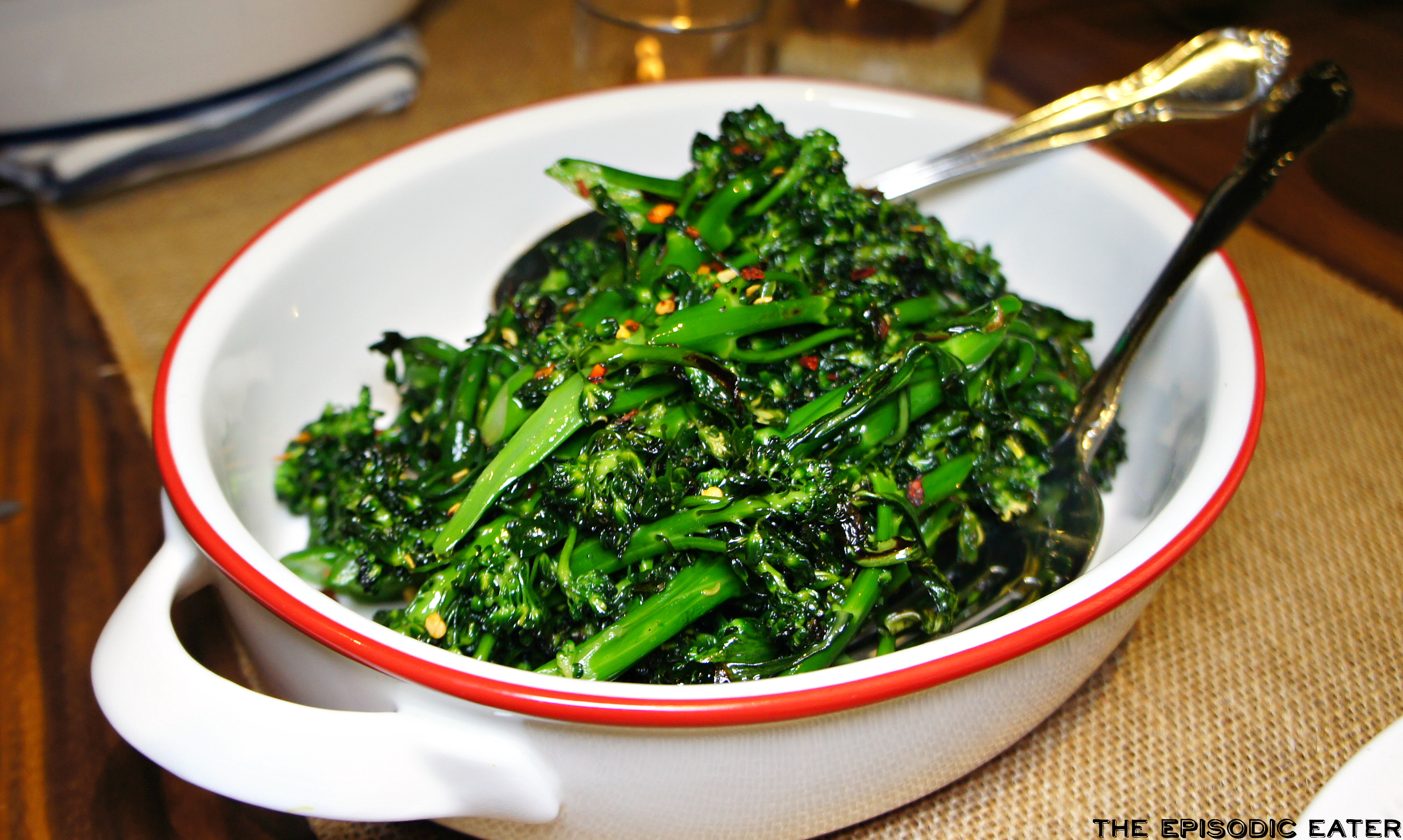 If I could only have side dishes for the rest of my life, I would be okay with that. And if these were two of my options, I would be downright ecstatic. I had been telling someone just that day about how much I love broccolini and how it needs to be on menus more often. Well, ask and ye shall receive delicious broccolini!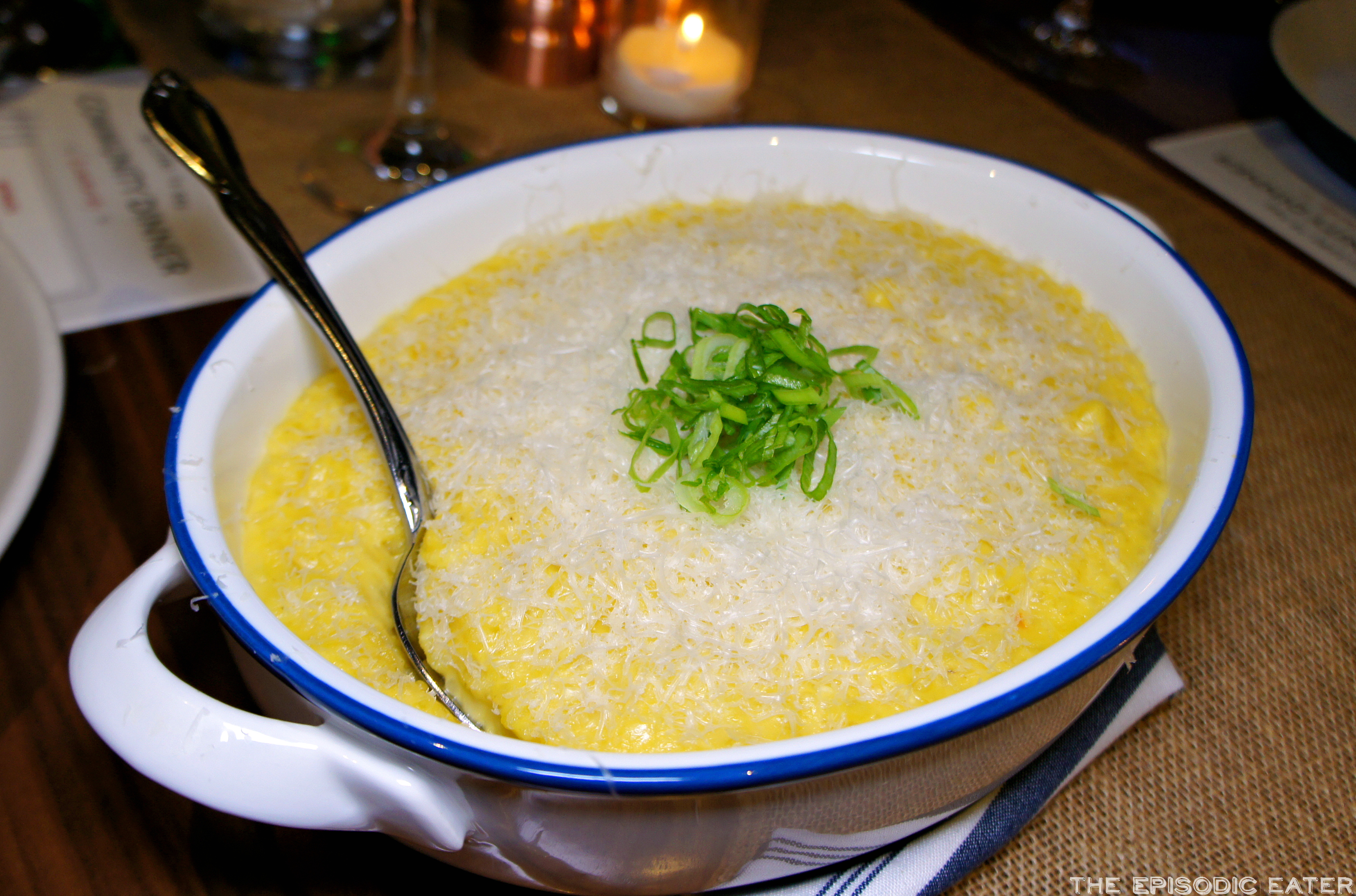 Last, but not least, was a decadent, craveable saffron risotto. I am so glad this dish was a bit further from me than the others, or else I would have happily scooped the entire thing onto my plate. This risotto was really the ultimate comfort food with the creamy, savory, and nutty cheese coating the perfectly cooked rice. One of my favorite bites of the night!
Sbrisolona
sweet polenta crumble, lemon sabayon, marcona almond, charred grape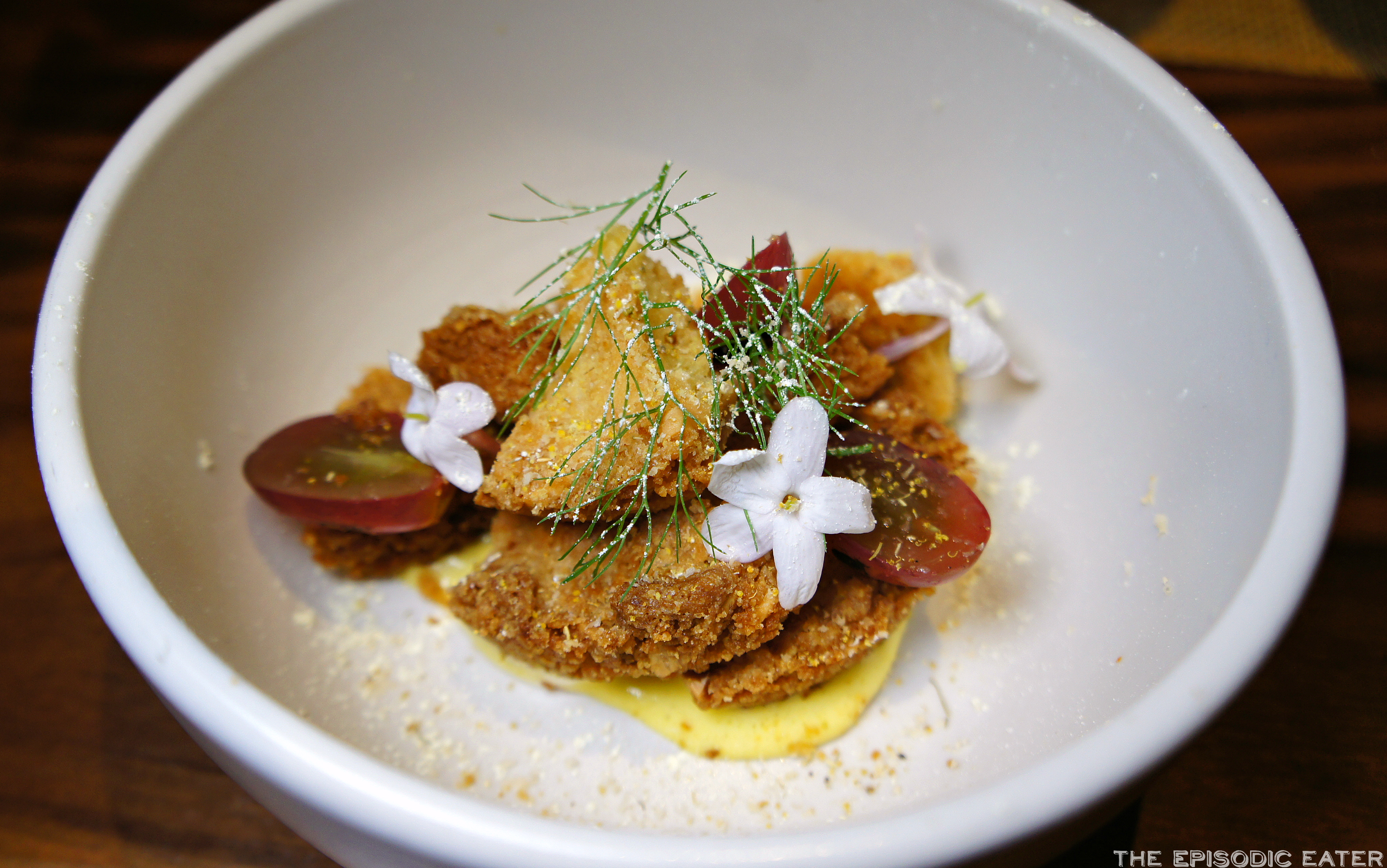 When I saw it would be polenta for dessert, I immediately thought it would be in the form of a dense cake, but it was more akin to a light, crispy amaretti cookie. The semi-sweet lemon sabayon was a lovely contrast to the sweet grapes and nuttiness of the rest of the dish. And of course, the plating was gorgeous with the bits of sugar clinging to the flowers and garnish.
********************
Overall, the experience was lovely with a delicious menu with food and wine that the entire table loved. The Chef and culinary team were attentive to every detail and embraced the community dinner concept by talking with each one of the guests. The conversation was enjoyable with both old and new food friends, and I am sure many of us will be back for another Community Dinner in the future.
The next two community dinners in the series will be held on April 24 and May 22, so make sure to reserve your spot now!

North Italia
2957 Michelson Dr.
Irvine, CA 92612
www.northitaliarestaurant.com
(949) 629-7060