Food festivals are always such a blur with all the delicious dishes to try, free flowing drinks, and happy people to meet that even though I love attending them, I need that full year to recover for the next event. I have been known to skip a few here and there, but I make it a point to attend all of The Essentials put on by L.A. Weekly because I always have such a great time!
The Essentials featured unlimited samples from more than fifty of the restaurants from LA Weekly's annual 99 Essentials issue, as well as wine tastings from more than 20 wineries. The event was curated by LA Weekly's food critic Besha Rodell and benefitted Food Forward, so event-goers were able to support a great cause as they filled their stomachs!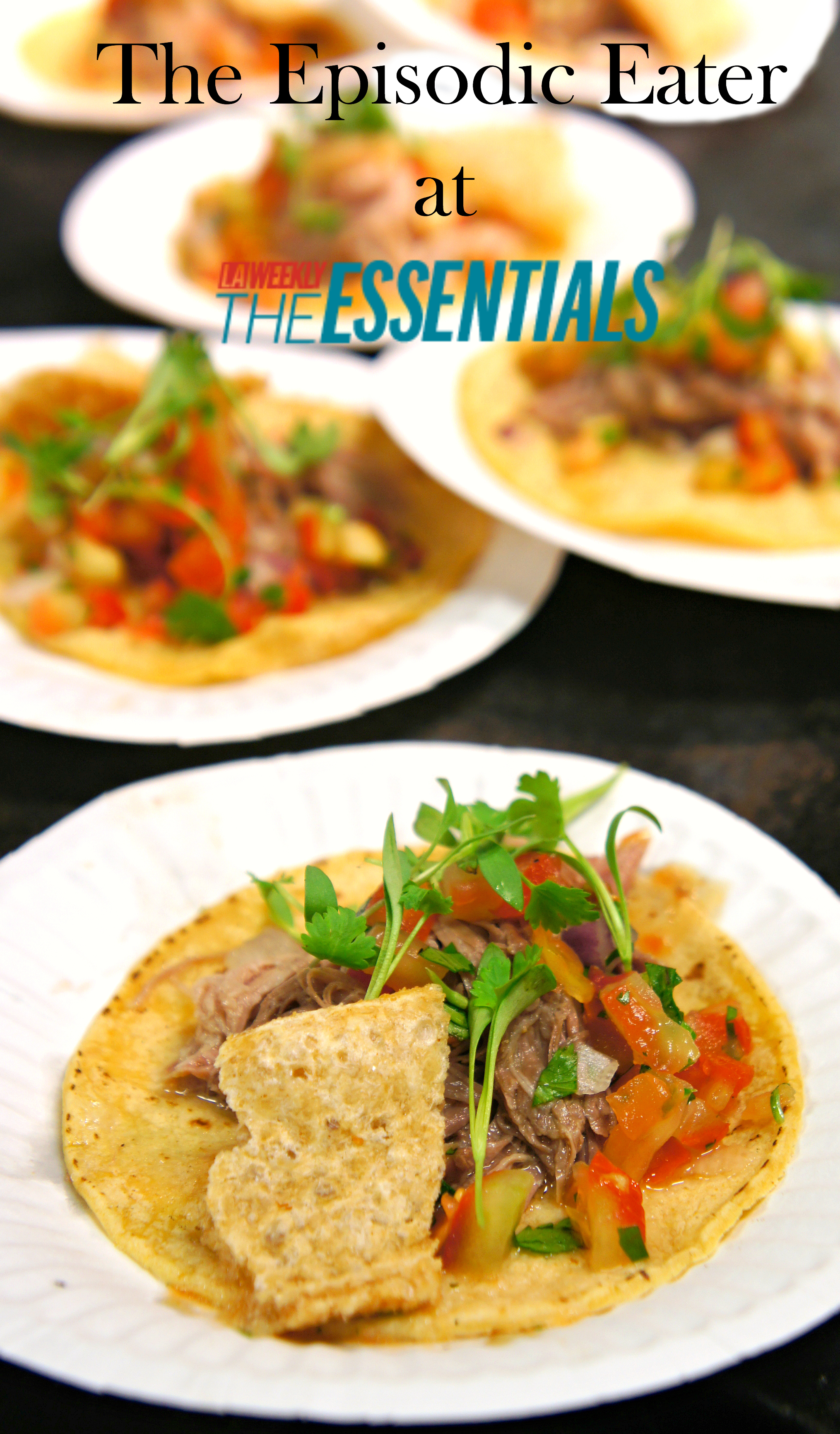 Here's a list of the restaurants that were showcasing their wonderful dishes, most of which are shown in my video!
Angelini Osteria
animal
a.o.c.
Baroo
Bestia
Beverly Soon Tofu
Bigmista's Barbecue & Sammich Shop
Burritos La Palma
Cacao Mexicatessen
Chengdu Taste
Chi Spacca
Chichen Itza
Colonia Publica
Coni'Seafood
Dune
El Coraloense
Elf Cafe
El Huarache Azteca
ERB Bar
Guelaguetza
Guerilla Tacos
Guisados
Isaan Station
Jitlada
Jon & Vinny's
Kogi
La Casita Mexicana
RiceBar
Rose Cafe
Rustic Canyon
Salt's Cure
Sotto
Spago
Summer Rolls
Szechuan Impression
The Bellwether
The Hungry Cat
Trois Mec
Tsjuita LA
Union
Wexler's Deli
Le Comptoir
LocoL
Love & Salt
Lucques
Lukshon
Maude
Melisse
n/naka
Night + Market
Parksbbq
Pine & Crane
Providence
Racion
Republique
Yes, this year I decided to put together a video that runs just shy of 4 minutes to try and capture not only the food but the atmosphere and a few behind the scenes moments. I try chapulines on camera (yes, those are insects) as well as more traditional fare, all of it simply spectacular. Take a look below and remember to mark your calendars for next year!
The Essentials : Sunday, March 26th, 2017
California Market Center
110 E 9th St.
Los Angeles, CA 90079
https://essentials.laweekly.com/