Cheers! As a food blogger for the past few years, I have been treated to a few sneak peeks but not one quite like this! A select group of us were treated to a behind the scenes look at Golden Road's's latest brewery set to soft open on November 18th. What that meant was that we were given a tour of the taproom, barrel room, as well as the sprawling grounds (40K square feet!) of what sounds to be a fantastic outdoor space when finished.
There is no grand opening date set since, as co-founder Meg Gill told us, she wanted to give us an early glimpse into their vision of what the brewery will be, even if that meant we would be seeing the "dirt piles" where the future beer garden would be. But more on that soon!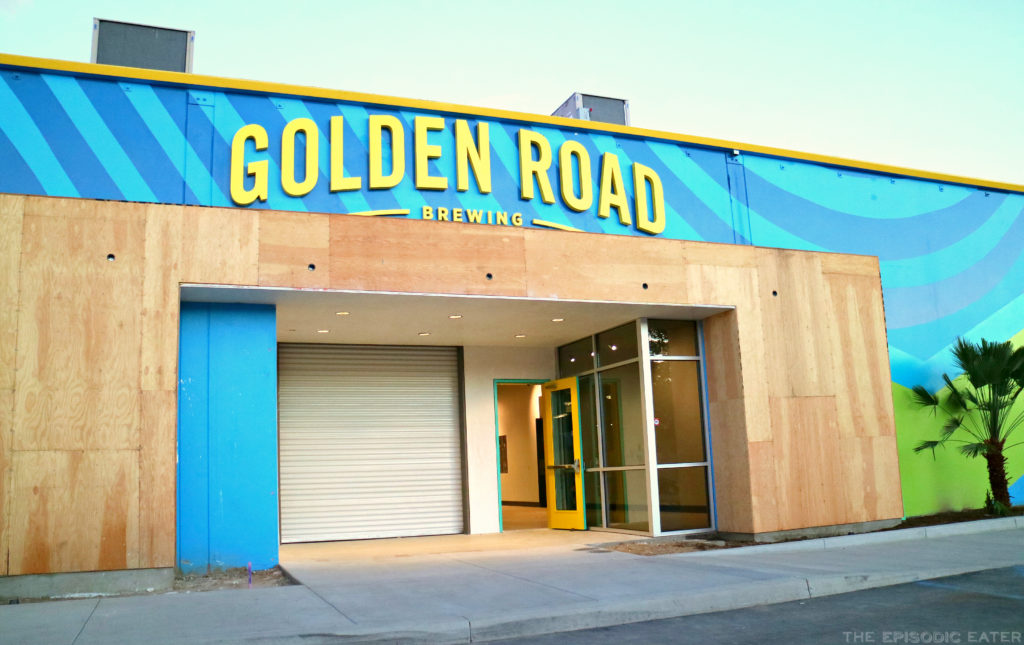 Since this is a beer geek's dream, Beerface and I decided to split writing duties, a first for The Episodic Eater! Take a look at the recap video below, for all the delicious dishes and brews, plus an exclusive sneak peek into the barrel room.
Now, take it away Beerface!
When people outside the beer spectrum think of the word "Brewery", they believe it to be a big industrial site to which beer is brewed, shipped out to liquor stores, rinse and repeat. A small portion of that may be true, but the experience of visiting a brewery is now much more than the aforementioned. Breweries now aim to deliver an entire experience, allow people to truly make a day out of the trip, rather than a quick stop for a pour. Golden Road Brewing has quite the experience in their sights.
Poised to host their soft opening on November 18th at their new Orange County location in Anaheim, California with a Wolf Pup 5k to kick off the celebration, Golden Road will show off their brand new 40,000 square foot venue to the public. The venue, which is vibrantly visible in their blue, yellow, and green apple paint scheme as you make your way down Orangewood Avenue, will host some exciting new features as a spring grand opening date is in the plans.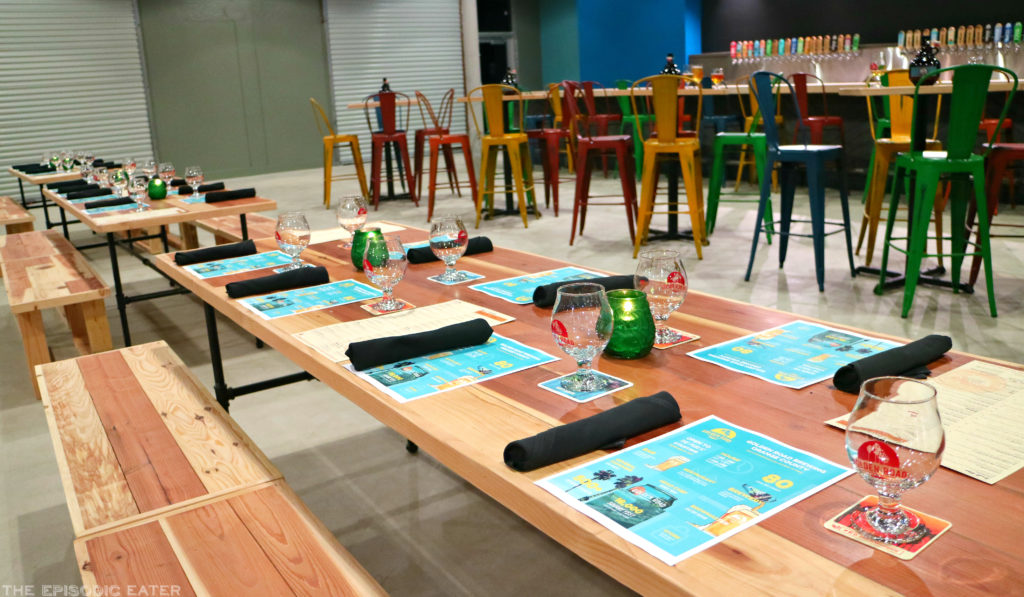 These features will give the brewery, which already boasts a very well-put together tasting room and kitchen, a new kind of interactive experience for young and old to enjoy. It even accommodates our furry friends, as the plans for a dog park are also underway. Current construction is abundant in the outdoor area, as the indoor is ready to host its soft opening. The outdoor area will include an additional 18,000 square feet of an outdoor patio lounge area, three outdoor side bars with rotating taps, as well as fun games such as giant jenga, bocce, and corn hole. While beer is certainly the paramount feature to any brewery, the attention to detail in regard to the entire experience was not overlooked in the least here with Golden Road.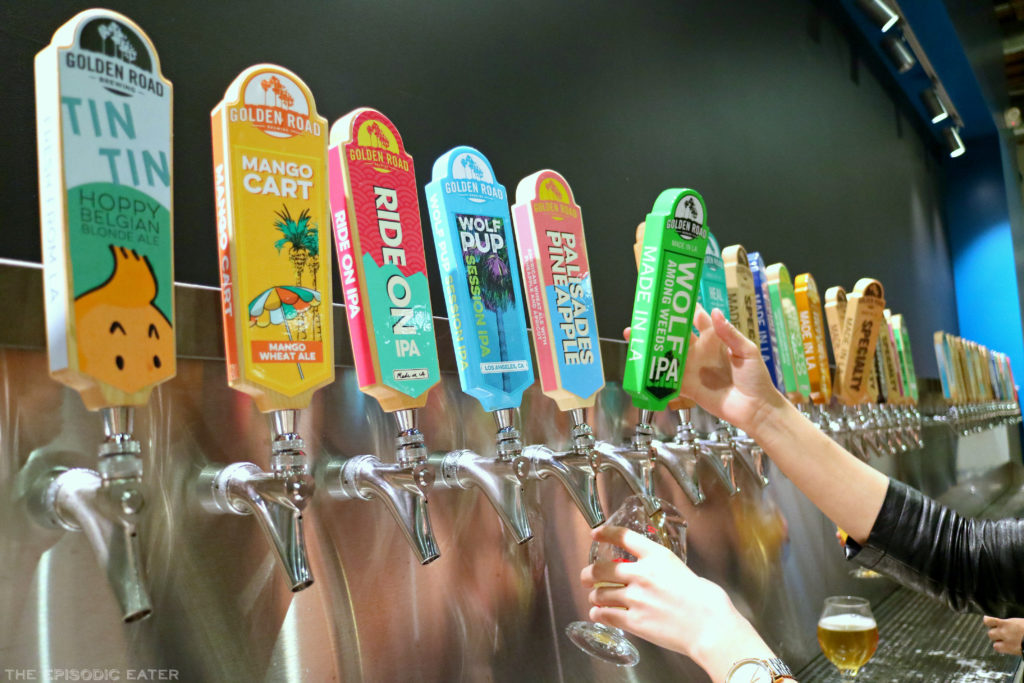 As with any brewery, you can have all the neat features, but for a truly great experience, you need a heart to make all beat. Enter Victor Novak formerly of TAPS, a brewmaster who is very well regarded in the Orange County beer scene. He is tasked with commanding the brewing ship, which is already sailing along quite nicely, based on the outstanding beers we enjoyed at the preview. Victor is manning a 10-barrel system currently focused on many of Golden Road's experimental projects. Luckily we did not merely get to hear about these exciting projects, we were also able to taste them.
From the minute we walked in, we were handed a Melon Cart Wheat ale which was a nice introduction to the night with its sweet melon opening, to its light finish, Melon Cart was a nice handshake-greeting to our palates upon arrival. Victor shared with us his current barrel-aged projects, the first of which currently just hit bottle shops. It is entitled the "Unlimited Devotion Series" tying back into the Golden Road name, which comes the Grateful Dead song "The Golden Road (To Unlimited Devotion)". This first offering from the series a is Wheat ale, boasting a heaping amount of raspberries, then aged in Añejo tequila barrels. What a way to kick off the series with this jammy framboise, the perfect beer to get one excited for the rest of the series, as it was executed to perfection. The next addition might or might not be something very holiday oriented, as well as relative to some sort of house. I can confirm it is fantastic. Having such a talented brewmaster as Victor at the helm instills a level of confidence that the brewing aspect of Golden Road is in some seriously talented hands. They won when they brought Victor aboard.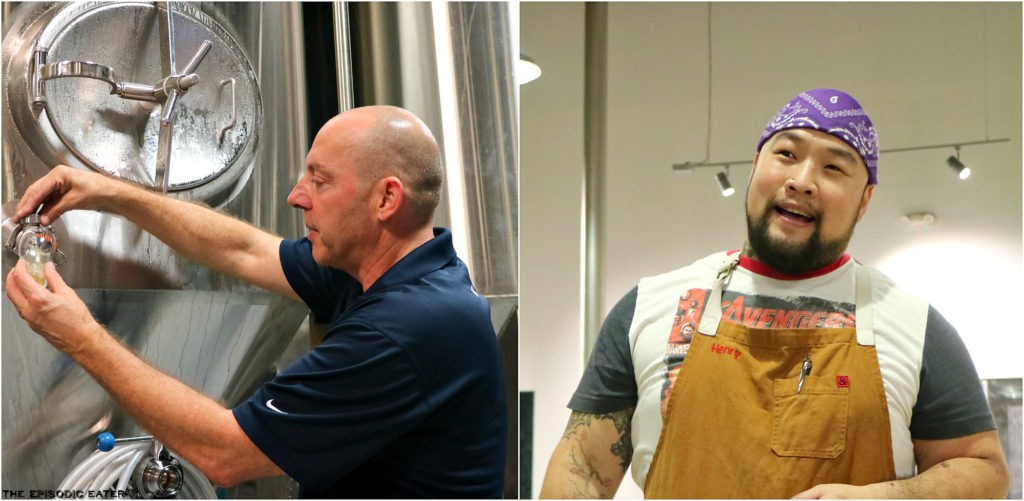 Thank you to Beerface for the incredible rundown on the beer program and the brewery itself. Now, to the food, which is a reason to visit Golden Road all on its own.
Chef Henry Tran, also formerly of TAPS Fish House & Brewery, came to Golden Road Brewing with a vision. He is intent on changing the mentality that fried food is the only fare that complements the brewery experience. A perusal of the menu shows many of the same dishes that can be found at Golden Road's Atwater Location, but with a more expansive kitchen, Chef Henry was able to add a few more items to the ambitious menu.
Each course was paired with a brew, which I was initially skeptical about… However, Beerface and I agreed that we were treated to easily the most spot-on beer pairing dinner that we have attended. Meg Gill assured us that special attention will be paid to educating the staff on not just the nuances of the beers themselves but on recommendations for dish pairings as well.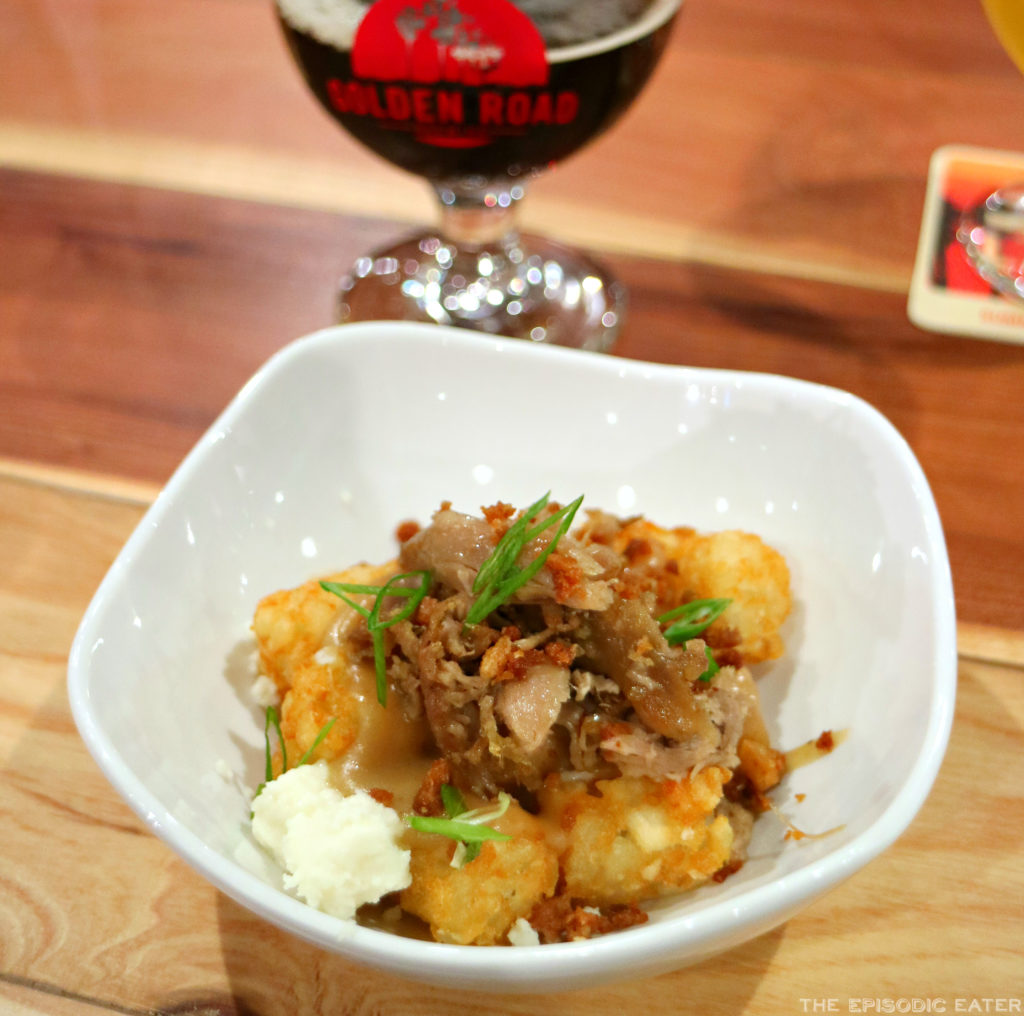 As for our preview, the first course we enjoyed was the Roasted Beet Carpaccio Salad. Now, there are just a couple ingredients that I am skeptical about enjoying… and beets are one of them. However, my fears were put to rest as I absolutely loved it! The arugula, frisée, shaved fennel, and watermelon radish dressed with roasted lemon vinaigrette on top was a perfect accompaniment. If you're a beet lover at all, get this! Plus, where else can you get a dish sprinkled with pistachio dust along with your brew?
The second course of Duck Poutine was the most typical pub dish on our menu, although it was elevated by the inclusion of duck confit and duck gravy, along with mozzarella. I should mention that there is a vegan version of this dish, along with most dishes offered on the menu. Although I am an adamant duck lover, the marinated tempeh, mushroom gravy, and vegan mozzarella sound like a worthy meat-free option.
Possibly the star of the night was the Shrimp and Grits with a creamy onion polenta, roasted corn, shishito peppers, sambal, and citrus onion salad. It took me straight back to Nashville, where I had every possible combination of shrimp and grits possible… or so I thought. The citrus onion salad was a light, acidic addition to what is normally a heavy dish, but the polenta was so ultra creamy and light as a feather. The only fault we could find with the dish was that we would have wanted a spoon to scoop up every last morsel of the grits.
And last but not least… the Fig Cake.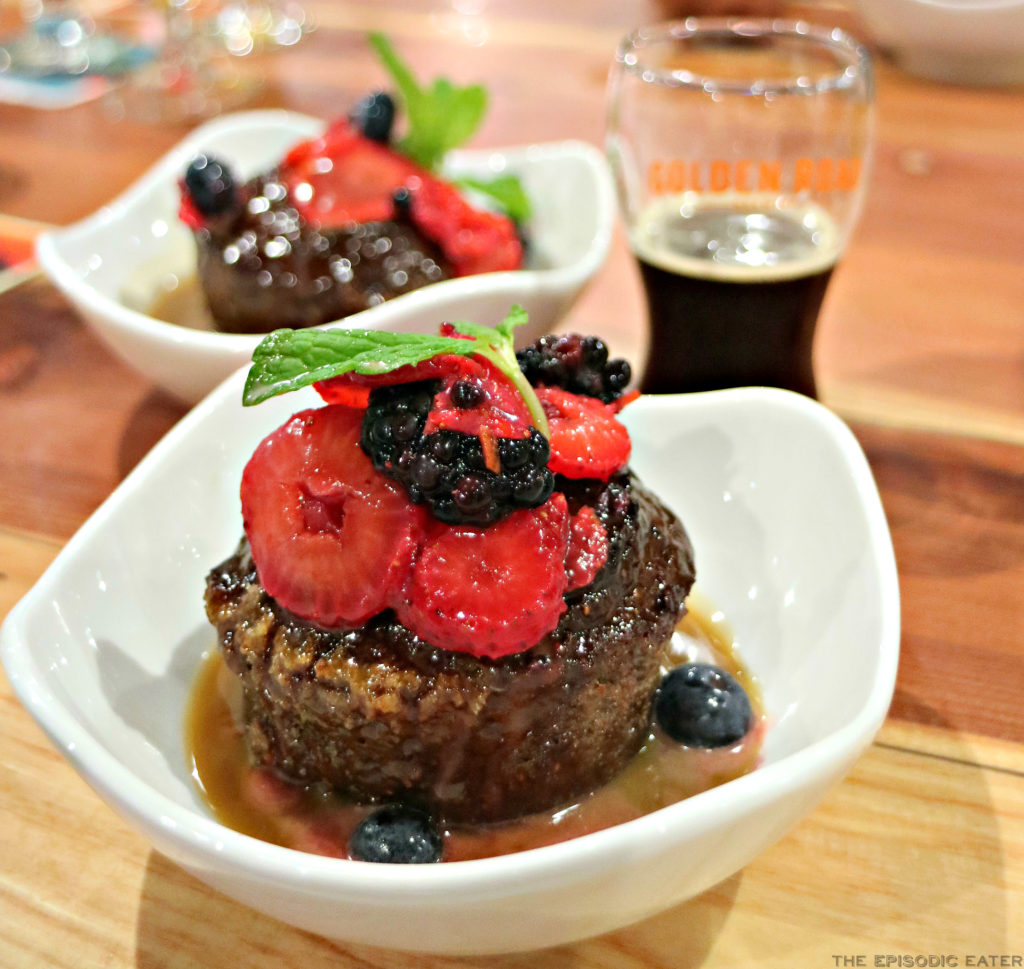 By this point, I was already full from the previous courses, but when this dessert arrived, not a single morsel was left behind. The berries were a wonderful touch, but the star of the show was the salted caramel-whiskey sauce. I love fig cakes, although they usually disappoint by being overly dry and relying on a lackluster sauce to soften it up from venturing into hockey puck-status. Not in this case! It was a gorgeous ending to the night and I found myself polishing off every bit of the cake along with the accompanying stout.
Personally, if the dishes we enjoyed are any indication of the rest of the menu, the city of Anaheim is in for a great new dining, as well as drinking, spot. Personally, a few menu items that pique my interest are the Fried Avocado Tacos, the Grilled Calamari Salad, any of the burgers (including a vegan variety), the Short Rib Pot Pie, and the Matcha Crème Brûlée. Our next visit is already planned!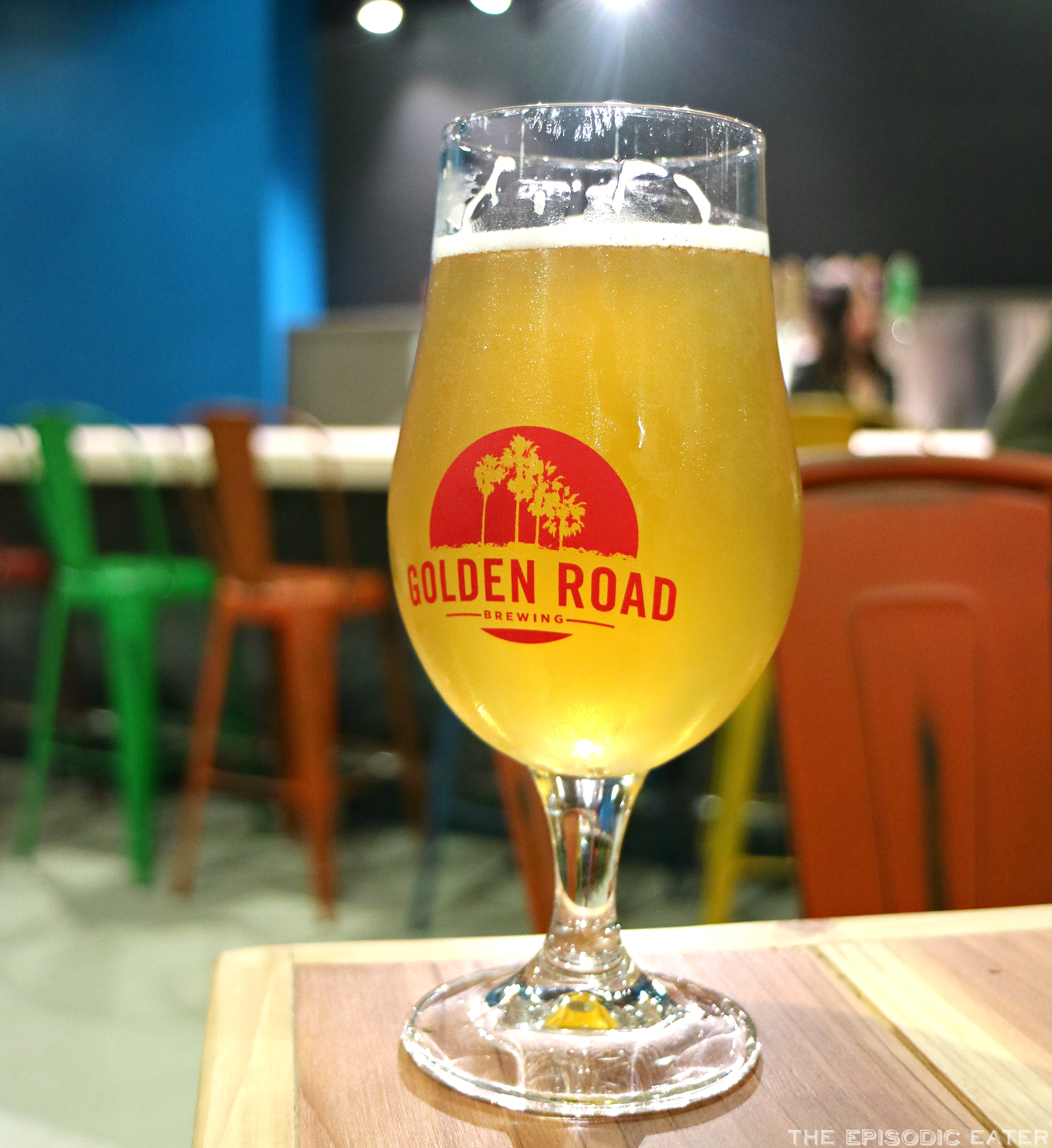 From our preview, Golden Road is sure to be a successful addition to what may be the new unofficial brewery row in Anaheim. I know that the both of us are eagerly anticipating the Grand Opening this upcoming spring, but in the meantime we look forward to the soft opening and popping in for a few dishes and beers… and perhaps some updates, if we can peek behind the construction tape yet again.  Until then…
Cheers!
SaveSave

Golden Road Brewing Anaheim
2210 E Orangewood Ave
Anaheim, CA 92806
https://goldenroad.la/anaheim
(714) 912-4015
SaveSave
SaveSave