"June Gloom" is really living up to its reputation here thus far to begin the sixth month of the year. Few days have even seen days over eighty degrees. Beerface McGilicutty here to say, that is completely fine with me however, as I took advantage and popped open a couple heavy ones to go along with some fruity wonders this month. I would never steer you wrong though, I promise. It was definitely tough decision deciding which beers to feature this month since I had some massive hauls over the course of multiple releases. I believe I settled on some really fun ones which you will hopefully enjoy as much as I did. Without further rambling, let us get into it.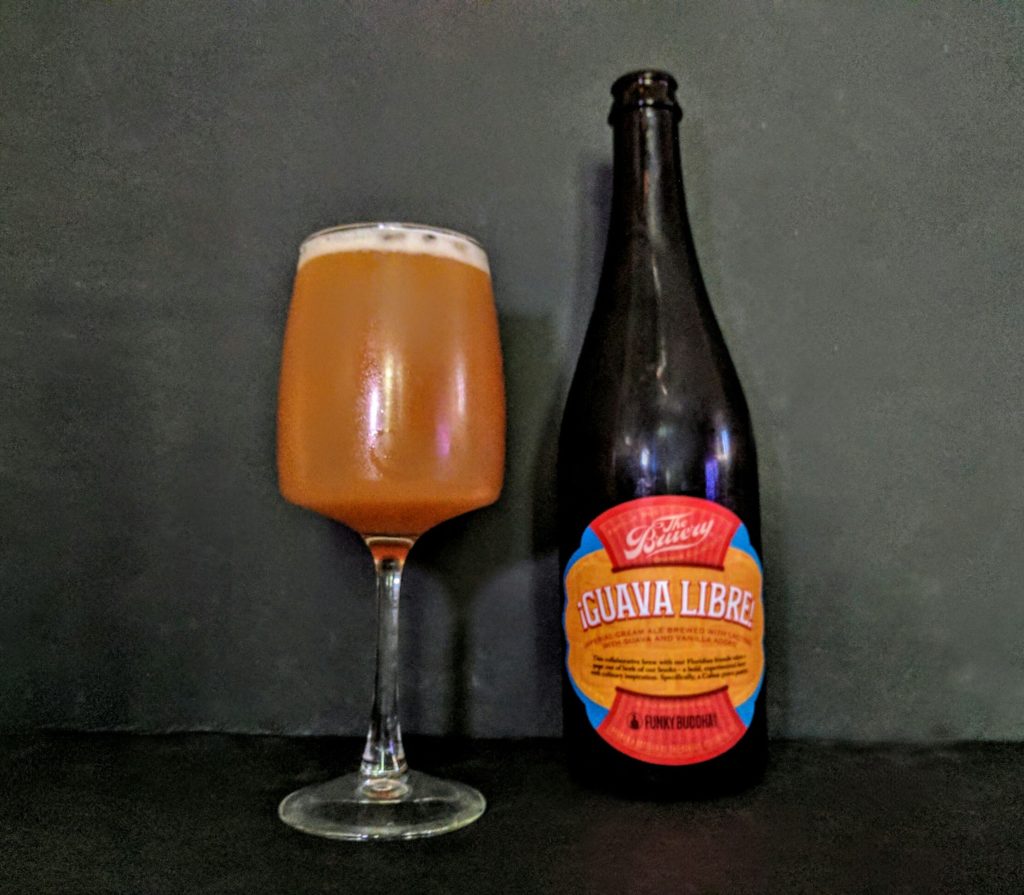 ¡Guava Libré! (7.5% ABV | N/A IBU) – Fruit Cream Ale
What a fun one this turned out to be! I am a huge guava fruit fan so I was all about seeking out this collaboration between The Bruery, and Funky Buddha Brewing. I was happy I was able to find it with no difficulty whatsoever from my buddies over at Craft Beer Kings who always take care of me, so shouts to them for setting me up with the lovely beer. On the nose I picked up some tropical guava flavor, and subtle hints of vanilla and lactose sweetness. The guava was very noticeable right away as soon as I sipped, followed by some very mild hop bitterness. The guava had carried through to the finish before it gave way to some creamy lactose sweetness which lingered. Not terribly complex, as you get what you see, however this was absolutely wonderful, and perfect for any hot weather day with its sweet tropical guava notes, and creamy body. A real treat.
How to Pair: Let us fire of that grill with some fresh peppers, citrus marinated chicken, and caramelized onions to really let the beer's sweetness contrast the light char and sharp flavors of the grilled kabob.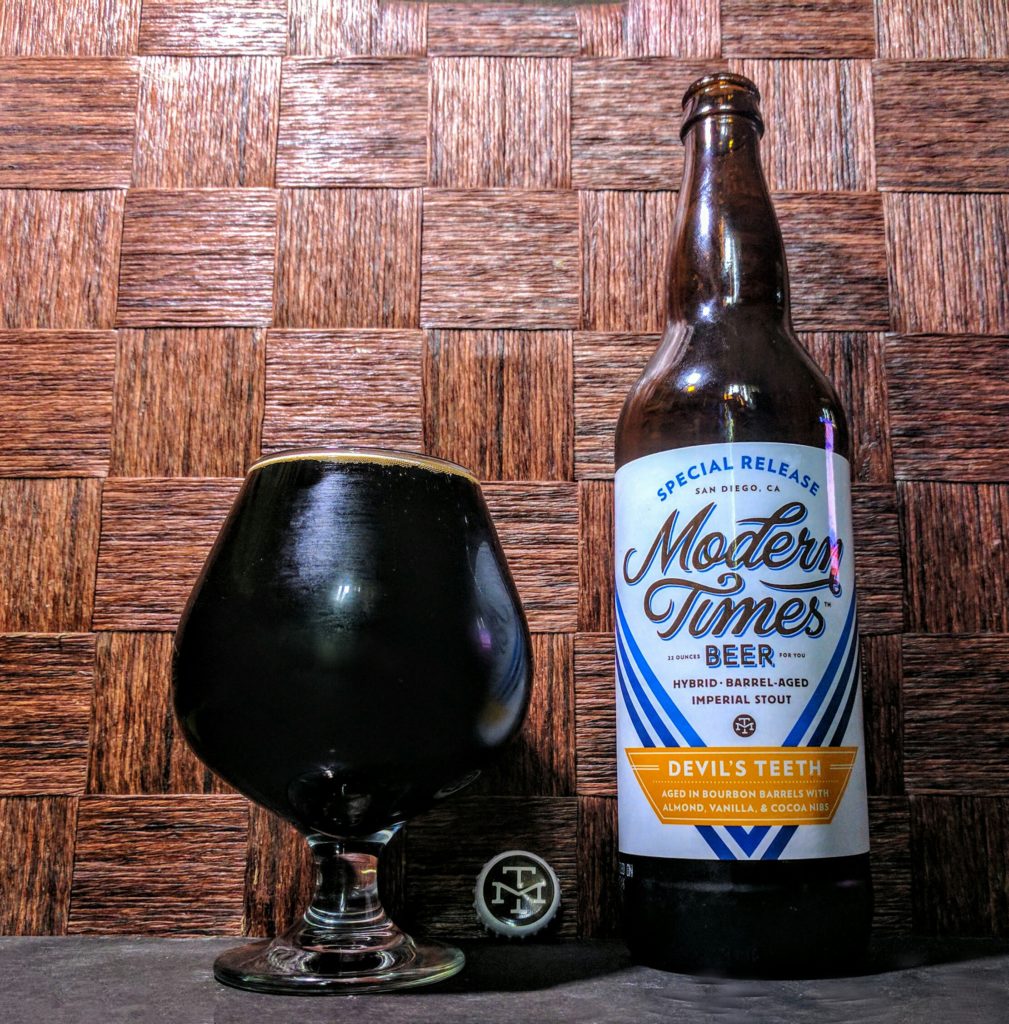 Devils Teeth (11.0% ABV | 60 IBU) – Bourbon Barrel Aged 50% Imperial Stout 50% Olde Ale, with Almonds, Vanilla, and Cacao Nibs

Hybrids are always super intriguing, yet risky. Sometimes you get the best of both styles, other times you just get a mess of a beer where both equal parts were better left alone. Devils Teeth is the former. The two styles mesh together harmoniously to form an incredibly creamy mouth feel with the toasted sweetness of the olde ale, and the sweet, dessert, and mildly malty characteristics of the imperial stout. This particular variant was the bourbon barrel aged, with almonds, vanilla, and cacao nibs. Square away on the nose I grabbed a healthy amount of vanilla nuttiness. My sips were incredibly creamy in mouth feel, that was the characteristic which stood out to me. I was so pleased to have encountered that. The nuttiness settled wonderfully balancing out the sweetness of the vanilla, and subtle bitterness of the cacao nibs. Each flavor carried throughout the tasting, taking on more of a toasted presence as I moved through to the finish. Absolutely incredible beer, which could stand alone as a dessert on its own.
How to Pair: With such a fantastic combination of flavors going on with this beer, the sweetness would work very well with something smoked, such as some hickory smoked beef ribs to contrast.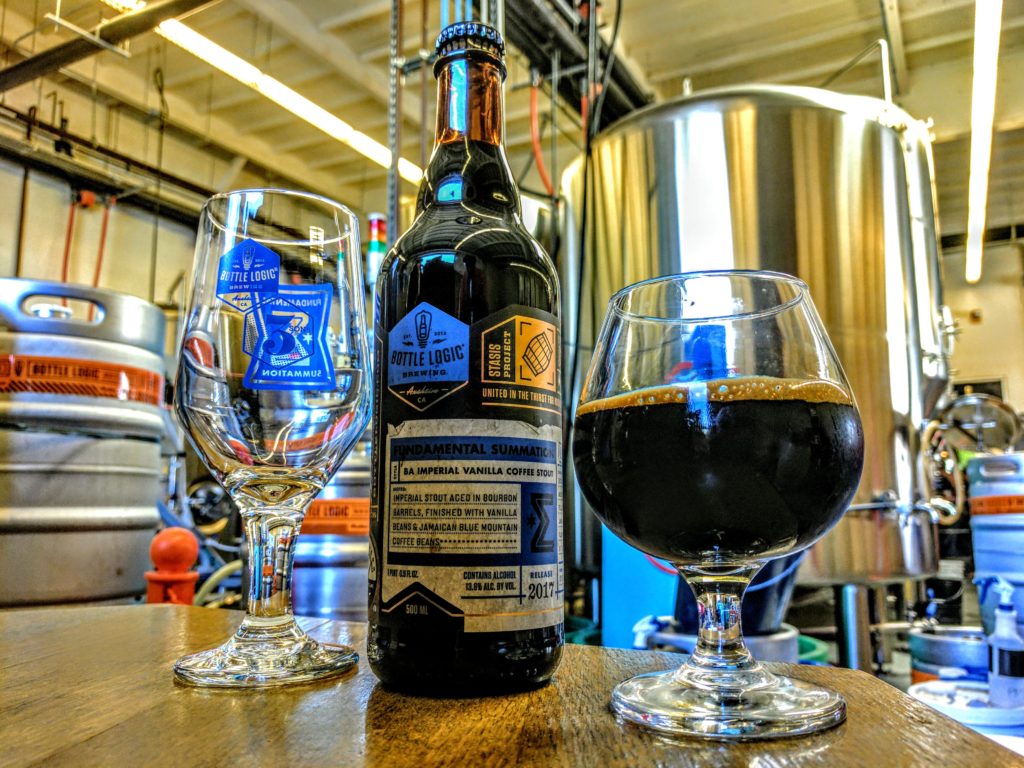 Fundamental Summation (13.8% ABV | N/A IBU) – Bourbon Barrel Aged Vanilla Coffee Stout

This an equal parts collaboration with 3 Sons Brewing Company, it takes Bottle Logic's Fundamental Observation, and combines with 3 Sons' Summation. So back when I first had this beer at Bottle Logic's Anniversary Week of Logic, it was an instant favorite of mine. It was very coffee forward due to the addition of the Mostra Coffee roasted Jamaican Blue Mountain coffee beans, and I truly could not wait for this to be released. Fast forward to a week before its Stasis Project release, where I was able to try it for the first time since its preview. It had changed, and by quite a wide margin. The coffee which was very forward, and dominant was no longer present whatsoever, I did not even personally pick it up. I was left with a very fudgy chocolate bomb with good hints of vanilla and barre out back. Did I enjoy Fundamental Summation? Absolutely, was it any semblance of the beer I tried during its preview? Absolutely not. I am very interested to see how this develops over time, I wonder if the sweetness, and barrel heat will cut back to yield its once ever-prevalent coffee aroma, and flavor, or will it continue to bring more of the flavors I pulled this time while the heat from the barrel fades? I am intrigued to say the least. Good work on the collaboration with 3 Sons Brewing Company on this one.
How to Pair: I pulled a lot of bourbon barrel presence here, so let us play off of that. I believe a good steakhouse style burger would go quite well. The rich, creamy cheese, and caramelized onions combine to lend some sweet tangy notes to a strong alcohol burn.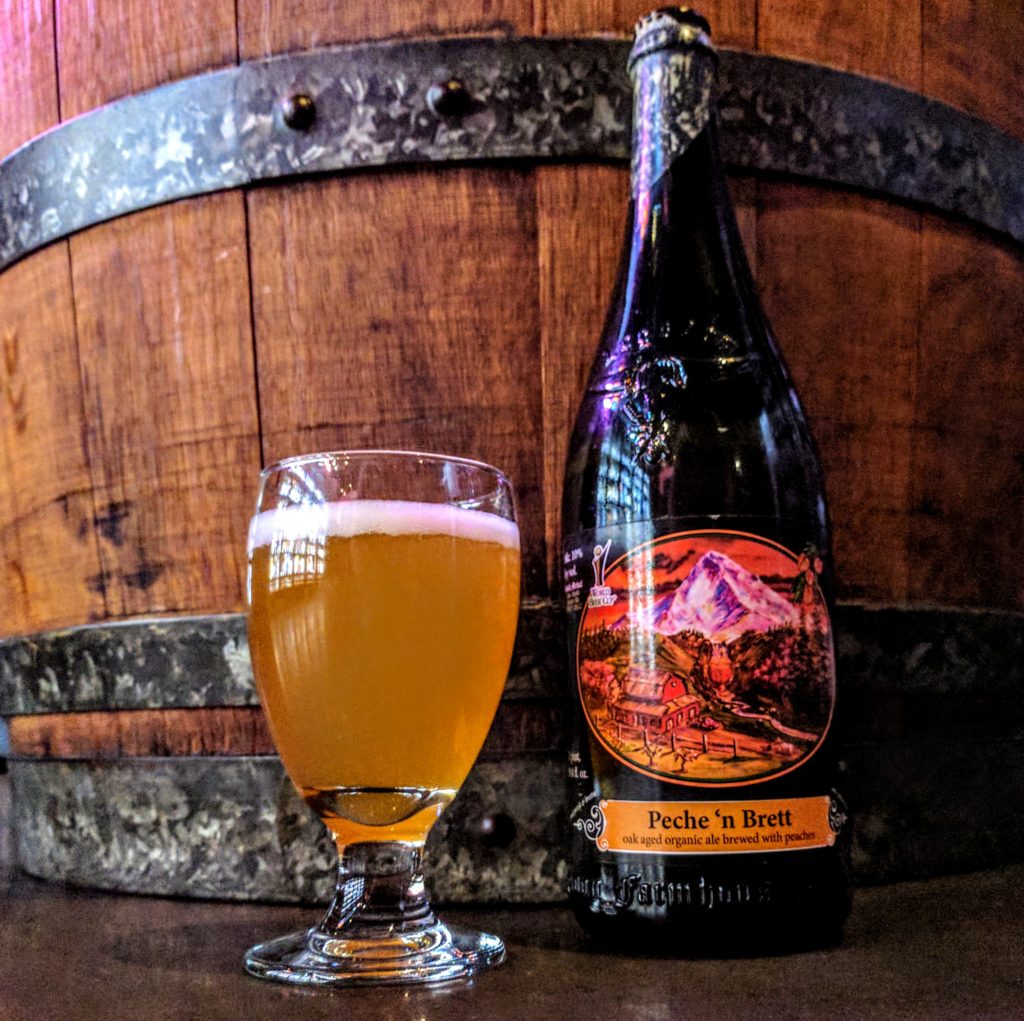 Peche 'n Brett (10% ABV | N/A IBU) – Fruit Saison / Farmhouse Ale

I must confess, this bottle was shared between myself and Brewster McGavin, as he generously purchased it for us to enjoy at The Cellar in Uptown Whittier as we had a meeting to go over some Cybeernetics stuff, I love business meetings, especially when great beer is involved, don't you? Now here is the part that has been bugging me, neither of us have any clue what year this version happens to be, as we scoured the bottle in hopes to find, but no such luck. Our guess would be about 2012 or 2013 based on it's characteristics. Nonetheless, here is what was going on with this gem. Immediately there was some funk on the nose, not the traditional foeder wet gym clothes type of funk, but the sweet, earthy, wet dew, moss type of funk, accompanied with sweet peaches. The flavor was rich as can be of extremely ripened peaches, borderline cobbler-esqe with some semblance of bready malts. The earthy tones encountered on the nose finished out back with a hint of alcohol heat, and more peach sweetness. This was unbelievably good. I thank you Brewster McGavin for allowing to enjoy this wonderful beer that we only wish we knew the year of!
How to Pair: King Crab Legs with drawn butter with a side of grilled asparagus would be the perfect compliment to this fruity wonder of a beer.
********************************
There you have it! Your June Gloom guide to drinking beer this month. If the weather stays the same, I might have to put on a jacket, start a fire, and open up some deep dark imperial stout blessings next month in July. I might just do that anyway, you know. Make sure to stay tuned for the next article, and enjoy these great beers in the meantime. Thank you for tuning in to this month's article!
CHEERS!
Look forward to more event and beer reviews from Beerface McGillicutty and follow on Instagram, Facebook, and Untappd.