Hey everyone, Beerface here to usher you in to the new Spring season with recent releases and just overall favorites that I was able to drink recently and feature this month. I have a solid variation of  differing styles to hit you with this month. Make sure you try them and let me know if you agree with my analysis. Also, stop telling me that because it is getting hotter, I cannot enjoy my barrel aged stouts. You leave me my stouts! Lastly, before we jump to this month's featured beers, let us calm down on this "Haze Craze." It is sort of ruining the craft beer industry, okay? Thanks.
Xocoveza (8.1% ABV | N/A IBU) – Imperial Milk Stout
Many of you know Xocoveza as the Stone branded collaboration with Cerveceria Insurgente, but Insurgente and Stone each have their own versions with their respective take on the style. I reviewed Stone's version back in my December piece, ad now I was generously provided the opportunity to review this Insurgente version! I have to preface this by saying that Ivan Morales of Insurgente, along with their importer, Stephen Walker of Polaris Beverages, were just outstanding every step of the way in getting these bottles to my team and I. I truly want to say thank you to them. Now to get to the wonderful offering. Yes, I opened up stating it was wonderful because who likes a timid approach to things? This beer is definitely big and bold. Right on the nose I grabbed the very apparent cocoa, and subtle cinnamon, and coffee hints. The first sip was a flavor blast of cinnamon showing up more boldly than the nose. Sweet vanilla laced my palate in the middle with some cocoa bitterness edging into the scene. I was so happy to grab the heat from the pasilla chiles on the finish because it was fresh and wonderful. While I surely love both versions, I will say Insurgente gets the nod for their styling of this instant classic. Phenomenal stuff!
How to Pair: While there are other ways to go about this, mixed in with some vanilla ice cream is just too perfect of a complementary match.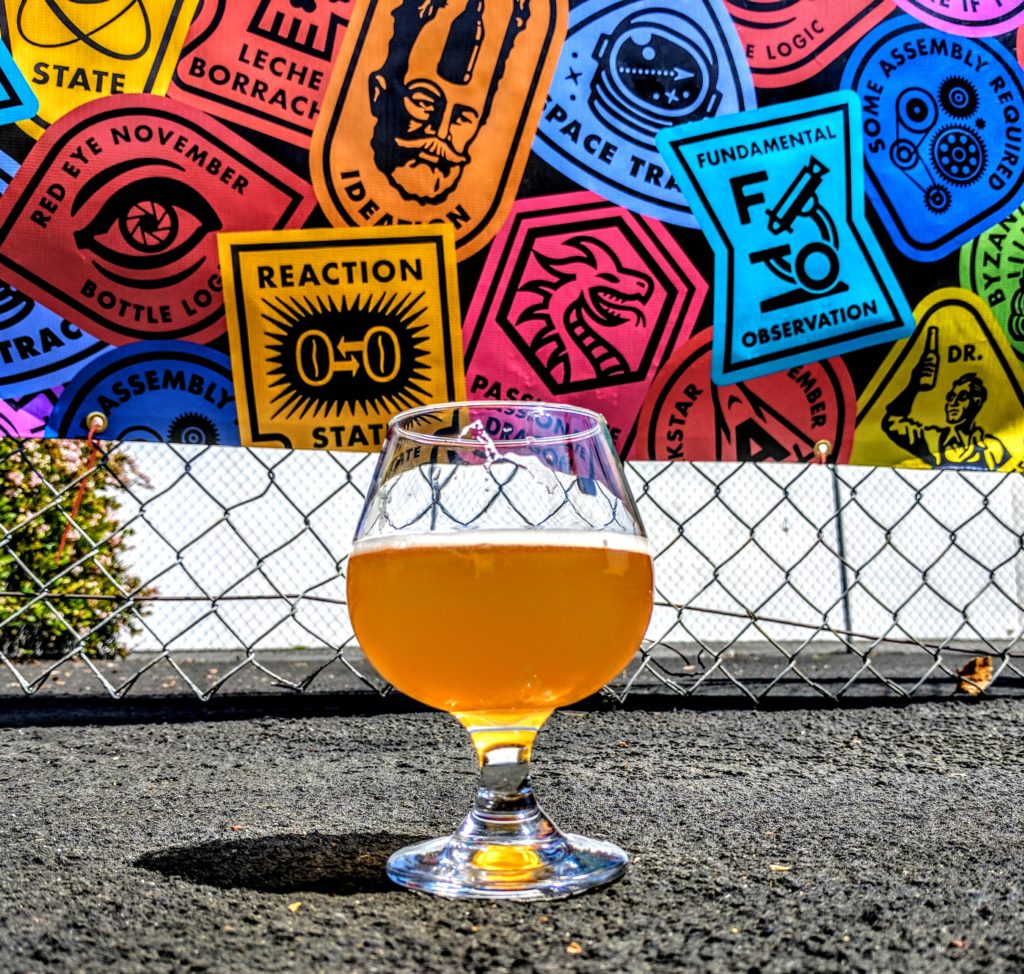 Anaheim, California (6.5% ABV | N/A IBU) – Pale Chile Ale
This beer is really called Anaheim, California, very obviously named for the city Bottle Logic resides, as well as I believe for the Anaheim chiles used as a flavor in the pale ale. I enjoyed this at Bottle Logic's Anniversary "Week of Logic" on the first day on my quest to Level Up. I am going to make a bold statement: this beer possesses one of the freshest tasting ingredient profiles I have ever experienced in a beer. I almost felt like I was drinking a super healthy green juice or something of that nature. The peppers were incredibly fresh and my nose grabbed the aroma immediately. The flavor is indicative of the aroma. Let me make clear that there is no heat on this, which is completely fine. The crisp subtle hop finish and very present pepper flavor makes this literally the most ideal of warm weather beers. I think Bottle Logic should make a six or twelve pack run of these, as it would be ideal for hot days or to bring to a cookout. That is my official suggestion Bottle Logic, and thanks for making this. The day I had them could not have been more ideal for enjoyment. Cheers!

How to Pair: I mentioned a cookout above, so I would recommend carne aside tacos with cilantro, onion, and spicy red sauce with a side of sweet grilled onions. You taqueros know exactly what I am talking about. 😉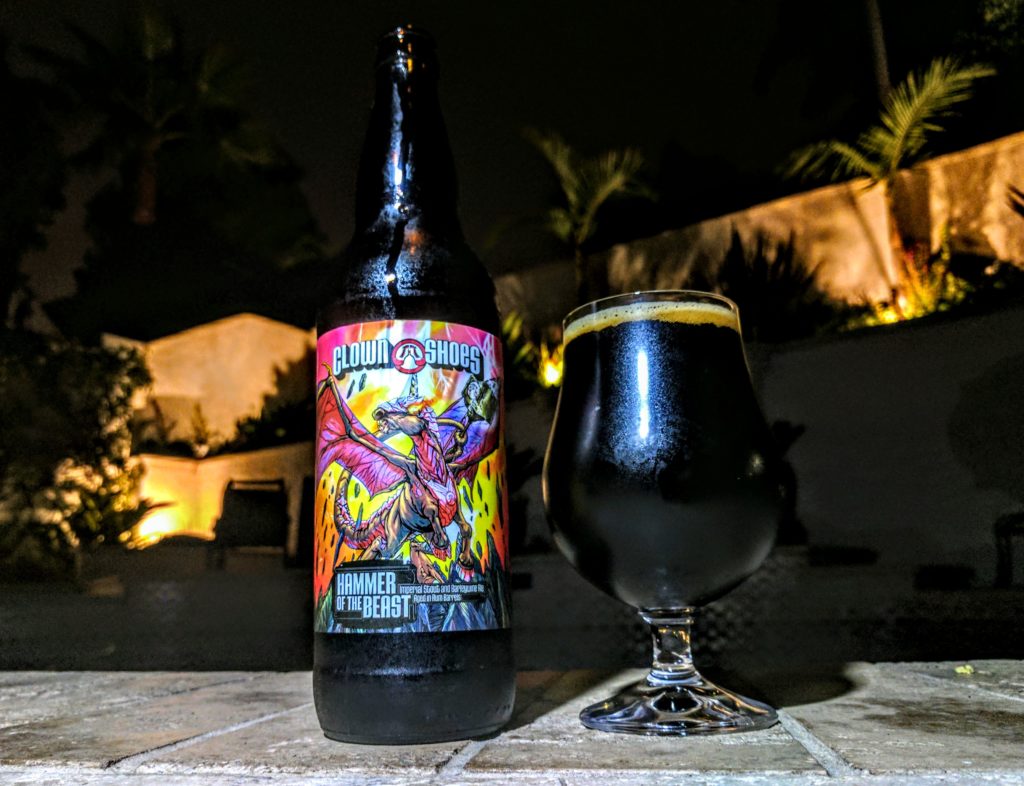 Clown Shoes – Ipswich, Massachusetts  
Hammer of the Beast (12% ABV |  75 IBU) – Rum Barrel Aged Imperial Stout / Barleywine blend
Can you say complexity? WOW! The Hammer of the Beast from Clown Shoes is the fifth installment in the Beast Series Blends combining all equal parts of three different beers. The Undead Party Crasher (American Imperial Stout), Billionaire (Barleywine), and the Blaecorn Unidragon (Russian Imperial Stout) are combined, then aged in rum barrels. So back to this complexity thing. The nose came through of heavy smoked wood, sweet cooked brown sugar, and vanilla. I decided to then dive in to taste this accurately named beast. Right away I picked up a good amount of toasted malt with charcoal, tobacco, and anise soon following in such order. The oak from the barrel was accompanied by sweet vanilla notes while on my way to the finish, where the rum heat came through nicely and did not kill the flavor blessings which had just taken place on my palate. What an incredibly layered offering from Clown Shoes. I will be more than glad to enjoy this again!
How to Pair: There are some seriously massive flavors happening here. A nice, sweet pineapple-marinated and glazed ribeye steak with some coconut rice would add to the island rum flavors, while adding more sweetness to the big, smoky flavors of this beer.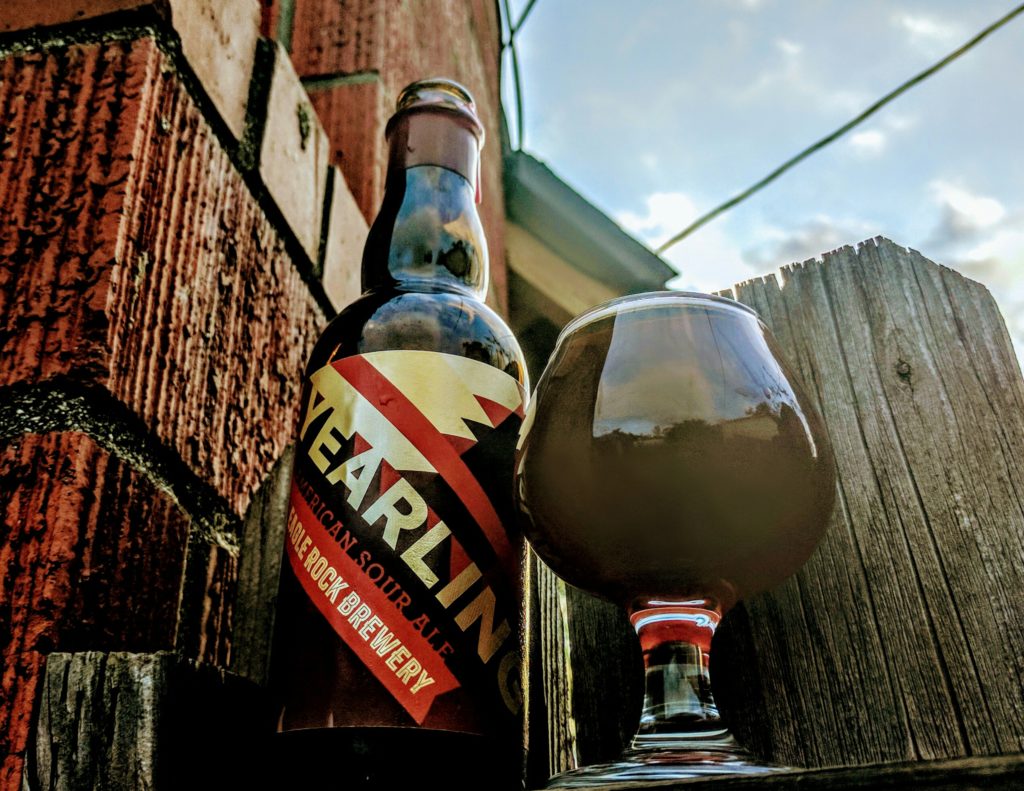 Yearling (6.6% ABV | 23 IBU) –  American Sour Flanders Red Ale
I was fortunate enough to be invited out for a tasting by Eagle Rock Brewery, and I naturally took them up on it! The Experience: Eagle Rock piece can be found here. I liked much of their offerings and it was great to sit down with Jeremy Raub, owner of Eagle Rock Brewing. He is such a nice person, and I was very glad he took the time to take me through everything at the brewery. I made sure to pick up this bottle of Yearling before I left, just to review for this article. Yearling is an American sour ale done Flanders Red style, aged in wine barrels for a year. As I popped it open and poured, its medium amber color sat nicely in my snifter while releasing a bouquet of semi-floral, funky aromatics. The sour notes were introduced nicely up front with its apparent fermented characteristics following closely behind. Some fresh plum and stone fruit, possibly nectarine, balanced out the middle. It finished with a moderately sweet candied finish. Great take on the style, and thank you so much for taking the time Jeremy.
How to Pair: Sharp aged cheeses would do really well to contrast the fruity flavors, while holding hands with the funkiness also present.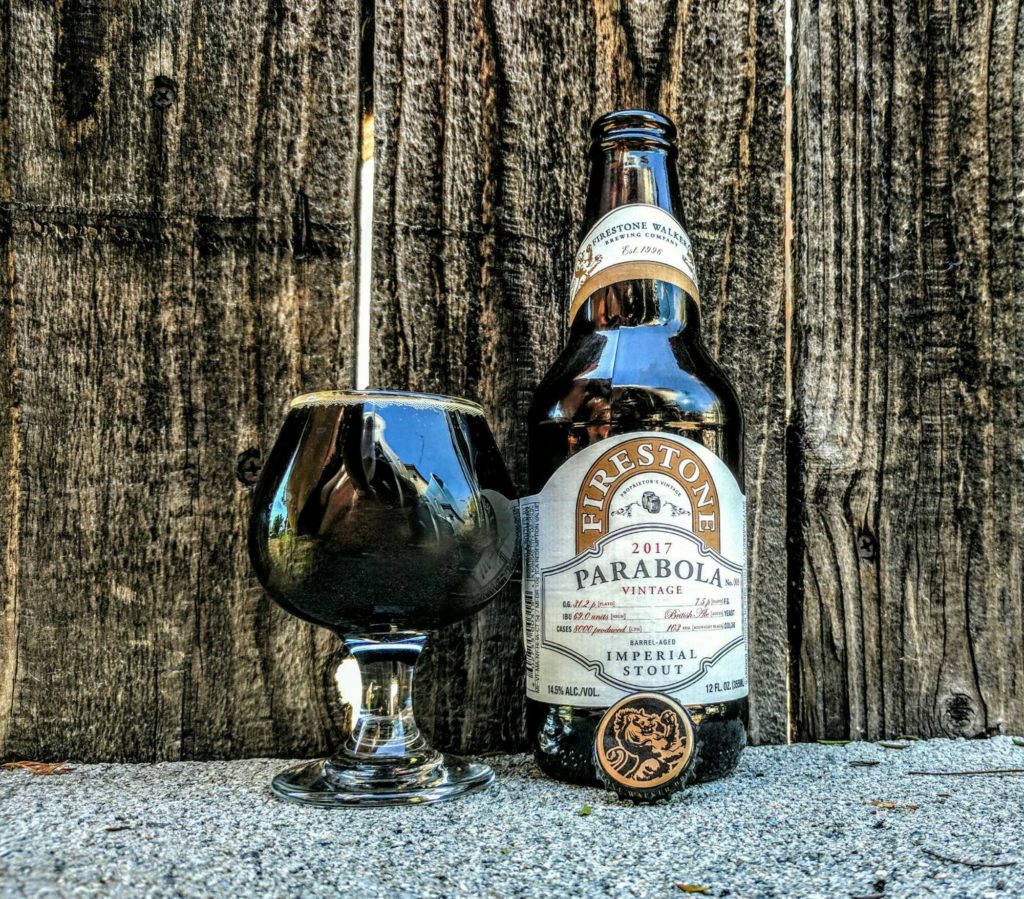 Parabola ( 14.5% ABV |  N/A IBU) – Bourbon Barrel Aged Russian Imperial Stout
Certainly I had to touch on Parabola from Firestone Walker since this year's version it just came out days ago. One thing to note that this year, due to more space needed, Boulevard Brewing Company in Kansas City Missouri brewed, barrel aged, and bottled this 2017 edition of Parabola under Firestone Walker's guidance. Heaven Hill barrels were used for the aging, which is wonderful, and this year they come in twelve ounce bottles, instead of the twenty two ounce bombers. Now for the tasting. Rich chocolate emissions rose as I grabbed the scent of this one, and I also picked up what I perceived as some faint cinnamon as well. Very strong vanilla presence right away. An oak heavy char took over the middle with force, while continuing to the pretty hot bourbon finish. A subtle sweet plum showed up on the aftertaste to combat the burn, which was a welcomed addition. This one drinks very nice right now, and in a year or two when it peaks, it will be absolutely tremendous. I am on my way to grab another bottle!
How to Pair: A twelve ounce bone-in filet mignon with black truffle mashed potatoes. Yes, that would be wonderful in all its bold flavor glory.
***********************
Well this was fun right? I took you through some varying styles of wild complexity and big bold flavors, some pairings that I will have to make happen as soon as possible. And GASP there were no New England style IPA's present in this piece, plus no mention of the words dank, juicebomb, crushable, haze-craze, or juicy. The can-release brigade will likely be coming after me with torches and pitchforks like I am Frankenstein's monster.
Do yourself a favor and try these beers. You'll thank me. Or you possibly won't because you're too busy camping out overnight or rushing from work to a midweek can release where all the cool kids will be, so you must attend. I'm just not that damn cool.
CHEERS!
Look forward to more event and beer reviews from Beerface McGillicutty and follow on Instagram, Facebook, and Untappd.