Beerface here with another Experience piece! This time I was privileged to be invited out to Eagle Rock Brewery. I was certainly excited for this, as I had been wanting to try some of their beer prior to being invited. A pleasant surprise indeed! I arrived to see a fresh, modern looking tasting room, small in size, yet inviting. Drop-down suspended bulbs provide lighting in the orange color schemed room. There are also some fun paintings of the Eagle Rock Brewery's employees facing the seating area in the room. A neat beer bottle clock which features the brewery's own bottles, as it sat next to a picture displaying their motto,"Beer for the People". I really liked the intimate, yet decorative vibe Eagle Rock was giving off. I came here to drink some good beer, and surely that awaited.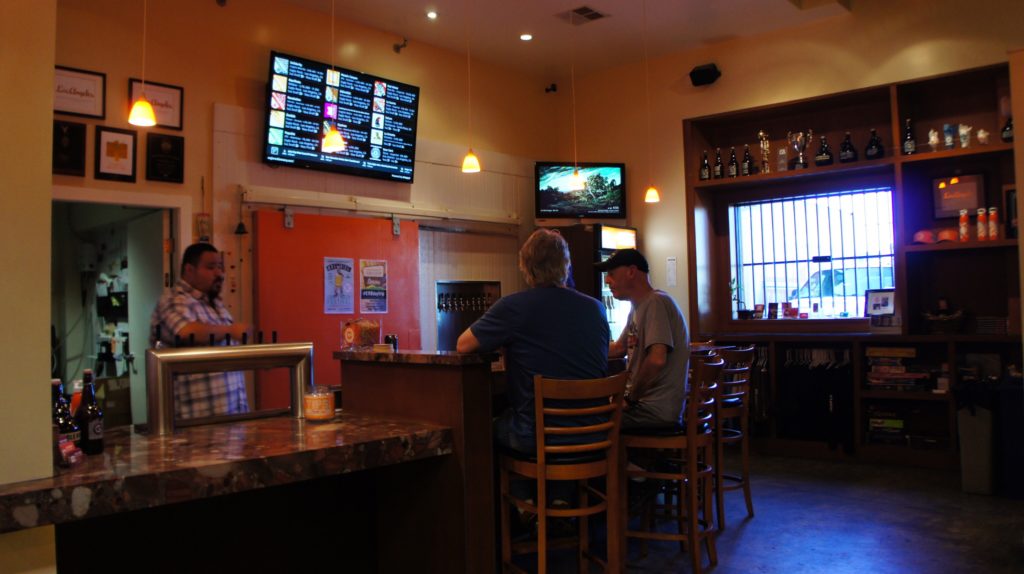 The owner, Jeremy Raub was kind enough to not only take me on an awesome behind the scenes tour of the facility, while explaining their brewing process, but he also sat down and took me through each beer on the menu as I enjoyed it. We discussed flavor profiles, reasons for each beer's name, naming beer in general, the overall beer industry, and how Eagle Rock came to be. It was a truly engaging and intriguing experience right out of the gate.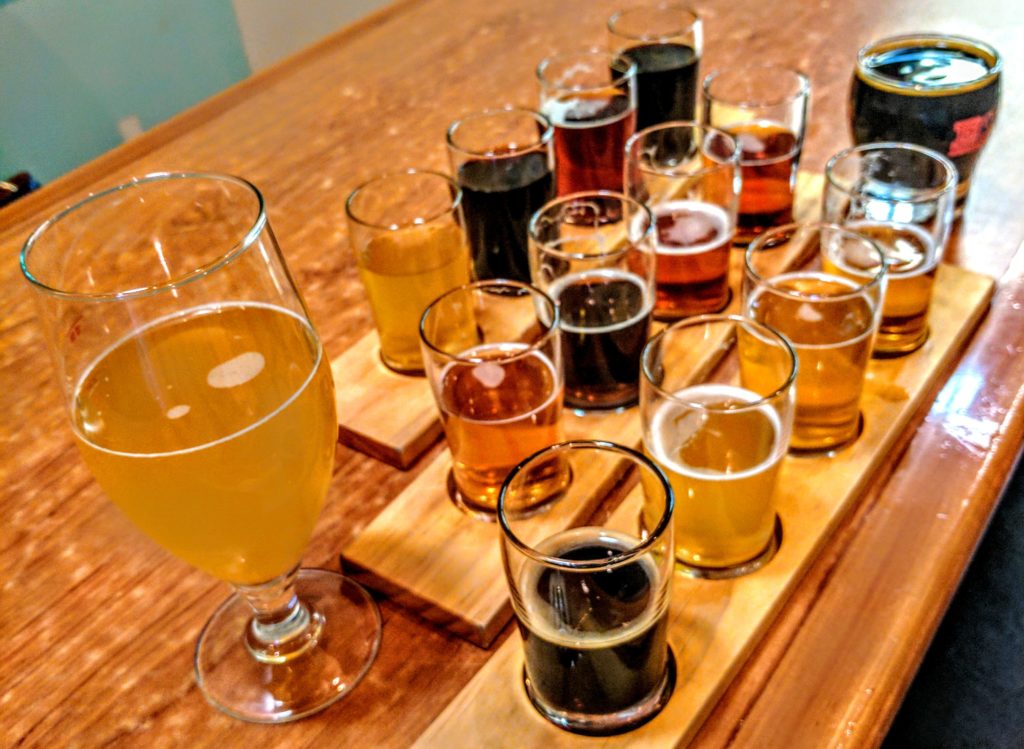 So, I literally was able to try every beer on Eagle Rock's tap list! You better believe I was damn excited for that. I enjoyed how many of them were not totally committed to one style, and they each had their own flavor nuance which made them unique to the certain style in which they were brewed.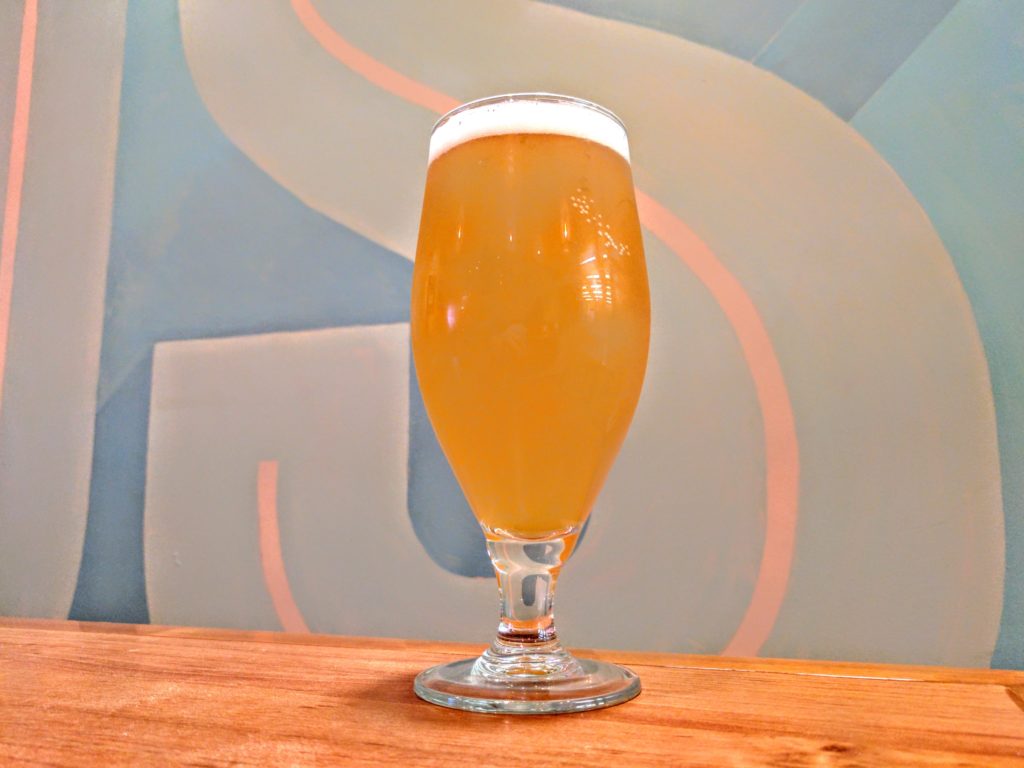 One such beer was the first installment to Eagle Rock's Day Trip Series, which by their words was "dedicated to, and inspired by the natural beauty surrounding the Los Angeles area." Mosaic Canyon was a session IPA released in four-pack cans back on March 28th. I was able to try a nice pour of it. Let me preface by saying that generally speaking the session IPA is not really my go-to style. Usually, it lacks pronounced enough flavor to make any sort of impression on my palate… usually. I am delighted to say the Mosaic Canyon packed tons of wonderful citrus and passion fruit flavor! On the nose, it emits a slight earthy note . The first taste gave forth some bursting citrus, only to be relaxed through the middle with some sweet passion fruit notes. It finished with the same earthy, slightly bitter nature which was present on the nose, all while being ultra refreshing. As the nice sunshine-filled weather is beginning to be upon us with regularity, the Mosaic Canyon fits the bill as a perfect option on a beautiful day. Stay ready for future Day Trip Series releases:
2 North (North American Brown Ale) – May
Summit Seeker (American IPA) – July
Salvation Mountain (Gose) – August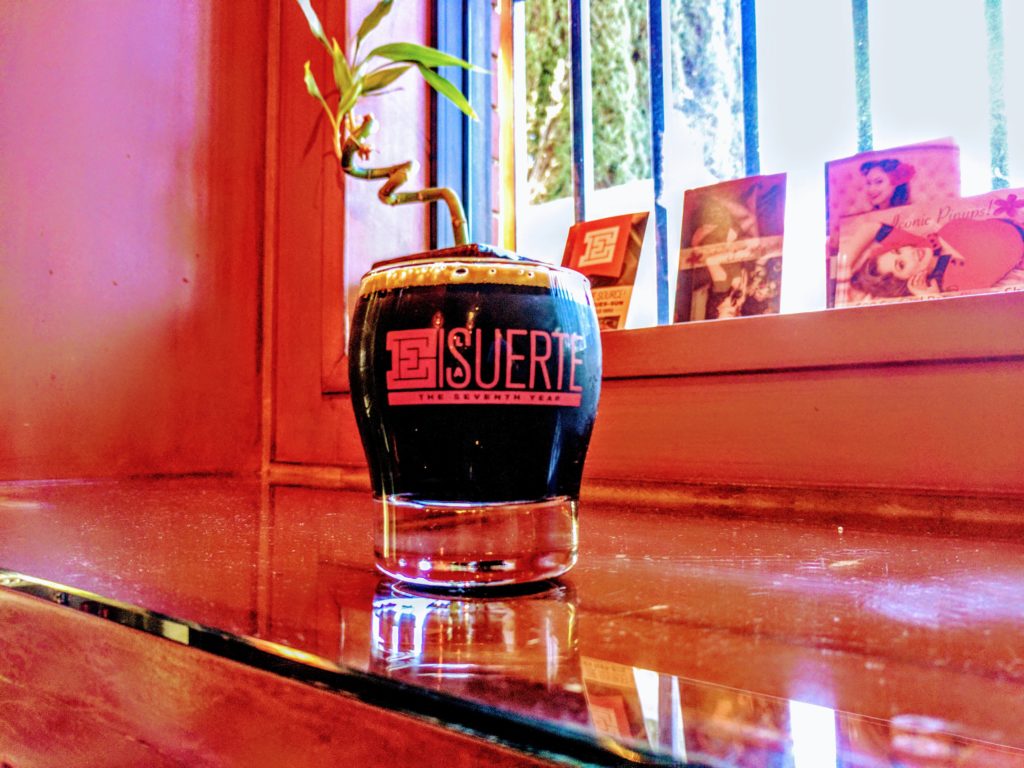 The next one I was very excited about, as imperial stouts and porters are pretty much my favorite thing, on earth. If you have been reading my work, you likely have caught on to this, although I do maintain a wide spectrum in my consumption and evaluation. La Suerte, which translates to Luck in Spanish, is a mean beast of a Mexican style imperial stout. Loaded with rich chocolate and cinnamon emissions from the nose, I knew I was in for a treat. Right up front I grabbed that bitter chocolate and roasted malt, which seamlessly moved into a rich, sweet vanilla with cinnamon spices. The real heat came on, as those peppers rounded out the back end. The complexity was my favorite aspect about La Suerte along with the fact the heat from the chiles continued to build as I made my way through the pour. I was so happy with what I had here. May I suggest a double-barrel trip to the tequila barrel for some candied sweetness, then mezcal barrel for some added smokiness? nudge, nudge, Jeremy. I would be first in line for that release, oh man. A fantastic beer in its own right, La Suerte is an instant favorite.
********************
It truly was a wonderful experience for me at Eagle Rock Brewery. I am thankful that Jeremy took the time to show me around and explain everything about his awesome creations. He has a real charismatic passion for what he does, and it was very much appreciated. I love the tasting room; so intimate, yet stylish. A great experience which I will definitely be back to duplicate. I made sure to grab a couple bottles on exit, one of Equinox and another of Yearling. I wrote a full review on Yearling in my April featured beer article. Make sure you hit their upcoming releases,and get your tickets to Session Fest at Eagle Rock Brewery, April 29th! Til' next time Eagle Rock Brewing!
Look forward to more event and beer reviews from Beerface McGillicutty and follow on Instagram, Facebook, and Untappd @beerfacem!
Eagle Rock Brewery
3056 Roswell St
Los Angeles, CA 90065
www.eaglerockbrewery.com