Beerface McGilicutty stopping in again, to share with you my experience at Valiant Brewing Company based in Orange, California. This was a special one for me, as it had become a quick favorite of mine, often being there either with friends or just to hang out and drink great beer. It was a major shot to the gut to hear Valiant is ceasing operations as of March 31st, 2017. I have been enjoying Valiant since my first trip there in September of 2015 where I was elated to try their Second Anniversary with Coffee and Marshmallow they labeled as a "Browniewine". I loved it. So chocolaty and rich, I was completely sold. From that day forward, I was aboard the Valiant train, one that is very unfortunately approaching its last stop.
One thing I really appreciate about Valiant is not only their constant commitment to quality, but the boldness and ambition to take chances. They really step into the realm of creativity, the sort of which as a beer drinker you might take a step back and say, "Wait, you're doing what?". Yes, Valiant Brewing company always embodied that progressive mindset when brewing their beer. I have even taken a long look at certain ideas, and then they go and put my mind at ease by absolutely nailing it. This is why I could not have been more happy and excited to be invited out to cover a tasting experience with them.
I want to take a moment to highlight their staff, who were incredibly knowledgeable, as well as helpful at every turn. I will go ahead and highlight a few nice experiences with them. I had not really interacted with the staff until just a few months ago, just following their Chernyy Day centered around their beast of a Russian Imperial Stout Chernyy Medved. I stopped in with fellow Cybeernetics brother Brewster McGavin to try the Chernyy with coffee variant, as well as the Peach Cobbler Sour. Nicole was holding down the pouring that Saturday, and she was so nice and helpful displaying her knowledge of the beer, recommending we try that Peach Cobbler Sour. She was right, it was wonderful. Nate happened to be there as well, and he was occupied with other duties while Nicole served. He had noticed I was taking a picture with one of their Chernyy Medved posters in the background. He then without signaling, brought both of us posters and laid them on our table. Super nice gesture that I appreciated. That poster is now framed.
I next met Geovanny out at one of Valiant's Gummi Worm Sour selected tappings at The Pint House in Fullerton. I had tried it before, but I wanted more because it is damn good. It was quite the pleasure meeting Geovanny, as we discussed coming to the brewery to write this very "Experience" article I am writing for you now. Geovanny notified his staff I would be showing up, and that is where I met Justin and Dario. Both guys were great in aiding me with whatever I needed. They were super nice, and I was able to hang out and speak with them a bit about the beer while I was there. It is always great to speak with people who have the same passion about something. I witnessed their customer service while there on a crowded Saturday night, and they operated everything flawlessly at every turn. What an incredible group of people operating Valiant Brewing Company.
Ready for the beer? I know you are ready to hear about it, so that way you can make it in one of the next couple of weekends to try their awesome stuff and wish them well!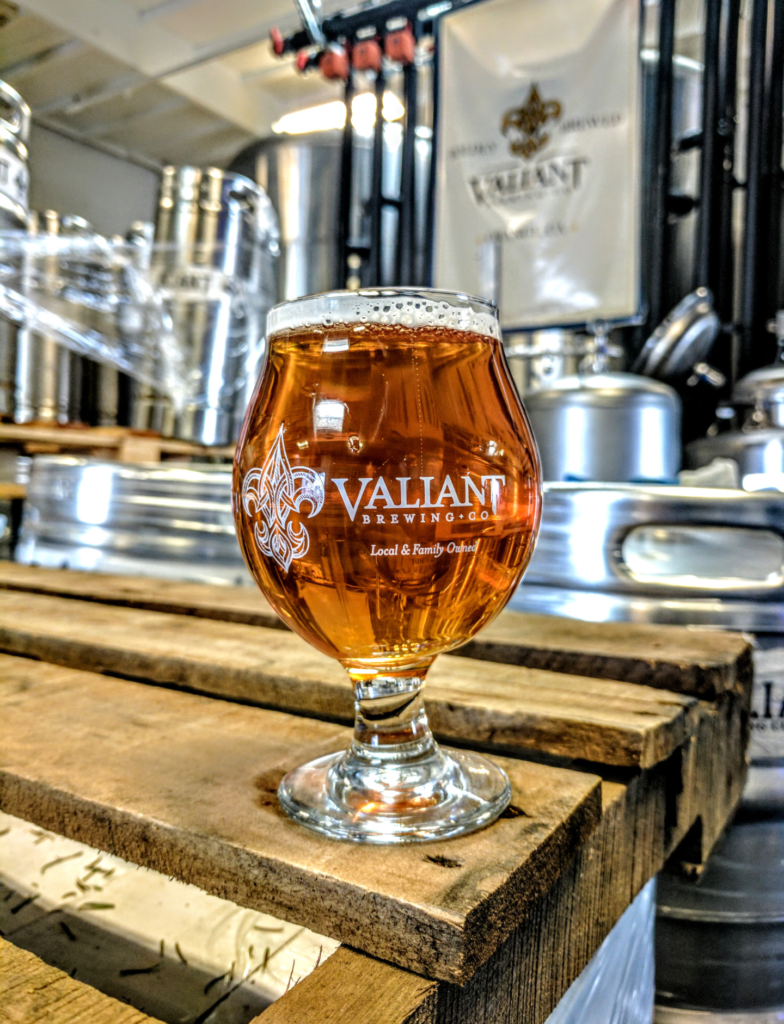 I remember hearing about the Candy Sour Series and I had to do a double take. Anyone who knows me, knows how much I like candy. So to hear that Valiant, a favorite company of mine, was doing candy beer? What?! Well, I definitely had to have some of this. The Peach Ring Sour is one my favorite of the series, and I saw a post from their Instagram page stating they had an Imperial Peach Ring Sour on tap! I grabbed my stuff and was out the door before the lights turned off. On the nose, that candied peach aroma was vibrant as can be. I enjoyed smelling it so much I almost forgot to take a sip. It poured a nice medium copper color with a pink tint near the top edges of the beer. A half finger head was present, one that did not exist with the non imperial peach ring. Good lacing on the glass as well. Here is the surprising part, it tasted exactly the same as the primary peach ring sour even though it more than doubled the alcohol content! It is incredible to me that a beer which clocked in at 8.3% alcohol by volume tasted like liquid candy. It was absolutely wonderful.
This is one of those beers that when I looked at the announcement, I just said "Interesting". 🤔 Alpha Overdrive, their Quadruple IPA was aged for six months, so they announced it had transformed (by their own description) into an American Barleywine. I was slightly skeptical how that might pan out. Any skepticism was quelled as soon as the first taste of this beauty hit my lips. Extremely rich toffee notes on this medium amber delight blasted my palate instantly. I was standing next to Geovanny and informed him of my suspicions going into it, followed by how they had been put to rest. The malt profile was boldly present through the middle with the ever so slight piney back end. The aftertaste yielded minimal burn, certainly nothing close to what 14.3% alcohol by volume would normally show. The drinkability of this Alpha Overdrive after six months in barrel was dangerously effortless.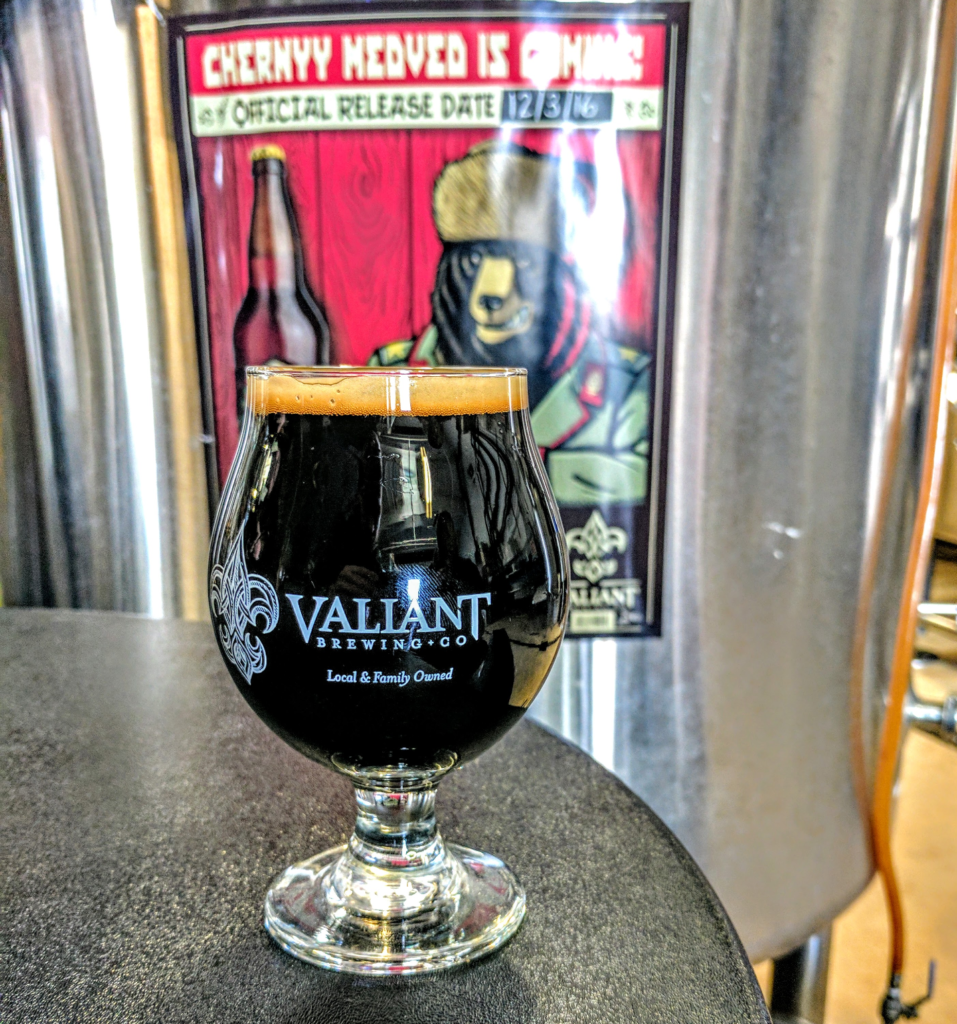 I love barrel aged beer. There is no secret that it is undoubtedly my preferred practice for making beer. Enter the Chernyy Medved Coffee. I can confidently say this beer, along with Beachwood Brewing Company's Tovarish, are two of my absolute favorite non-barrel aged imperial stouts with coffee added…and I have had many. The coffee profile in this beer was apparent immediately. Aussie Bean Panama Roast was used in this brew. While the coffee was certainly present, it did not unbalance the flavors whatsoever. I was able to pick up some vanilla, cocoa, black cherry hints, and plum come through on the finish. There was an ever so slight burn on the aftertaste. I am very sad I will be unable to taste one of my favorites again, but I am glad I enjoyed it while it was.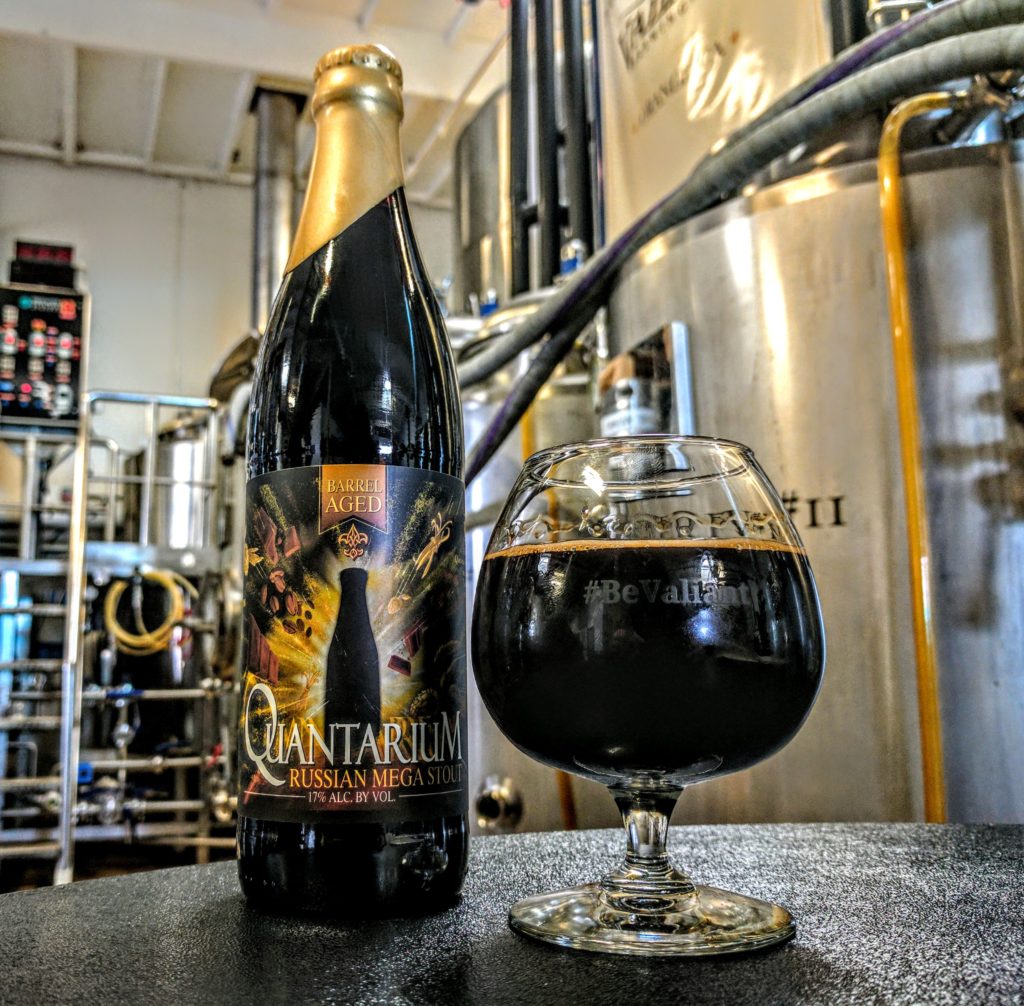 Now for the grand finale, the big monster of everything Valiant has ever done, which is saying something when it comes to Valiant, because big beers were basically their mantra. Two years aged in bourbon barrels let this one get nice and cozy, picking up every last drop of heat from that bourbon soaked oak barrel. They did indeed go big with this one, and the bourbon profile is very rich and sweet up front, with the chocolate coming through right in the middle of this beast. There are some faint vanilla emissions available in the taste as well. The burn on the back is definitely there, one you would certainly expect from 17% beer. I personally am a bourbon drinker, so I was completely fine with the finishing burn. The aftertaste gave me some sweet maple notes to think about for before my next sip. As Valiant says, "This is a sipping beer, and it should be enjoyed with good company". Indeed Valiant, indeed. My bottle is going in the cellar for a very special occasion.
While I am undoubtedly extremely sad to see Valiant Brewing Company cease operation at the end of the month, I will always take solace of the times I was able to enjoy their wonderfully adventurous, flavorful beer. It was a go-to for me for many occasions; watching a big game with some beer in hand, a night out with friends, business meetings. It served whatever occasion I saw fit and did it with grace. I will always remember the awesome people I have met at Valiant, as well the great feeling I experienced when drinking their beer. Thank you Valiant for everything. You stood by your motto well, "Be Valiant". Cheers, for the last time everyone.
Look forward to more event and beer reviews from Beerface McGillicutty and follow on Instagram, Facebook, and Untappd @beerfacem!
Valiant Brewing Company
2294 N. Battavia St C
Orange, CA 92865
www.valiantbrewing.com