St. Patrick's Day sits on the seventeenth of this month of March, and we all know how the day is a big day to consume a voluminous amount of beer. It is also a day when infamously flavorless, food coloring-added "green" beer is the hot ticket for many looking to let their inhibitions run wild.
I offer you some very tasty barrel aged alternatives to enjoy so you do not have to deal with getting sick from that often stale, flat, garbage. I know the thought when you read the word "barrel aged", you instantly thought it might be too much to handle. However, I have curated a nice list from fruity, sour offerings to a deep dark imperial stout you may fear, which is as decadent as can be. Give these a shot and you'll thank me. Or you'll just ignore everything I'm saying, just to end up struggling through the rotten green stuff.
Cheers?

Skully Barrel No. 45 Salty Melons (8.2% ABV | 17 IBU) – Wild Sour Golden Ale
First off, Paradox has some of the best looking bottles in the game. I love the sugar skull hitting the front of each label. The nose of this is not terribly strong, and I had to really focus to pick up the notes emitting from the pour in my tulip. I was able to ultimately pick up some faint melon and a bit of wood notes. The taste, however, was nowhere near as shy as the aroma. It hit me big up front with a lot of sour, though it immediately relaxed to the very sweet melon flavor, which carried all the way to the finish as the saltiness made its appearance. And whoa, it is salty out back as it lingers through, adding to the dryness of the aftertaste.
How to Pair: I would like a hot Connecticut style buttery lobster roll to go perfectly with this one, as well as a side of skin on, double-fried Belgian fries.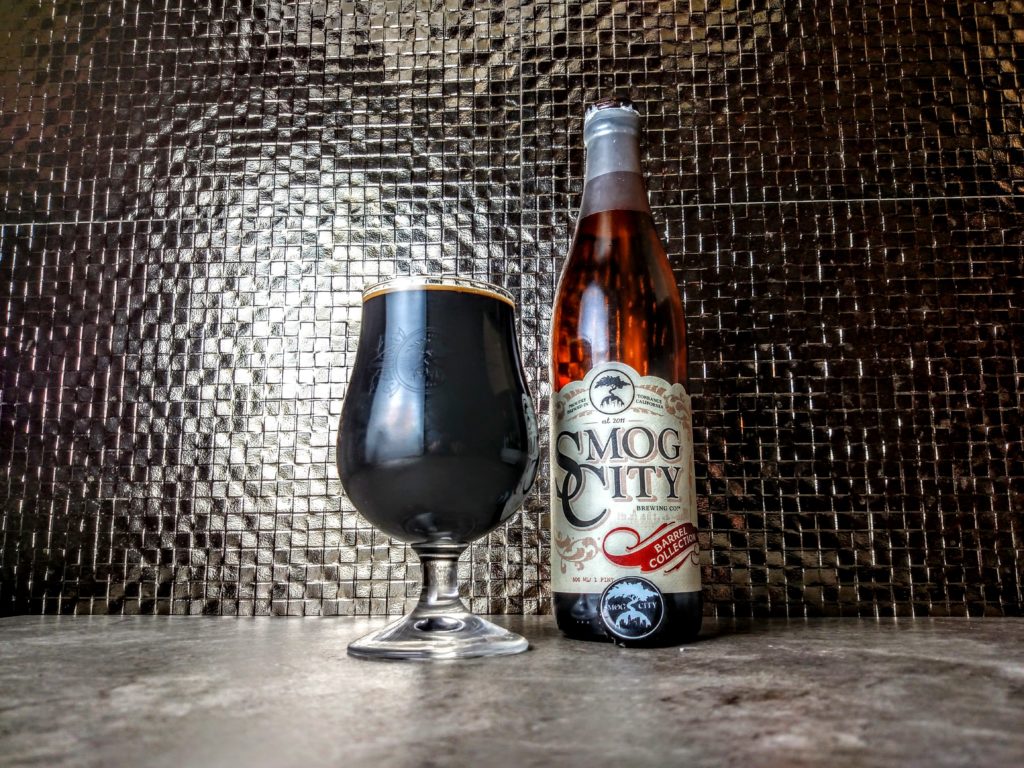 Buzzworthy (12.5% ABV | N/A IBU) – Imperial Stout / Braggot
So I really like honey. I mean borderline bear-like in my love for honey, it's that much. When I knew Smog City Brewing had barrel aged an imperial stout while collaborating with Moonlight Meadery by adding five hundred pounds of their honey, oh my, I had to have it. So when I attended the pre-grand opening at Smog City's Steelcraft location, I decided to pick up a bottle. I figured this was a can't miss because it hits characteristics that I enjoy so much. I was correct because this was outstanding in every essence of the word. Right on the nose honey emits like the star of the show. Lots of honey. I also smelled some oak from the barrel as well. Pilot, I'm all strapped in and ready! First taste showed some boozy notes coming up front, then the honey was not far behind at all as it joined heavily, making its presence felt. The honey stayed all the way through the entire tasting experience. It has a really nice smoked wood, oak finish out back. I was very happy for that. I know the label states imperial stout, but I would say it certainly embodies braggot characteristics. Fantastic stuff from Smog City and Moonlight Meadery.
How to Pair: Since this is so sweet, let us contrast it with something savory. Some garlic marinated sirloin churrasco style steak would pair nicely here with some plantains and black beans.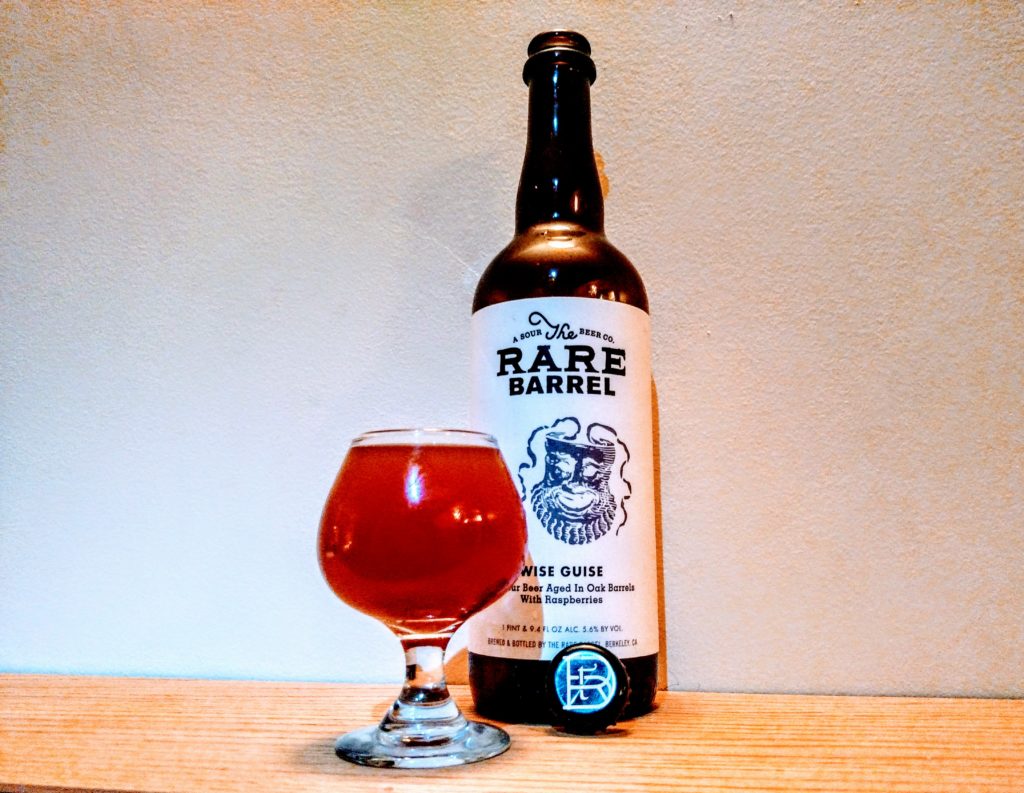 Wise Guise ( 5.6% ABV |  N/A IBU) – Wild Sour Ale

I was able to enjoy this with fellow Cybeernetic beer-humanoid Brewster McGavin. This poured out a pinkish copper color with zero head retention. On the nose I got sharp kick of citric lemon hints that dominated the aroma. In grabbing the first taste, it was very acidic up front with bitter notes of lemon peel coming through. There started to be a showing of some of the raspberry faintly attempting to appear in the middle, before giving way to a borderline jammy raspberry finish. Moderately dry aftertaste as well. The flavor built nicely in this beer, from the first sip to the end of my snifter. Give it a bit before you start to really pick up its flavors. Also, not much remnants of funk appearing despite it having spent time in barrel.
How to Pair: A nice pairing here would be a nice platter of fresh oysters. The citric side of this beer would be wonderfully complementary to the freshness of the oysters.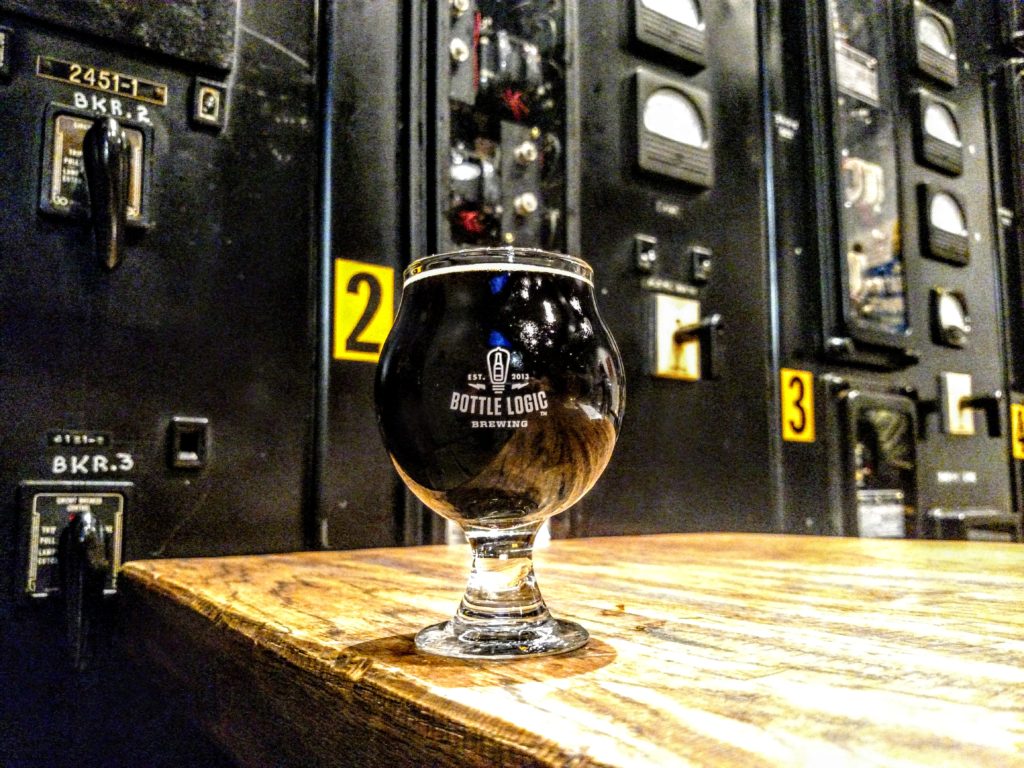 Byzantine Vision (10.7% ABV | N/A IBU) – Baltic Porter

I rarely, and I mean very rarely, order a beer more than once in one sitting. I did just that with this beer. Due to the fear that I would only be able to taste this decadent wonder only once, I ordered up a second pour. Now that I have expressed to you how I felt about this beer, I will now explain my experience. On the nose, I got so much rich pistachios with some saltiness. I was so caught up on the aroma that I hesitated to taste it simply to enjoy the beauty emitting from it. Upon first introduction to my taste buds, I grabbed a good amount of walnuts with a lot of sweetness, possibly from the honey and bourbon coming through. This is unmistakably a dessert beer in every essence. Much of the initial flavors carried right on through to the end for an incredibly easy finish. There was not much of an oak barrel presence or hazelnuts as listed, although I did not mind, as the rich flavors were absolutely incredible. Bottle Logic nailed it here.
How to Pair: As I stated above, this is a dessert beer with incredibly prevalent flavors. You have to be careful in pairing because you do not want to dampen any of the sweetness by having anything sweeter than the beer. Possibilities include artisanal bread to allow your palate a breather from the rich nature of the beer. I would not take a chance on ruining it with much else.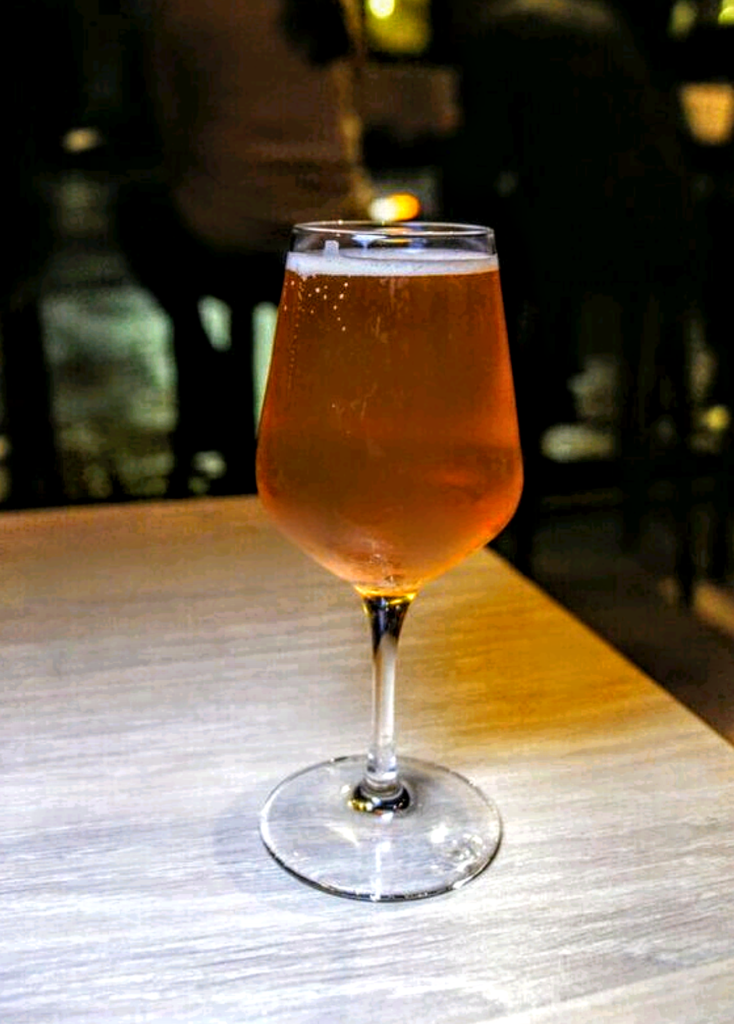 Mikkeller – Copenhagen, Denmark
Spontanpineapple ( 7.7% ABV |  N/A IBU) – Fruit Lambic

I was thoroughly impressed when I had the opportunity to try this creation while out at Mikkeller DTLA's opening. More on my experience for that grand opening party in an upcoming article. The aroma showed its hand with a rich pineapple playing on my nose. I love pineapple, so I was immediately glad to grab that. I dove in and was hit smack on the tongue with smoky oak. I have never gotten oak up front as much as I did with beer, especially it being a fruity lambic. One would think that would happen with a stout or porter instead. Anyways, getting my initial oak surprise out of the way, the jammy pineapple made its grand entrance, and what entrance it was. It stayed nicely sweet until the end where the sour notes hit pretty liberally, yielding an also extremely dry finish. The aftertaste saw the pineapple subtly sitting quiet with its hands folded, awaiting its next sip. What display of brewing excellence by Mikkeller.
How to Pair: Well, I was happy to have enjoyed a house smoked tri-tip pastrami sandwich with this while at the bar itself! The smoke and oak played nicely together, so there you go. A pairing made simple.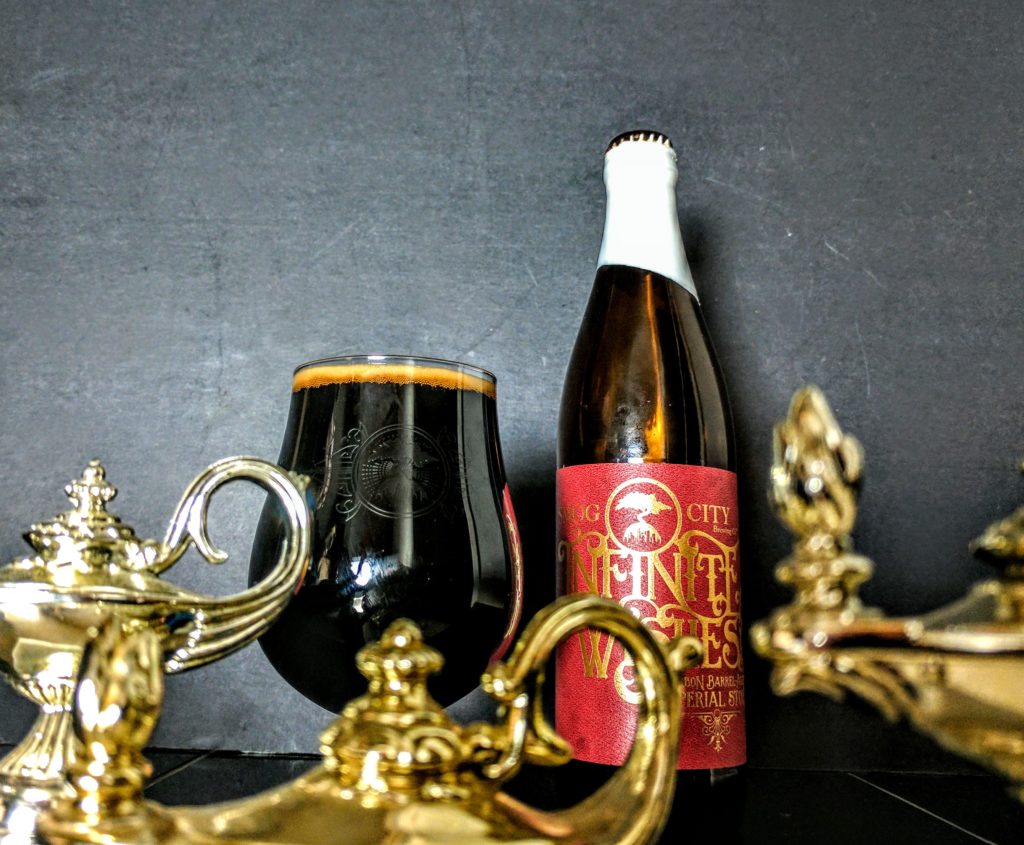 Infinite Wishes ( 12.8% ABV |  N/A IBU) – Imperial Stout

Being able to enjoy this beer was made possible by my tasting experience at Smog City's Steelcraft location and they also generously provided me with this wonderful bottle. What an incredible barrel aged imperial stout! Balanced, complex, delicious, and perfect. That is the best way to describe Infinite Wishes, because Smog City just gets it completely correct. I do not give a "perfect" description to many beers, but it is impossible to avoid. The bourbon aroma came up instantly, along with some vanilla and faint cherries, likely stemming from the oak barrel. The first flavor I grabbed was a very rich chocolate, followed by a healthy amount of vanilla. And what do you know, more of the cherry hints began to poke through in the middle. It finished with more of the oak flavors, a slight burn from the bourbon, and the vanilla which rested for a while. It retains a coated mouth feel after each sip. The flavors are so pronounced, yet not one of them overpowers another. Equal parts outstanding. If I had an infinite amount of wishes, it would be to have the opportunity to drink this beer whenever I choose.
How to Pair: A perfectly balanced beer deserves an equally perfect meal. An accurately cooked tender filet mignon with butter grilled aparagus, and mashed potatoes with shallots. Man, I am hungry now.
********************
Now you have some good beer to drink so you don't get sick from that terrible stuff. If you need anymore help, drop me a message on Instagram and I will be glad to guide you on the right direction. I have more really special beers to review in April for you, but in the meantime be safe on St. Patrick's Day. Hopefully I see you and we can share a pour!
Cheers!
Look forward to more event and beer reviews from Beerface McGillicutty and follow on Instagram, Facebook, and Untappd.