Beerface McGilicutty here! It is still cold outside, so I am trying to stay inside this winter. However, this month is heating up with Valentine's Day, and I wanted to make sure to bring you some sweeter offerings for that special someone in your life. In case you forgot about the big day, I have your back. Make sure you send them candy, flowers, and definitely some of these beers below – I promise they will be a welcome addition to your glass.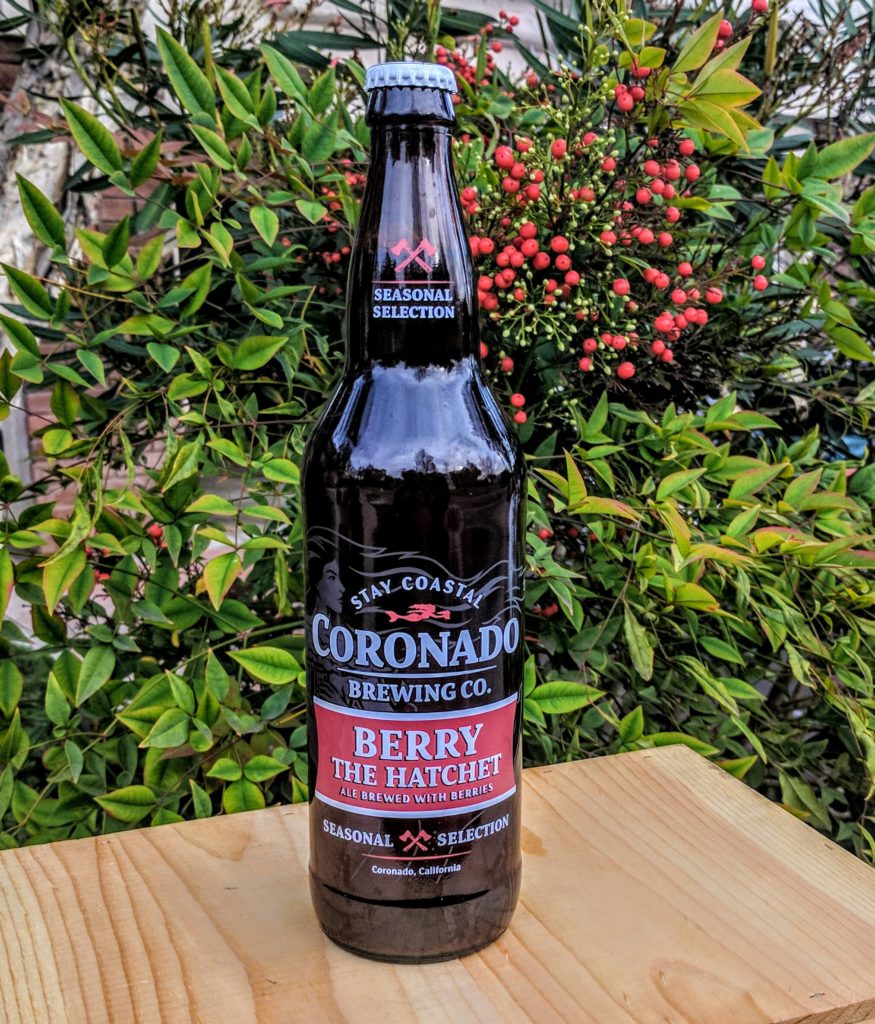 Berry the Hatchet (4.6% ABV | 13 IBU) – Fruit Ale
Berry the Hatchet pours very similar in color to a rose wine and releases an aroma of some raspberries with some funk on it. I was intrigued by the potential of a big flavor to follow. It took a different turn as its light body yielded a more refreshing crispness as it opened. Through the middle, I started to pick up some berry notes, yet nothing wildly prevalent. A slight blackberry bitterness was shown on the finish, coupled with the grain-like wheat finish. Once you figure the purpose of this beer, it is quite refreshing and would go very well on a hot summer day. I will say the reality was different than the expectation, although that was not a letdown. I enjoyed this pour from Coronado.
How to Pair: Bring it to a ballgame and have some roasted shelled peanuts along with it.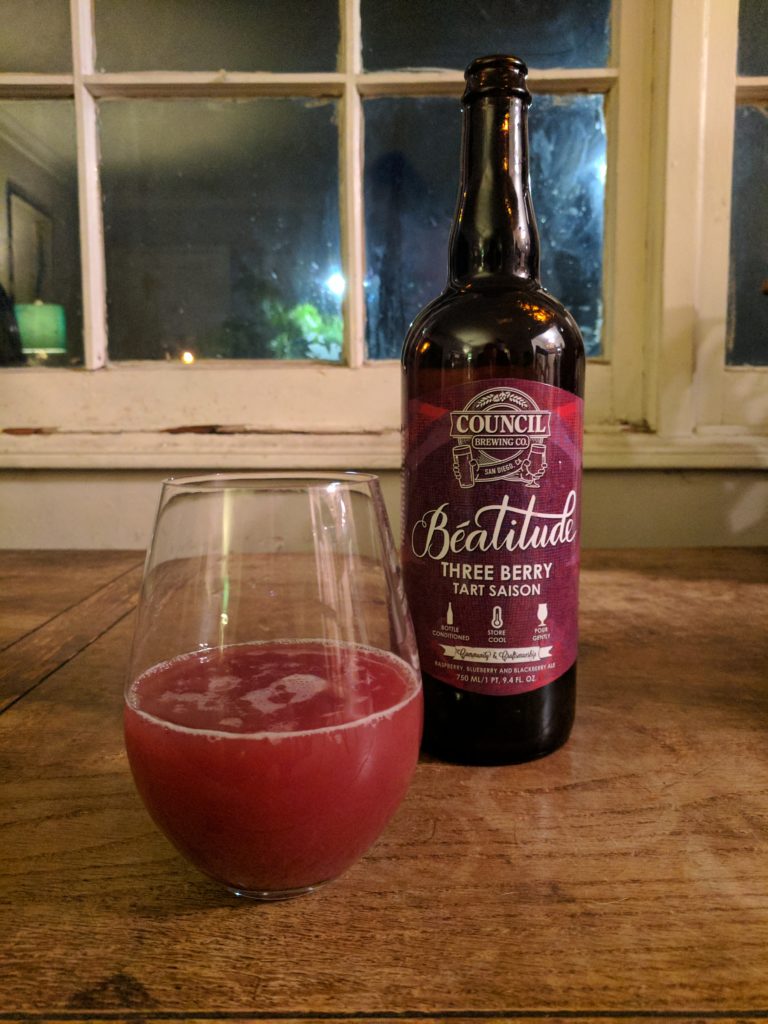 Beatitude Three Berry Tart Saison (4.5% ABV | N/A IBU) – Tart Saison

The pour on this was a beautiful opaque magenta color while releasing some obvious big berry notes. The sourness of the blackberry and raspberry was present immediately upon the first taste, and it carried through the middle with a big tart finish on the back end. The beer continued to build in flavor as I continued to sit with it. While still retaining its blackberry up front, the middle carried some sweetness now, potentially the blueberry was showing is face. The sour finish was also still present, yet it toned down as the aftertaste carried some of the berries along with it. The price of the bottle might scare some away, but I think it is necessary for the beautiful berry medley the beer posseses. By the way, shout-out to my beer drinking Frankensteiner comrade Brewster McGavin who loves saisons.  I really did enjoy this!
How to Pair: Vanilla Ice cream is ideal with this, to recreate a sour 50/50 raspberry bar. Perfection!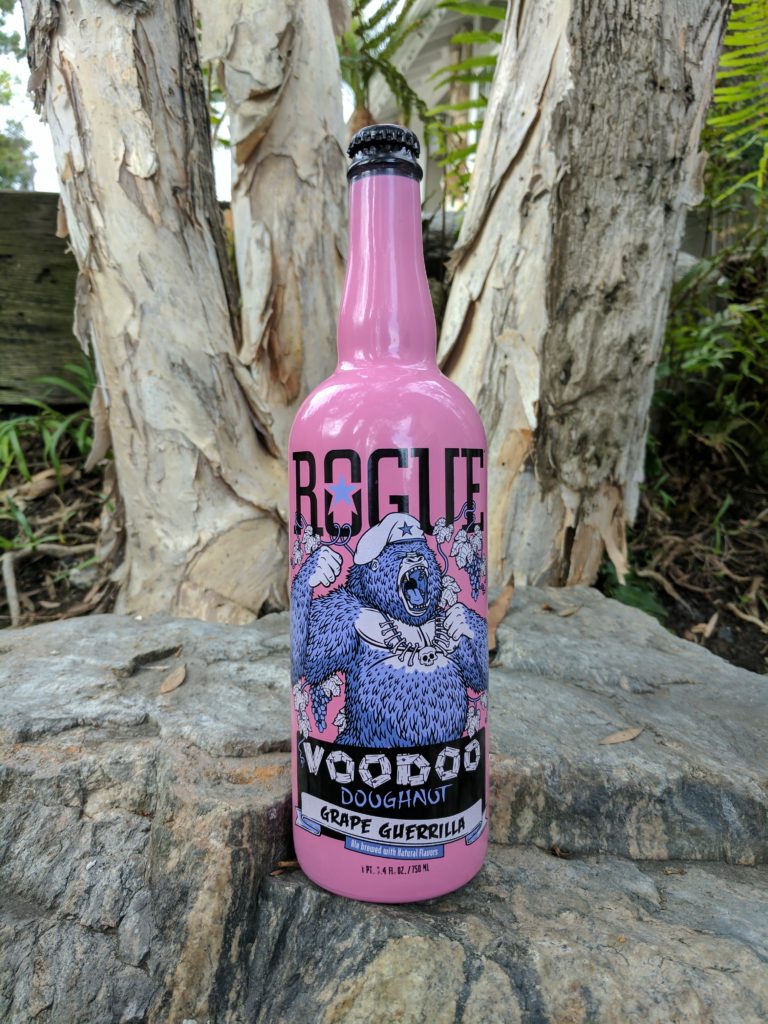 Voodoo Doughnut Grape Guerrilla ( 7.5% ABV |  16 IBU) – Fruit Beer
The Voodoo doughnut collaboration pours out very close to an amber in color and sits in the glass with a two finger head that has retention. The aroma is certainly that of the artificial grape jelly. Let me point something out here. You know exactly what you are getting into, because it is a grape jelly doughnut and it does exactly what is expected. it to, and I am 100% fine with that. The grape flavor shows itself early then morphs into mostly malty flavor through the middle reminding you it is still beer. There is almost a lavender-esque trail on the finish, which I thought was quite nice. It is sweet, like eating a doughnut. Rogue set out to do this very thing and nailed it.
How to Pair: Since there is good amount of sweetness, try to counterbalance this with a breakfast souffle.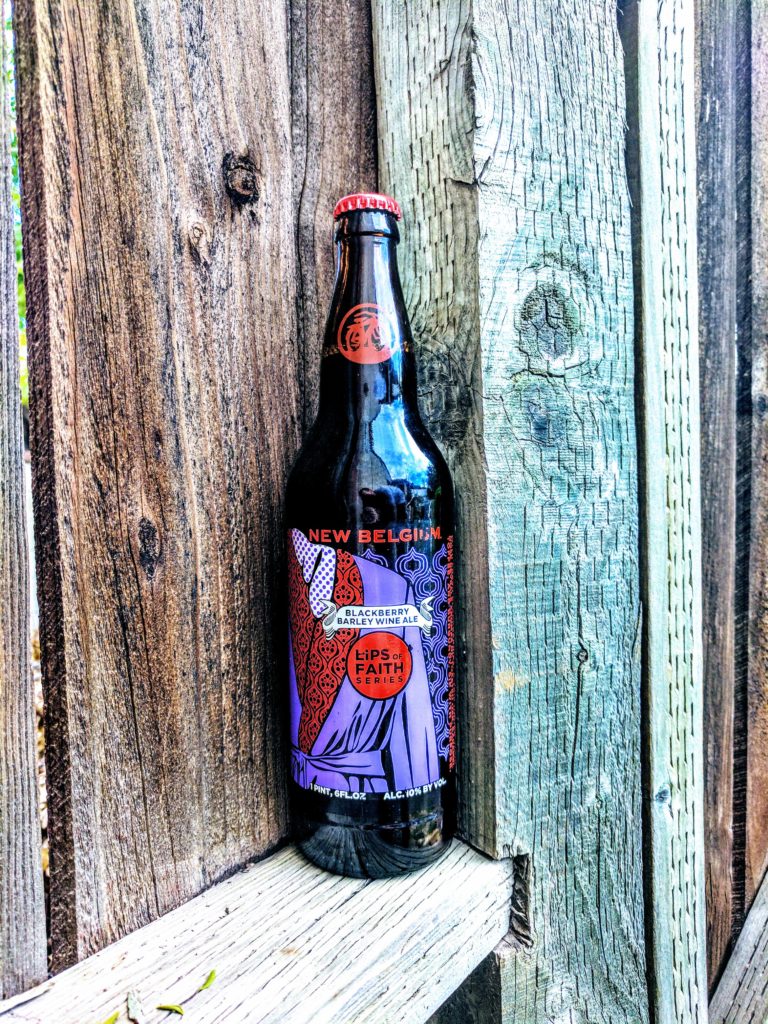 Blackberry Barleywine Lips of Faith Series (10% ABV | 50 IBU) – Barleywine / Old English Ale
A blackberry barleywine sounded very intriguing to me, and I was lucky enough to find this one tucked at the bottom of a crate on a back aisle. I knew it has been sitting there for a bit, picking up some slight age at the very least. I noted some definite fruit on the nose. I was not able to peg blackberry clearly, yet there was some fruitiness along with some toffee sweetness as well. The visual was a nice two finger head with some staying power on a light brown color. The first taste gave me some good malty character, followed with the same berry hints I was able to pull from the aroma. It moved to a fair bit of oak flavor through the middle, while finishing sweet. I suspect the bit of age on it helped to aid the sweeter finish. It was not as thick as I expected, although the flavors did not suffer. A very good job by New Belgium with their first barleywine offering, I thoroughly enjoyed this.
How to Pair: I suspect a board with some creamy cheeses would do quite well with the richness of this barleywine.
Hazelutely Choctabulous ( 5.7% ABV |  51 IBU) – Brown Ale

I never try to expect what I am going to get when trying a beer for the first time, but surely I have a general idea of whether I will enjoy it before taking it on. This Hazelutely Choctabulous is cross-blend of Rogue's Hazelnut Brown Nectar with the Chocolate Stout. When I poured it in my Rogue glass, I noticed a really nice tan two-finger foam top that refused to fade. On the nose, I was able to pick up a good amount of nuttiness, although not exactly hazelnuts, from what I deduced. I also picked up faint cocoa. As I sipped, I was able to grab a bitter dark chocolate as the first taste right away. Very nutty and malty as well. Some hoppiness occupied the middle and moved to more bitterness out back, with a subtle, sweet aftertaste. It certainly was not the candybar-rich sweetness I expected. I was glad there was not an artificial sense of syrup sweetness. It was complex and more bitter than the name would suggest, and I would say the Hazelnut Brown Nectar had more of a prevalent profile in this one. Nice offering from Rogue.
How to Pair: Play off the nutty flavor, and complement it by eating some light salted nuts, such as cashews. It would work well to accompany the nose and initial grabs of flavor.
********************
I just gave you some nice beers to enjoy this month, and if your Valentine likes beer, you are in luck. I also reminded you to get them something nice because trust me, you will not hear the end of it if you forget. You're welcome! Next month, you know the holiday where people dress up in every shade of green imaginable, and go on to consume obscene amounts of that disgusting green beer? I will be giving you some high quality stuff to drink in lieu of that green crap. I know you are going to feeling quite inebriated March 17th, why not do it the right way, with quality beer? Stay tuned for some barrel-aged beauties.
Look forward to more event and beer reviews from Beerface McGillicutty and follow on Instagram, Twitter, and Untappd at @beerfacem