Today's post is going to be a bit of a departure for The Episodic Eater.  Yes, I still plan to include all the pictures and comments about the dishes I sampled at Guelaguetza Restaurante, one of L.A.'s most iconic restaurants.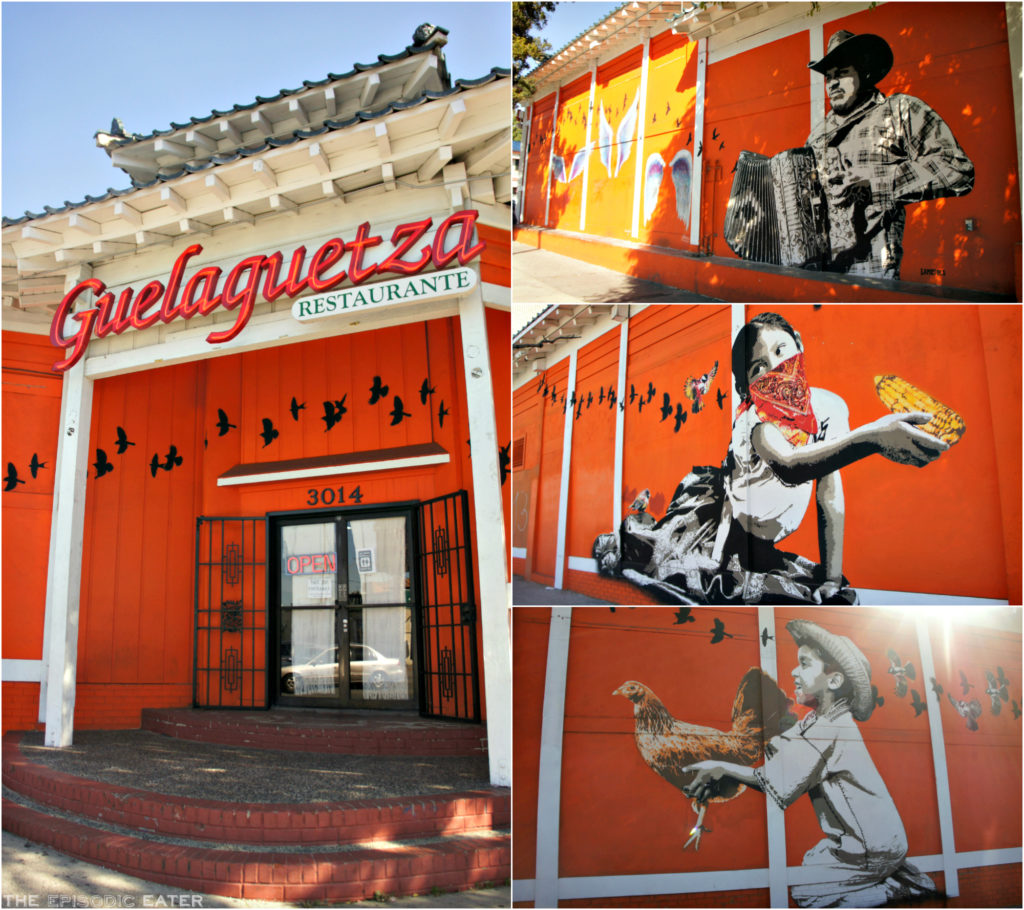 However, there are going to be more words, more thoughts, and one huge step for me in this single post…  I am no longer going to be anonymous.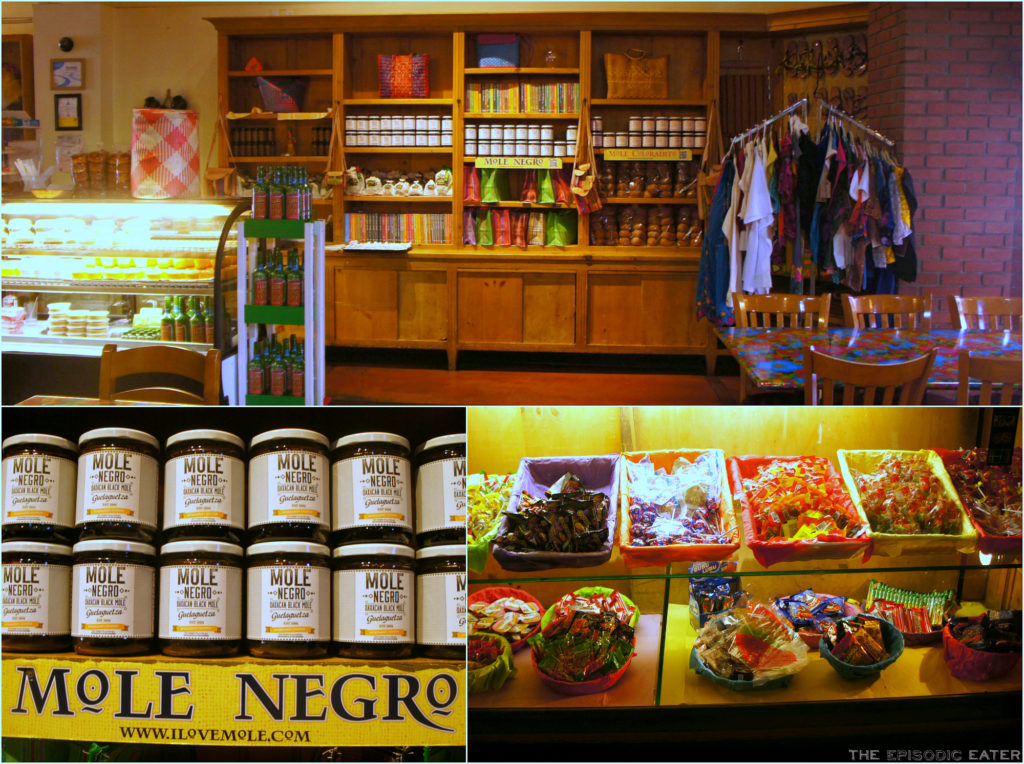 One of the reasons I have decided to unmask myself is because of the media screening that I saw of City of Gold a couple of weeks ago.  The subject of the film, Jonathan Gold, is (or was) one of the most secretive food writers in the country.  No longer the case, we are treated to a glimpse into the life of one of our most influential writers.  I purposely say writer and not food critic, because after seeing this movie, you will understand how much he loves and appreciates food that he eats and experiences.  If you have ever read one of his reviews, you will know how easy it is to get lost in his descriptions.
The film, which is being released today, March 11th, is a must-see.  Anyone who loves food, L.A., or peering behind the scenes, will certainly receive a treat.  Believe me, it is a ride… literally.  I think Jonathan Gold must have driven the filmmakers around the city for hours, commenting on every restaurant along the journey.  But more on that later!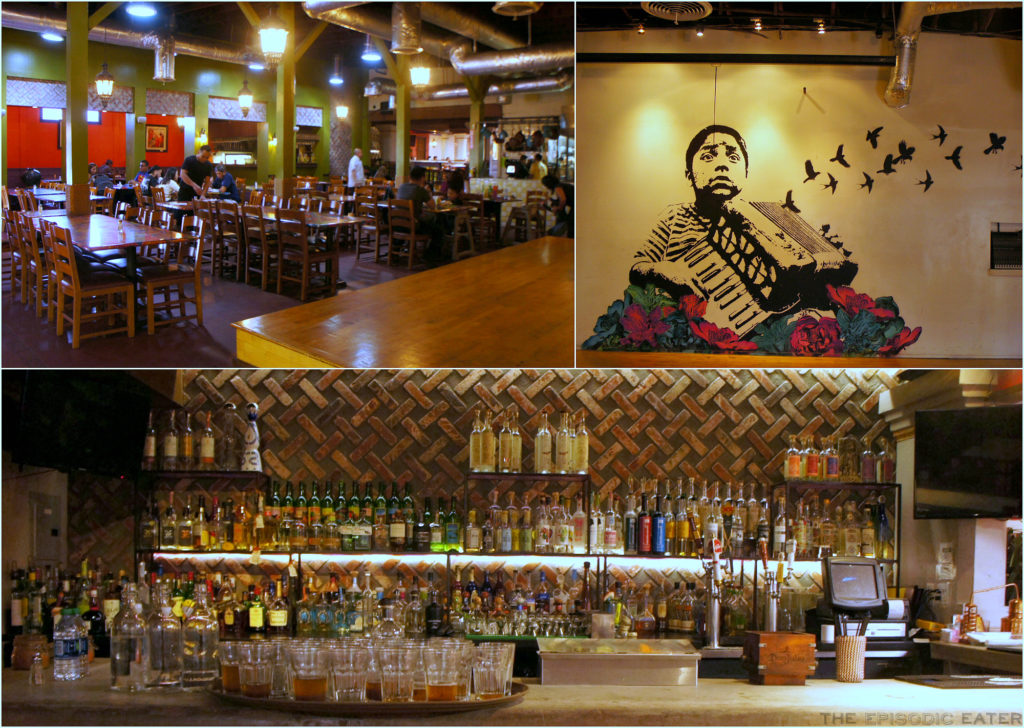 Perhaps the more important reason why I am making a change to write more and no longer be incognito is the lunch that I enjoyed at Guelaguetza.  I remembered that I have something to say about food instead of just a quippy pun accompanying a social media post.  Even if you are a long-time reader, I am guessing you don't know much about me.  You don't know that I have experienced every month at Maude for a full year, or that I consult with restaurants who need business help, or even what I look like, all because I choose to stay behind the scenes.
I knew that needed to change as I was sitting down to lunch with a who's-who in the food world, including the subject of the documentary, the man himself…
Jonathan Gold.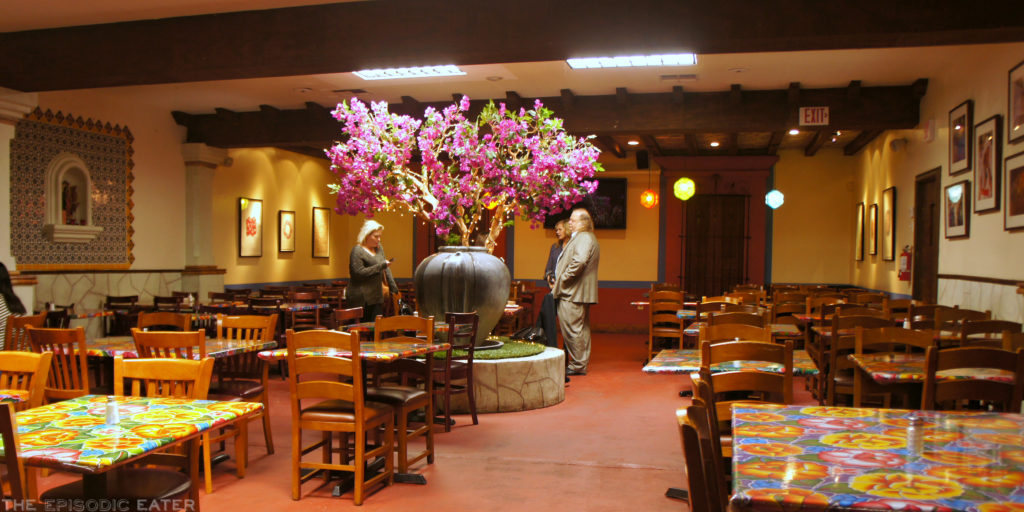 Yes, in the back room of the best Oaxacan restaurant in the country in the middle of Koreatown, my mind was made up.  I was going to sit back and enjoy the conversation so I could write something authentic and true.  I was actually going to have a meal without needing to snap a million pictures with the best lighting.  I would enjoy my food piping hot for once, because that's why I got into this in the first place, my love of food!
Of course, we all had to take at least a couple photos… while Jonathan Gold (who sat across from me!) eagerly awaited his grasshoppers.  Yep, that's what I said… 😉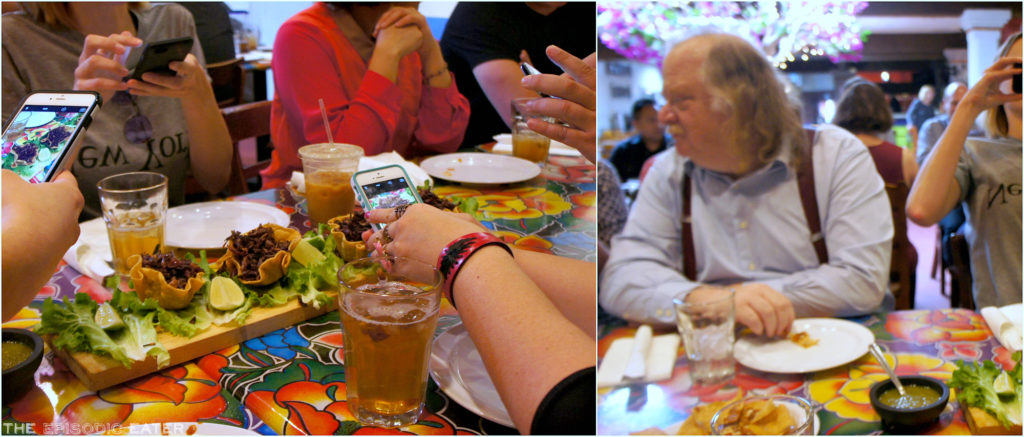 Here are some of my favorite moments of both the lunch and movie, all swirled up into one.  Since I'm not a film critic (or a food critic for that matter), I figured I will do what I know best.
I'm going to let the food tell the story.
Tortilla Chips
with Oaxacan Pasilla Sauce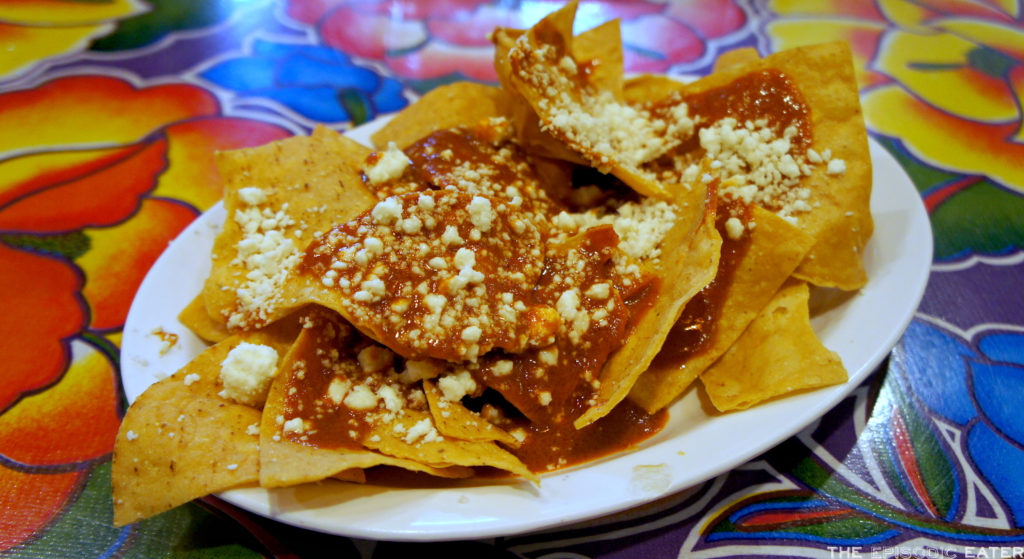 I admit, I am not a huge chips and salsa fanatic when arriving at a restaurant.  I skip it at parties in favor of something I actually want to eat.  However, there is something about this salsa that I cannot help but get addicted to.  It tastes familiar, like perhaps something from my favorite Honduran restaurant, almost like a spicy Enchilada sauce.
When I was watching the film, I realized that I had never seen Jonathan Gold talk in person.  Yes, I hear him on the radio, I spy his reviews on the wall of practically every L.A. restaurant, and I have seen him in person at the occasional food festival.  But about five minutes into it, I felt like I always knew him, and we were just catching up on his life from the yearly holiday newsletter.
Plato de Chapulines
sautéed grasshoppers in olive oil, salt and pepper
And then something unexpected was placed in front of me.  A huge spread of grasshoppers.  I always told people that if I ever made it to The Amazing Race or Survivor, I would never eat a bug.  However, I couldn't just say no with THE L.A. Times food critic in front of me, so I swallowed my words and I swallowed the insects.  I made sure to prep it the same way he did (wrapped in a tortilla and covered in green salsa) and I finished every last bite.  They were crunchy, citrusy, and pretty damn good.  And now I can survive the apocalypse if I can eat bugs.
One surprising thing I learned from the film was that Jonathan Gold was a punk rock musician and wrote about music at L.A. Weekly.  After seeing the movie, I read that he was given the rap name "Nervous Cuz" by none other than Snoop Dogg and Dr. Dre.  Yes, he's just like everyone's favorite foodie uncle… who spent time hanging with rap legends.  Not only is he a rebel in the music world, he is in the food world.  In a time when taco trucks and hot dog stands were ignored by traditional media, he wanted to eat it all.  He still pushes the boundaries, and in one scene, we're "treated" to a less-than-appetizing description of a
hagfish dish
 to the
Lucky Peach
editor.  In case the viewers think that we may just have uncultured palates to haute cuisine, the looks of repulsion on his editor's face tell us differently.  Jonathan Gold is just on another level.
pickled pig trotters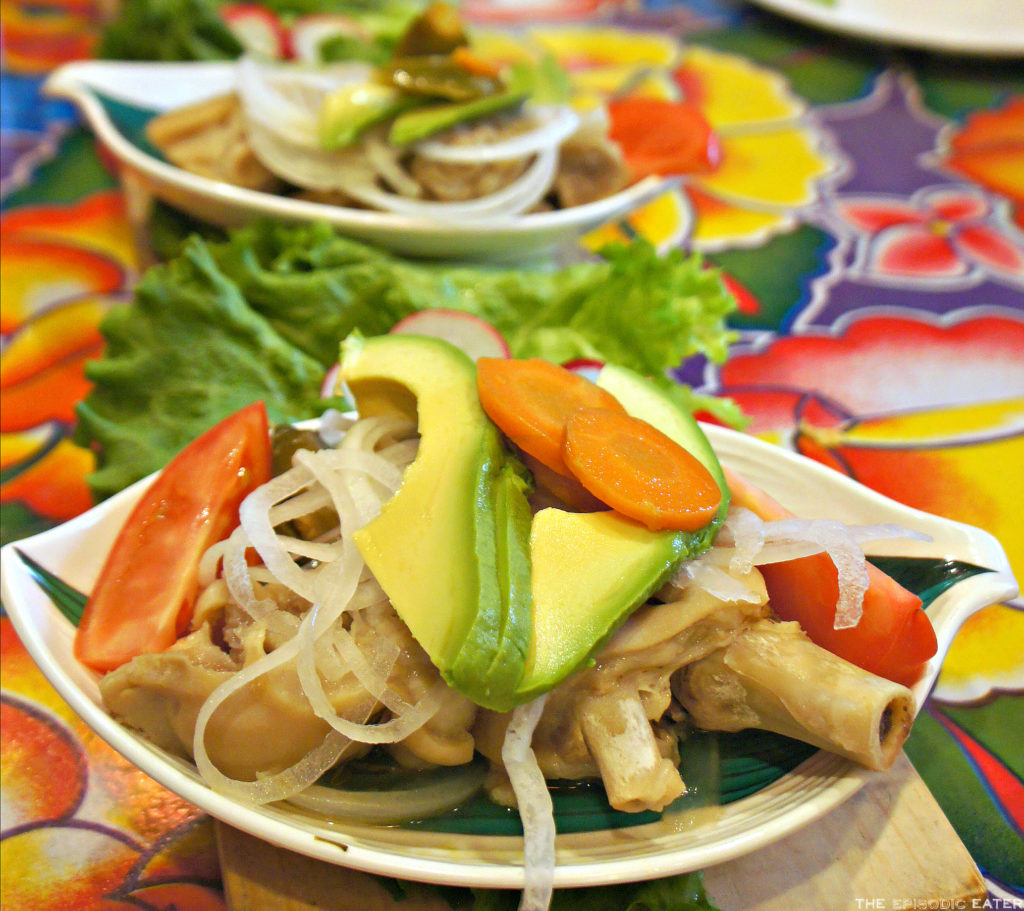 While everyone else feasted on pork trotters (or pig's feet), I had to abstain since I don't eat pork.  Instead, I turned my attention to Jonathan Gold and we chatted about Jewish delis in L.A.  In the film, he mentions that the deli that a Jewish family frequented was perhaps more important than the schul they attended.  While he was part of a Junior's Deli family, he noticed that working class folks went to Label's Table, and you were doing really well if you ate at Nate n' Al.  Just one of those succinct little observations that even growing up in L.A., he noticed about the food scene.
Also, when I explained that I was skipping the pork, he mused whether or not the grasshoppers were kosher.  His conclusion?  They must be, since they were the manna from heaven, mentioned in the Torah.  Sounds good to me!
fried chiles stuffed with chicken or cheese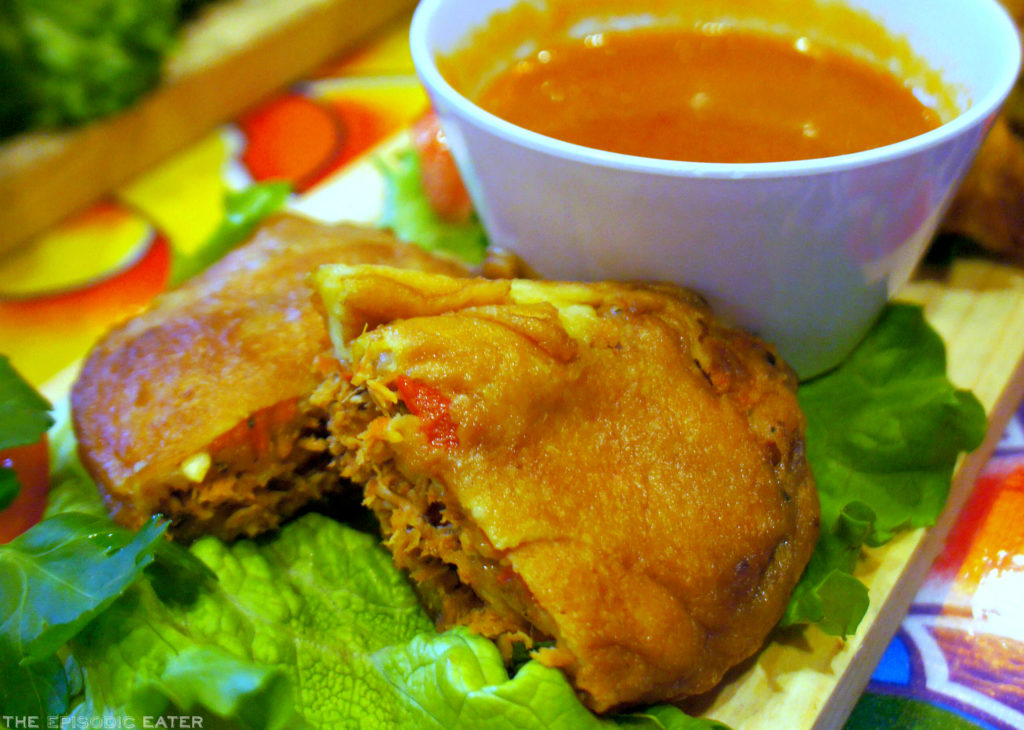 Luckily, the next dish was something I knew I loved.  Every time I see a chile relleno on a menu, I either order it, or I am heavily tempted.  Who doesn't enjoy a chile, stuffed with cheese, and fried to perfection?  This version is wonderful and the accompanying sauce is just tangy and spicy, a perfect contrast to the creamy interior.
How does this relate to the movie?  Well, I knew that I was going to enjoy it.  I enjoy documentaries, food, and I like Jonathan Gold's work.  However, I brought along my boyfriend who, although he enjoys food, is nowhere near engrossed in the scene like I am.  He is not particularly fond of documentaries, and he was not at all familiar with Jonathan Gold… but by the end of the film, he was a fan.  The man is funny, smart, and has good stories to tell.

Estofado
signature oaxacan estofado mole served over chicken or pork
Coloradito
signature oaxacan coloradito mole served over chicken
Mole Negro
award-winning oaxacan black mole served over chicken
Mole Rojo
signature oaxacan red mole served over chicken

I admit, I can't tell these moles apart, so I wouldn't be surprised if these were out of order, except the black mole, of course.
All of them were served with the signature rice.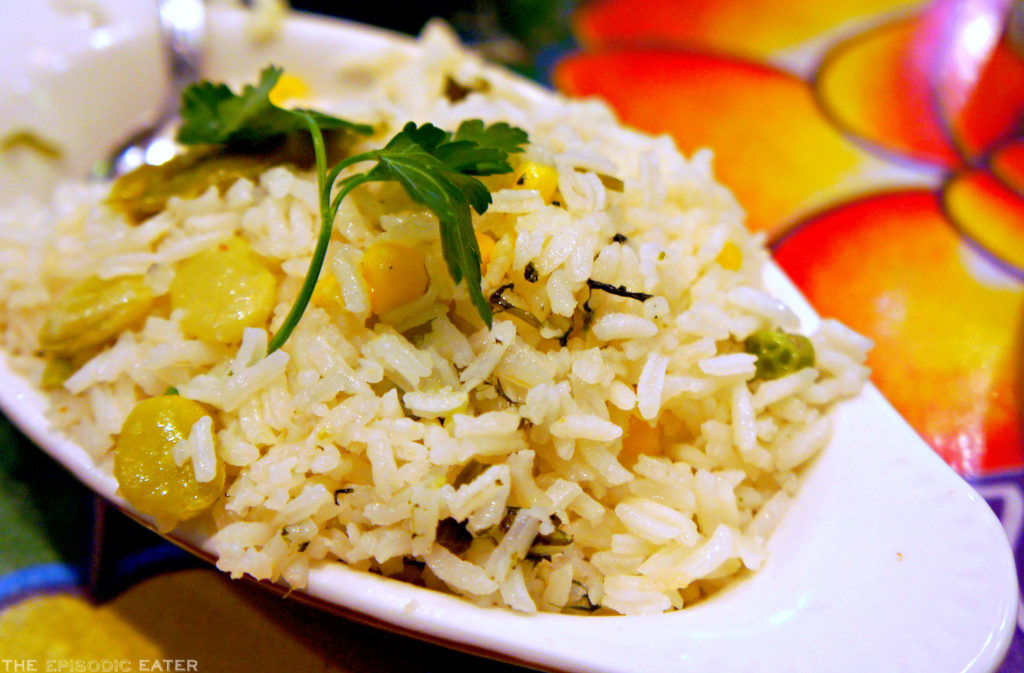 And as much as I loved all three of the reddish ones…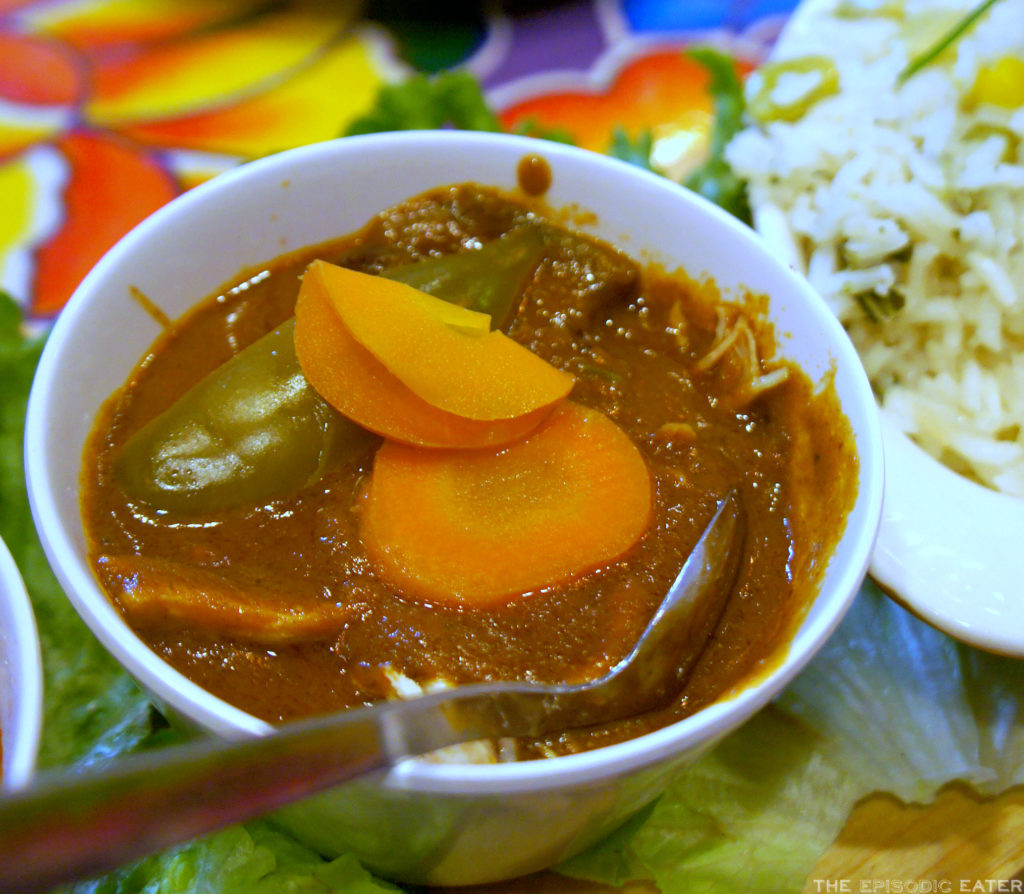 …the black mole had to be my favorite.  The inky black, almost purple color, has been a welcome sight since childhood, when I used to eat my favorite Filipino squid ink dish by the plateful.
However, this is not at all the salty, briny flavor of squid ink.  It is chocolatey, sweet, and nutty.  Absolutely delicious, and worth taking a bottle home.  🙂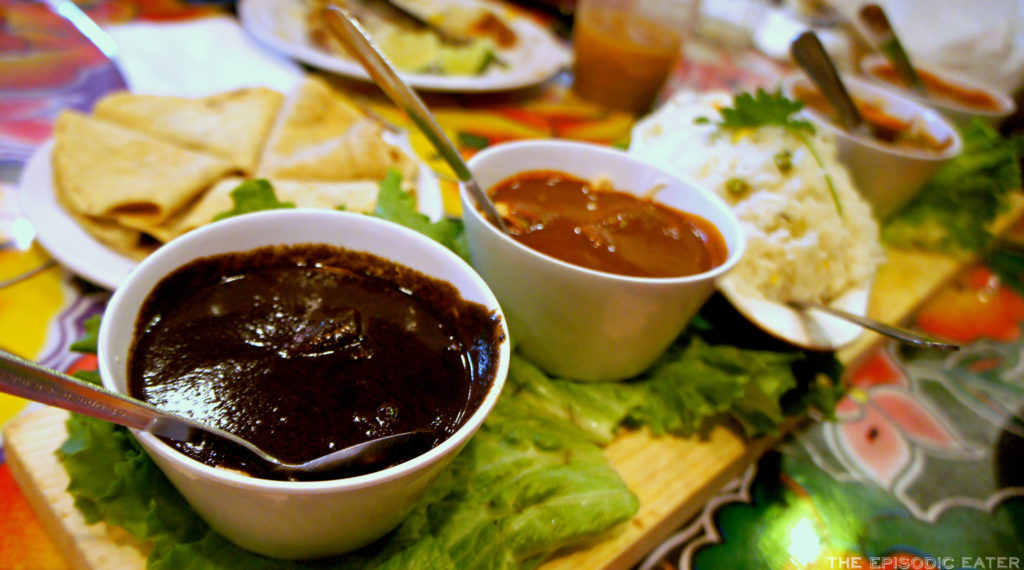 As I spooned each mole on to my plate, making sure that that they didn't touch, I realized that it was impossible.  Although each flavor is delicious on its own, it was still great in the middle sections where mixing was inevitable.  It's just little like this melting pot of a country we live in and this city that we love, L.A.
In so many of the movie's scenes, we see how much Jonathan Gold respects and adores this city, enjoying each flavor that it holds.  And you know what?  It loves him back.
We hear from Bricia Lopez of Guelaguetza, Jazz and Sui of Jitlada, and Genet of Meals of Genet, and how one of his reviews changed their lives.  They are all ambassadors of their ethnic foods (Oaxaca, Thai, and Ethiopian, respectively), and they all have the utmost of respect for him.  Perhaps it's his willingness to immerse himself completely in each dish.  In scene after scene, we see him surrounded by books, researching and poring over every minuscule detail of his experience.  How can we not respect someone who is so committed?
Interesting fact: He ate at one restaurant seventeen times before writing a review.  I still have 5 more to go at Maude… 🙂
chocolate cake topped with cheese flavored flan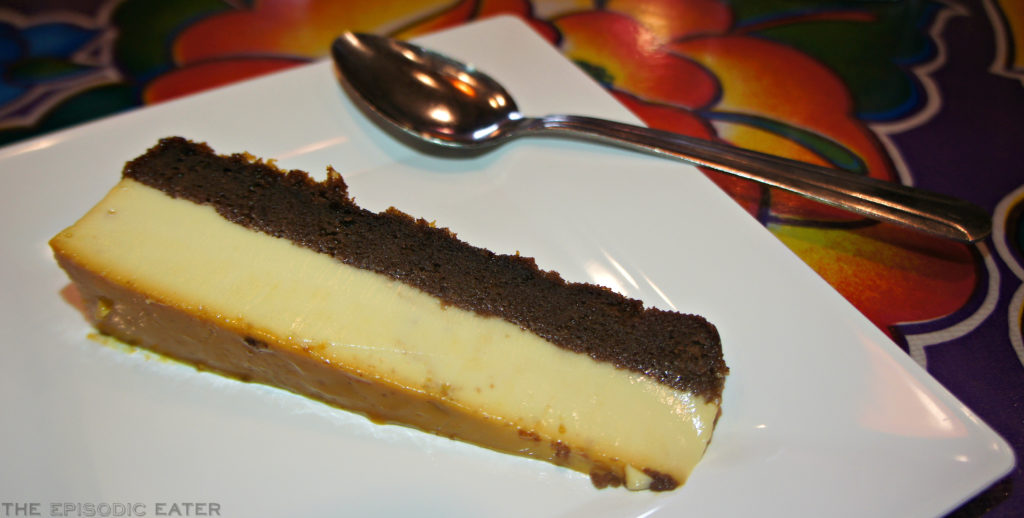 By the time dessert rolled around, everyone was happy and full.  The tiniest sliver of chocoflan made its way to the table and it was just enough.  I ate every bite, but I must admit that I was more focused on summoning my courage to take a picture with Jonathan Gold.  I've interacted with my fair share of celebrities, chefs, and celebrity chefs, but this was a big one for me.
Just before he snapped the pic, I talked to The Offalo, the only other anonymous blogger I know.  We chatted about whether or not it was possible to stay out of the limelight, and we wondered if it was more of a chore now to keep such a huge chunk of our lives secret.  We have no desire to become "Insta-famous," but not having to untag myself from every picture would be nice.  While I have given away my first name, he still remains completely nameless and also faceless.  Nowadays, we are both approached regularly to photograph food and even write about it.  (Side note: he's recently written a couple pieces for the L.A. Times now, so he's in the big leagues now, whether he likes it or not!)
I knew that once he took that photo, I would have to unmask myself the best way I knew how… with the man who remained anonymous for so many years.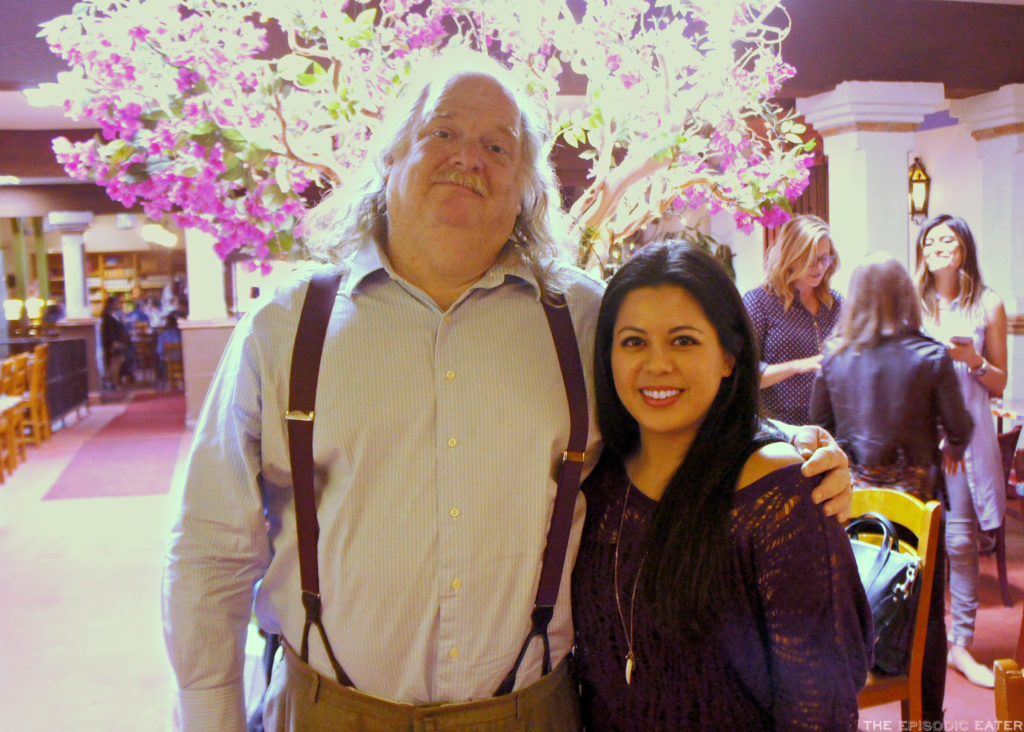 So from both Jonathan Gold and me, hello!  I hope to make your acquaintance soon face-to-face, perhaps over lunch?
P.S. – I would normally crop out other people, but I had to include filmmaker Laura Gabbert and co-owner of Guelaguetza, Bricia Lopez, in the background.

P.P.S. – See City of Gold out today!
Guelaguetza Restaurante
3014 W Olympic Blvd
Los Angeles, CA 90006
(213) 427-0608
www.ilovemole.com