Before I even started The Episodic Eater, I was all about the food trends and trying everything new.  While boba in Southern California is more of a staple and less of a trend, and food trucks exploded here several years ago, there is something completely fresh and new about the Milk + T's boba truck. What is it?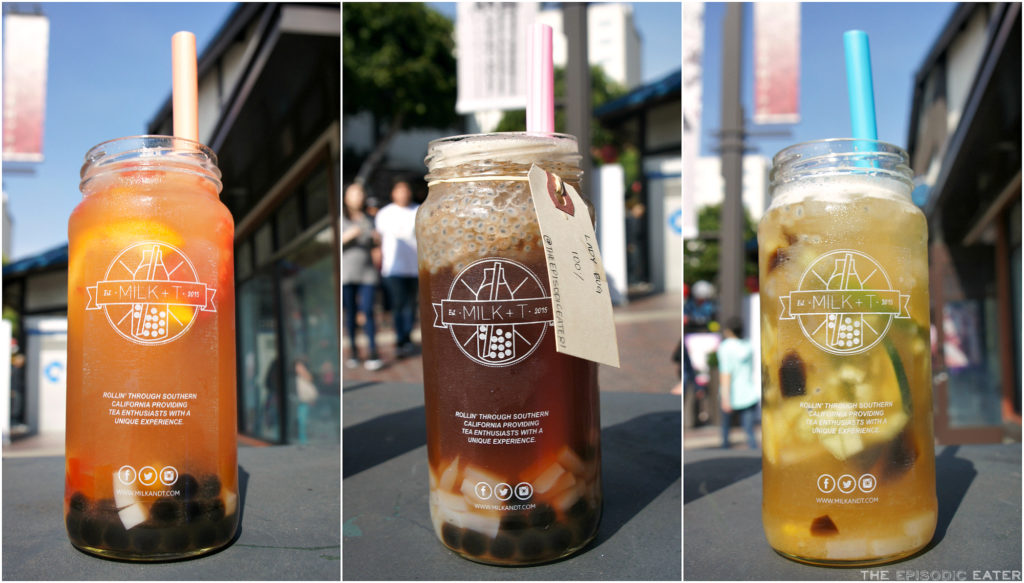 MILK + T is a self-serve boba truck, a completely new concept to me.  In fact, it is the first one in Southern California.  Also, the other fresh concept here is… its freshness!  MILK + T uses real fruit and sugar, lactose-free milk, and other natural ingredients because it is committed to delivering the best product out there.  🙂
As you can see below, it's making a buzz and people love the concept!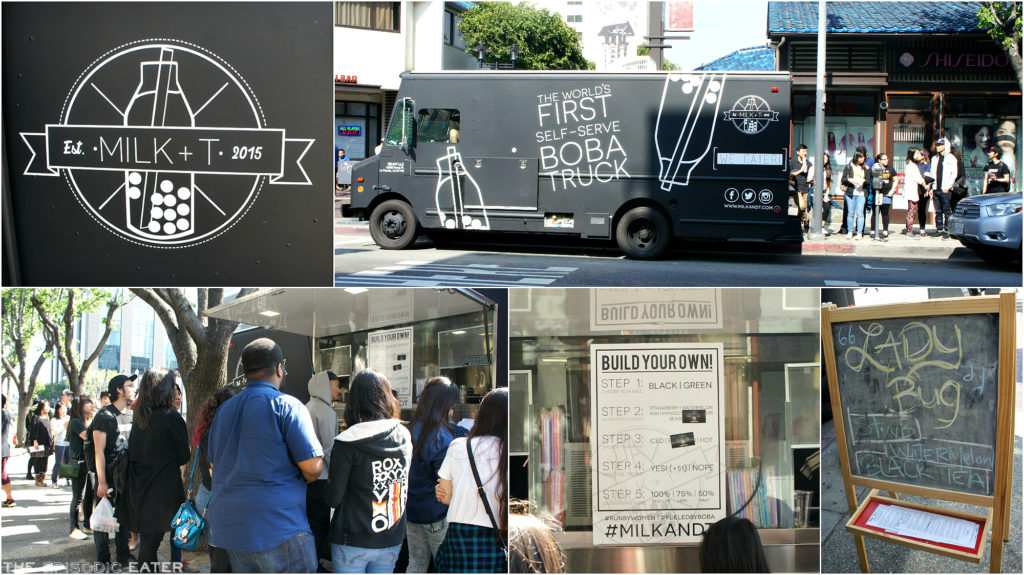 I tried three drinks, and all of them were completely different!  Let me give you the rundown…
First, you order one of the drinks from the menu or you can build your own from scratch.  I chose a couple off of their Top 10 Menu, plus the daily special, the Lady Bug.  Then, they hand you a jar and you proceed to scoop up your ingredients.  Besides boba and various jellies, there is fresh fruit and even chia seeds and basil seeds.  Then, you place your finished jar at the other window, and wait for your finished drink!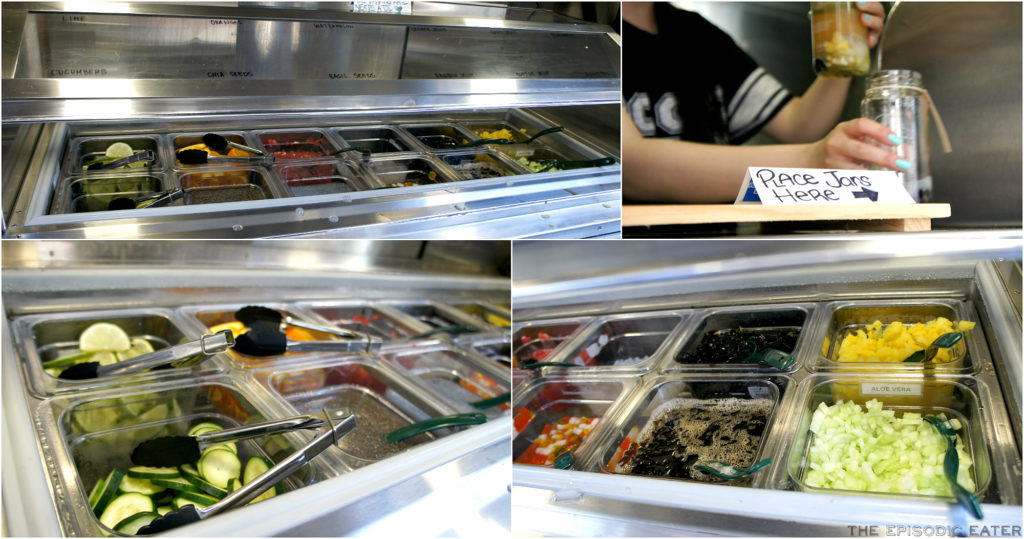 And voila!  Something tasty gets placed back in the window in a jiffy.  🙂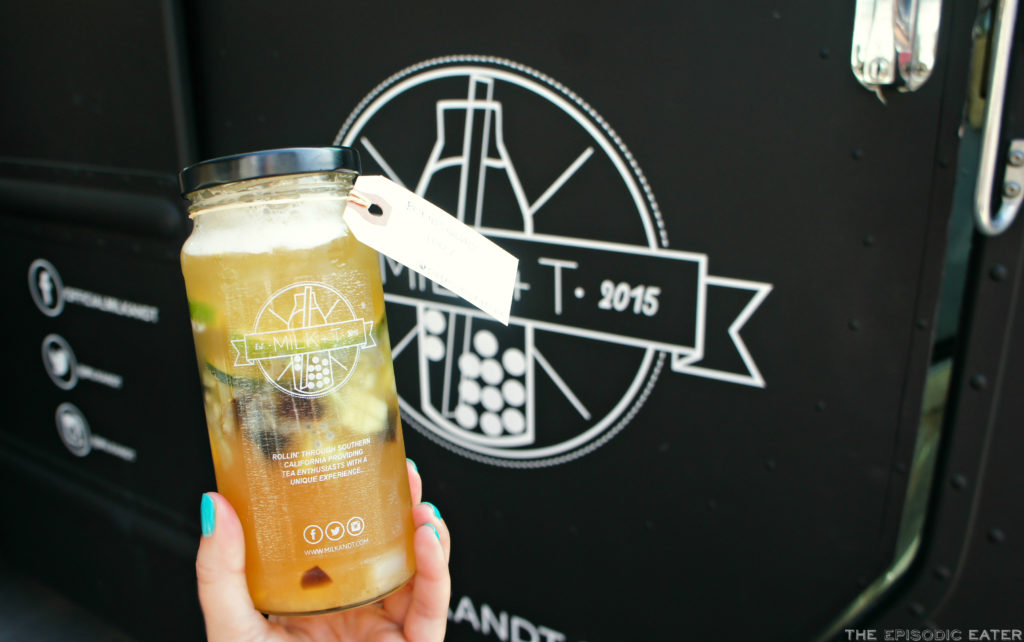 All three ended up looking and tasting so different, just from the few ingredients I added and the teas and syrups they added as well.  It's like a fun little science experiment!
Let me describe each one…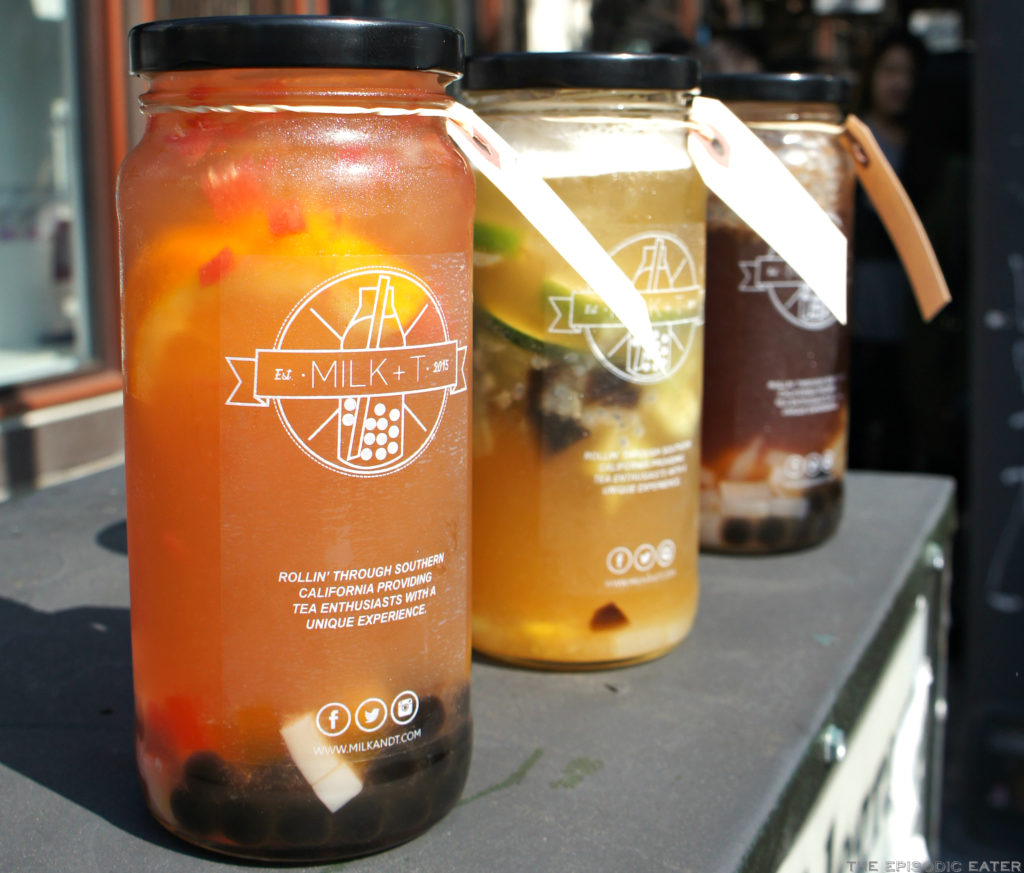 Equality | Mango + Strawberry Green Tea
Equal parts of housemade mango and strawberry syrup and green tea. Pairs well with: Brown Sugar Chia Seeds
Bombsquad
An explosion of fruit flavors with housemade simple syrup and green tea. What fruit flavors you ask? Well you'll just have to guess.  Pairs well with: Your favorite fruit bits!
Lady Bug | Strawberry + Watermelon Black Tea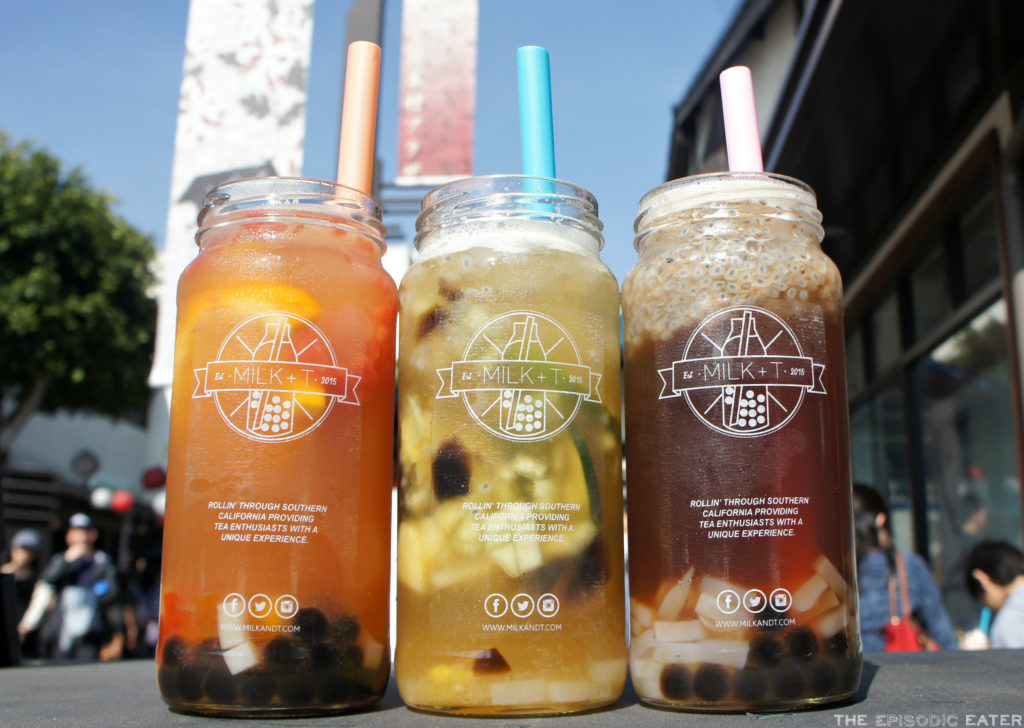 Personally, my favorites were in the order as shown below: Equality, Lady Bug, and Bombsquad.
The fresh watermelon, rainbow jelly, and boba added to the mango and strawberry syrup in the Equality was easily our favorite!  It was fresh, sweet, and the one that was finished up first.  🙂
The second favorite, Lady Bug, was fun because I added basil seeds to the mix.  SO delicious!  In fact, this could be my favorite on days when I want something a bit more subtle in flavor.
Lastly, the Bombsquad was in third place, only because I loved the other two more.  Also, I added cucumber and lime, which makes a bit less sweet… and we all know about my legendary sweet tooth!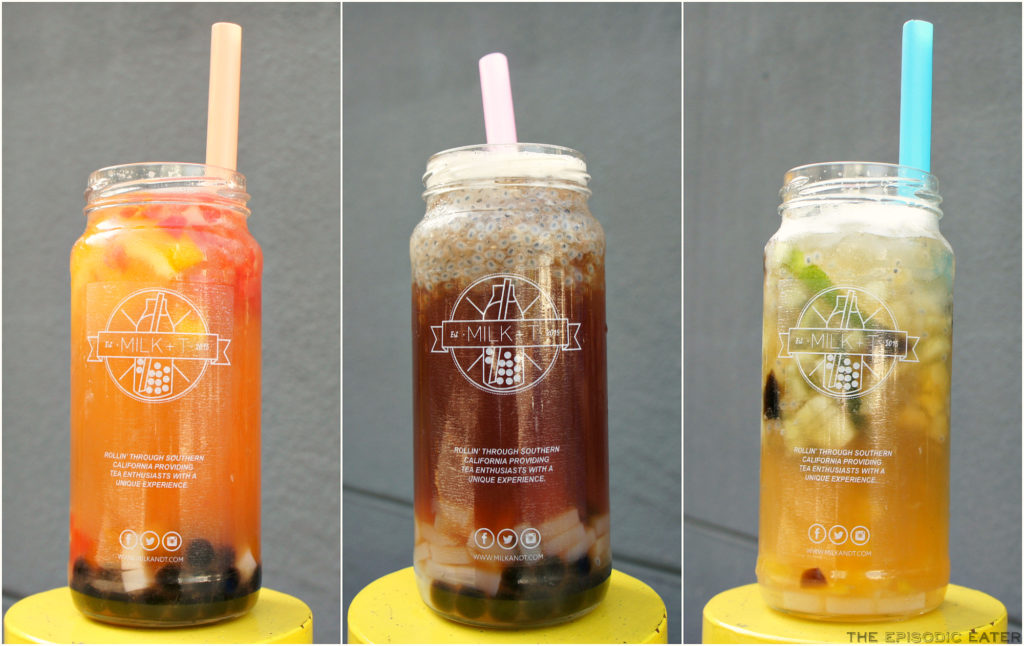 It was an incredibly fun experience putting together my custom tea, and I cannot wait to stop by again and try some of their milky varieties!  Until then, cheers!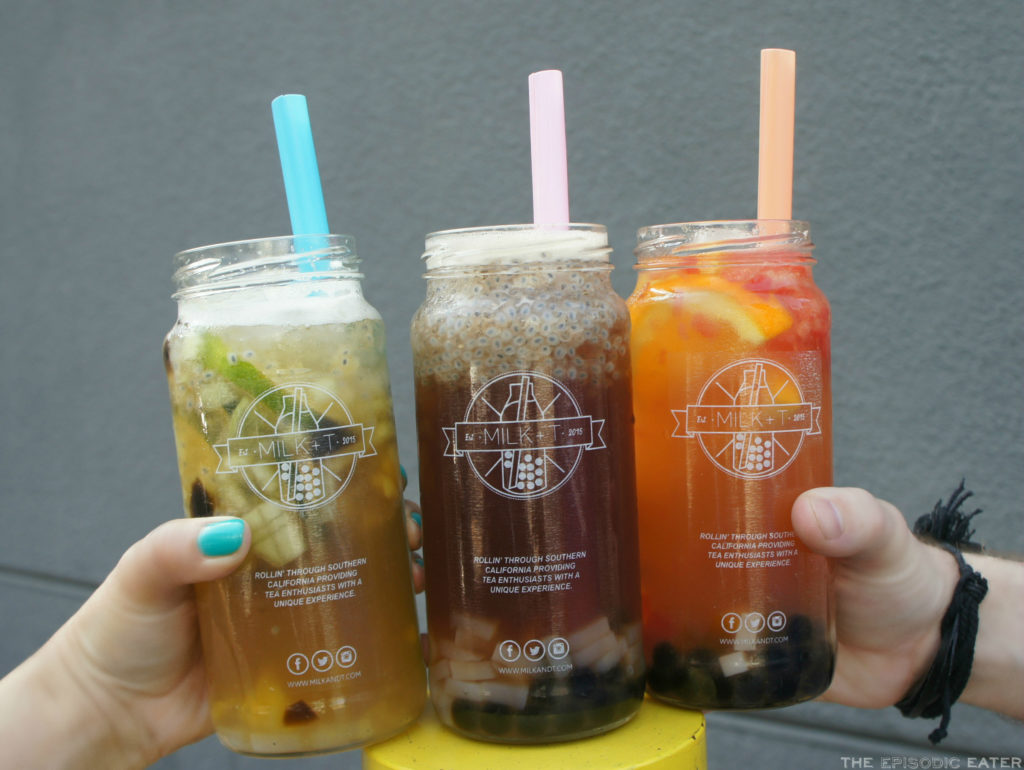 By the way, The Episodic Eater is new on Snapchat!  Make sure to follow me at @episodiceater for more new food adventures!
Milk + T
343 E 2nd St
Los Angeles, CA 90012
* For current location see milkandt.com
(323) 884-1164