This year is starting off with a bang, and I wanted to share with you one place that I've heard about for a while now, but hadn't visited until now: Rock & Brews!

When I heard that co-founder Gene Simmons was going to be at the Rancho Cucamonga location, I prepped myself for a trek to meet the rock god! The atmosphere and the decor is exactly what you would expect from a place called Rock & Brews: cool and relaxed, but still lively! The bar in the back was where more of the party was going on, but I decided to take a look at the menu first…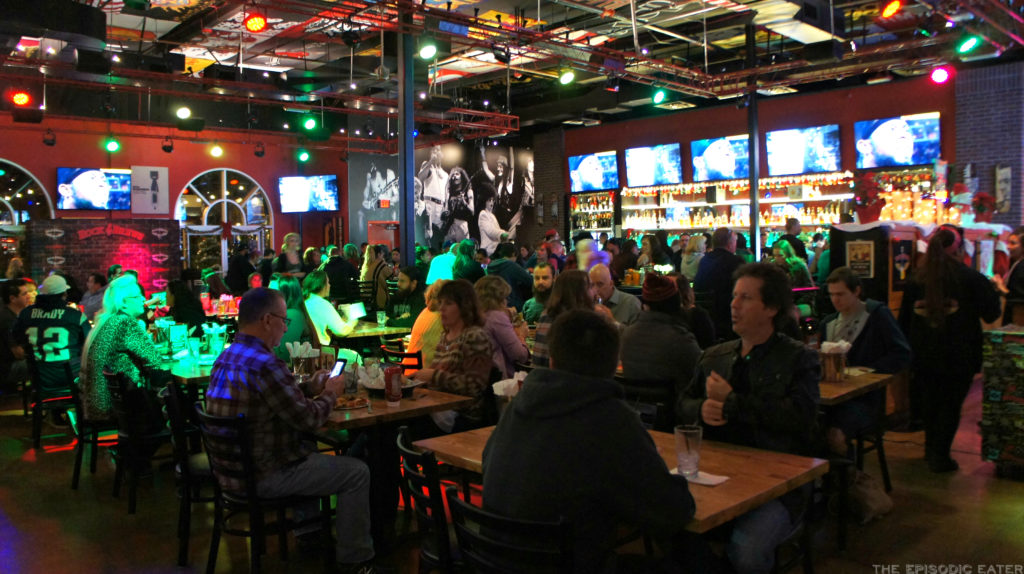 So, I'm not going to lie. When I heard that the restaurant was co-founded by Gene Simmons, I thought, "He's a cool guy, I love his music, he seems so awesome in interviews, but… a restaurant owner?" Then I saw that the menu had just about everything on it: wings, salad, pizza, grilled items, burgers, sandwiches, and desserts. Typically, large menus signal mediocre food, but I was wrong!
I was honestly surprised that I really liked everything I tried. Seriously, I thought the wings were top notch, the desserts were SO good, and I really liked the pizza. There are pizza places that don't make a crust as good as Rock & Brews'! But I'm getting ahead of myself, so let's look at all the dishes!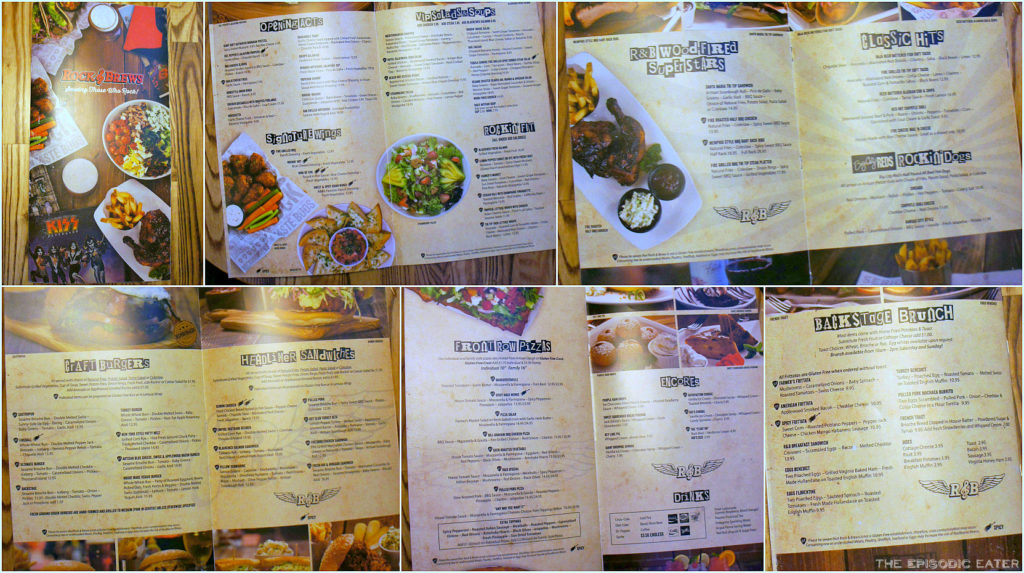 Sweet & Spicy Asian Wings
with Ranch Dressing & Fresh Vegetables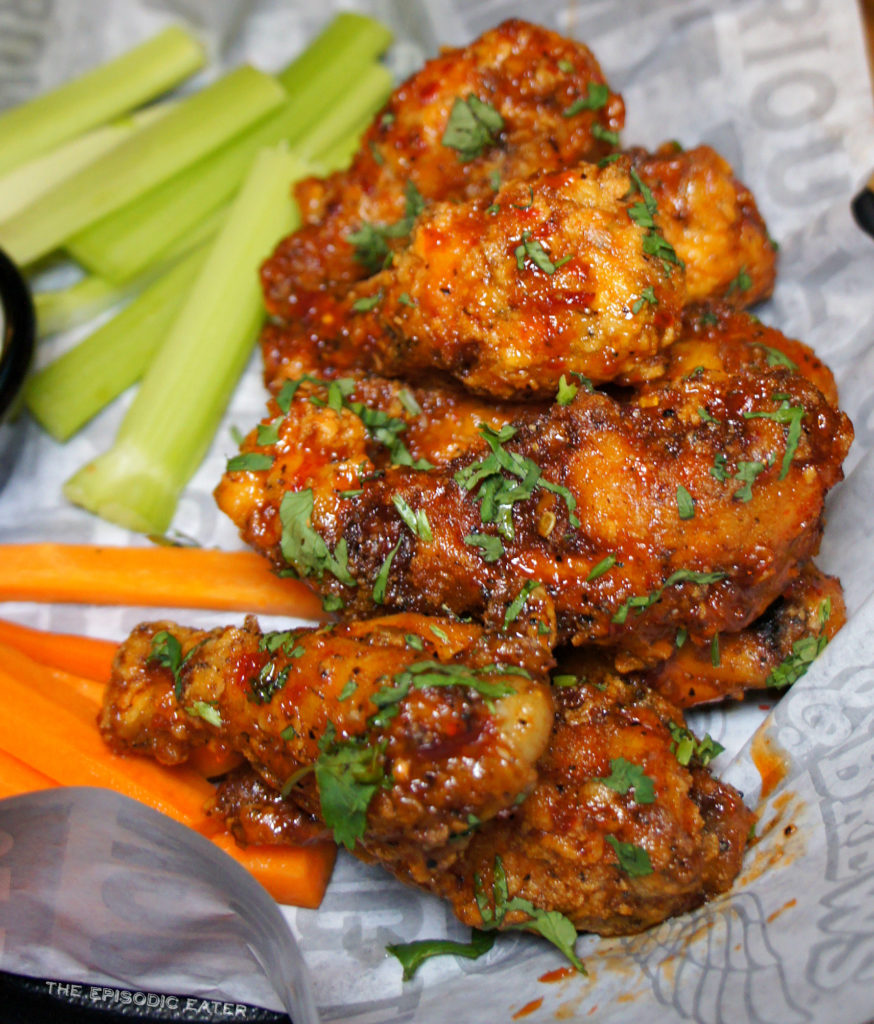 I'm almost upset right now that I have to look at this photo without having a wing in my hand right now. The outside is perfectly crunchy (and actually stays that way for a while) and the sauce is downright craveable. On the menu, they say that it's a customer favorite, and you can count me in too!
Garlic Cheese Toast – Tomatoes & Basil – Balsamic Vinaigrette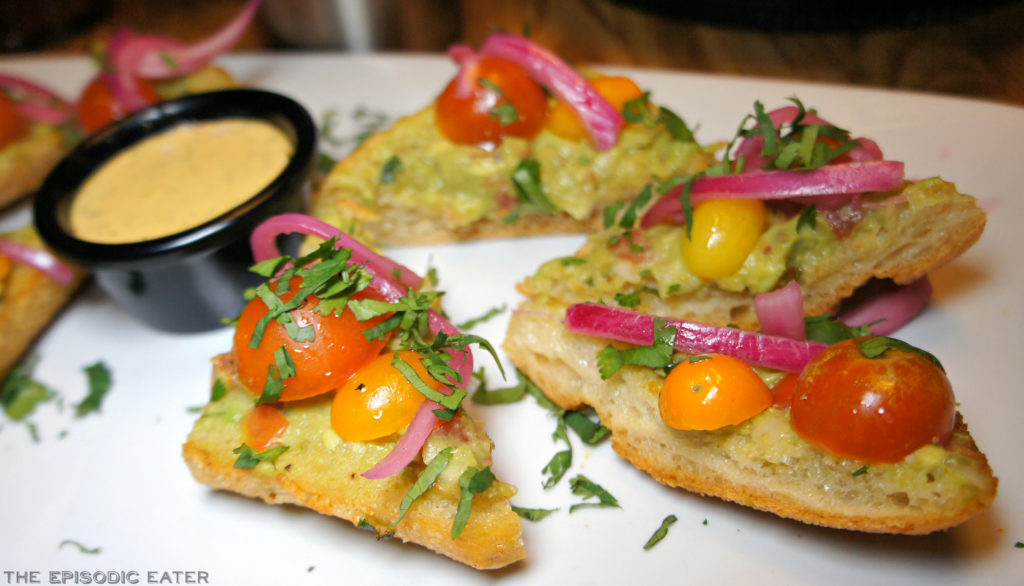 Bruschetta from a brewery? In this case, YES! It's just good, plain and simple. I barely got my photo in before everyone swarmed around the plate and demolished it. I don't blame them. 😉
Sgt. Pepper's Jalapeño Poppers
Handcrafted – Chipotle Ranch
So I saw these on the menu and could not help from ordering them, and there SO many on the plate I ended up having leftovers for the next two days. Fresh, these were great with the oozy cheese and that AMAZING chipotle ranch. The next day, I swear that they were just as good out of the toaster oven. Crazy! Seriously, the best jalapeño poppers I've had in a while, I might get two orders next time and make it a jalapeño popper WEEK!
Roasted Tomatoes – Garlic Butter – Mozzarella & Parmigiana – Torn Basil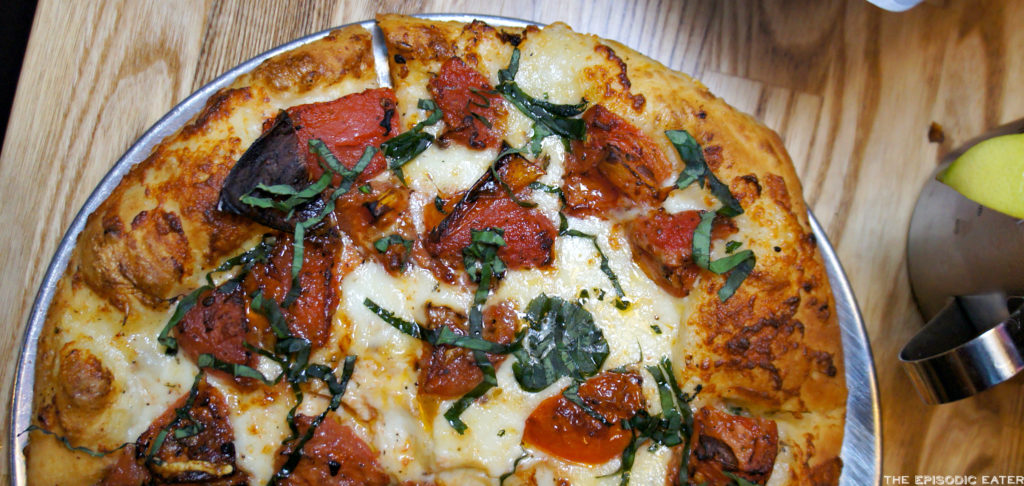 Hands down, this is my favorite name of a dish on the entire menu. Oh, by the way, about half of the items are some kind of pun in reference to a band or a song… and I love it. 🙂 Back to the pizza! I already mentioned that I thought the crust was absolutely on point. And yes, this isn't going to be your typical Italian-style Margherita (which I also love, of course), Rock & Brews is going to kick it up a notch! The roasted tomatoes definitely turned it up to 11.  I also tried the Bill Graham BBQ Chicken Pizza, and that was just as stellar, so their pizza game is strong!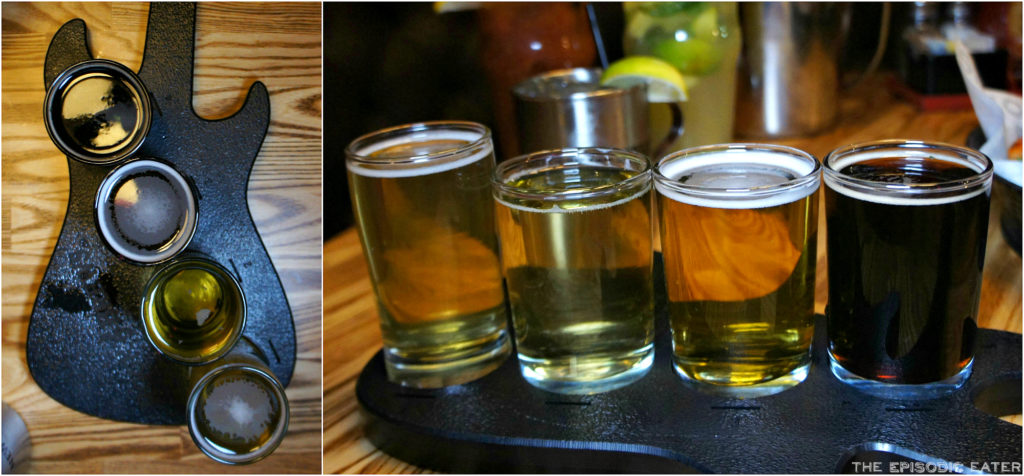 They had a huge selection of brews naturally, and I'm totally in love with their flight board! Beerface McGilicutty had a great beer there, which he reviewed in his January Beer Review. Check it out!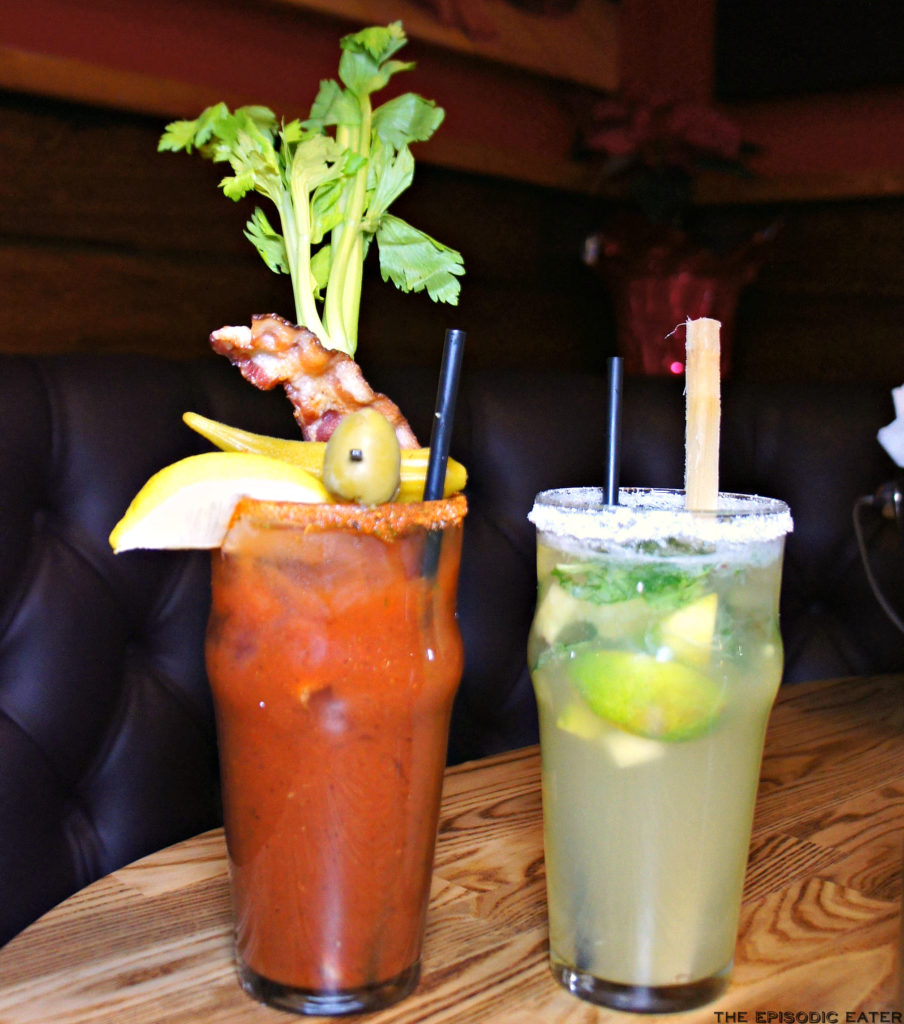 Seriously, this picture tells the story. Bloody Mary's and Margaritas galore! Next time I'm going to have to explore the cocktail menu a bit more.
Sesame Brioche Bun – Double Melted Swiss – Sunny-Side Up Egg – Bacon – Caramelized Onions – Baby Greens – Tomato – Garlic Aioli
This was yet another Instagram-worthy photo. Am I right?! I actually didn't attack this bad boy myself, but I heard good things. As for me, you know I had to keep it spicy…
Demon Chicken
Fried Chicken Breast tossed in Fire Sauce – Pepper Cheese Spread – Chipotle Slaw – Marinated Red Onions – Fresh Jalapeños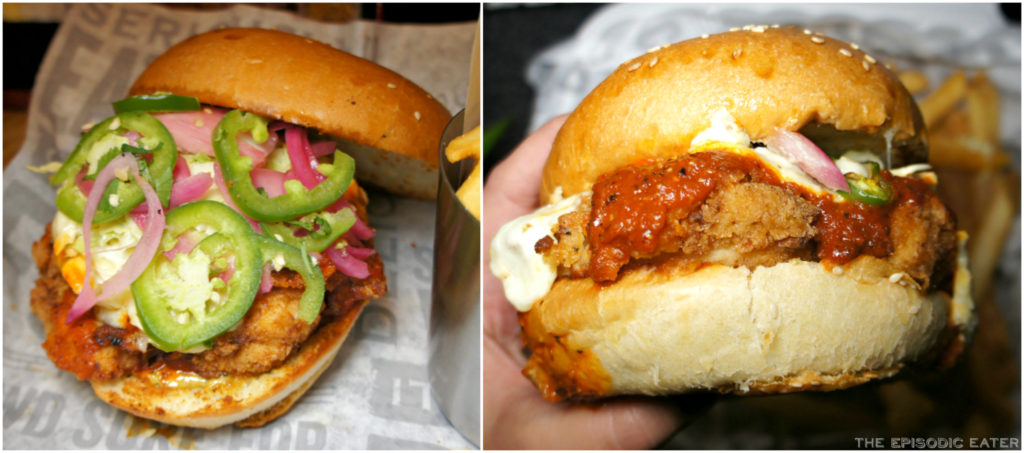 … and the Demon Chicken sandwich did NOT disappoint! That Fire Sauce actually challenged my tastebuds! So often, I hear that something is supposed to be hot, and I get nothing. -_-  Honestly, my mouth is watering right now thinking of it… Anyways, the whole sandwich together was so good, especially the fried chicken patty. Yum!
Key Lime Pie
Whipped Cream – Fresh Lime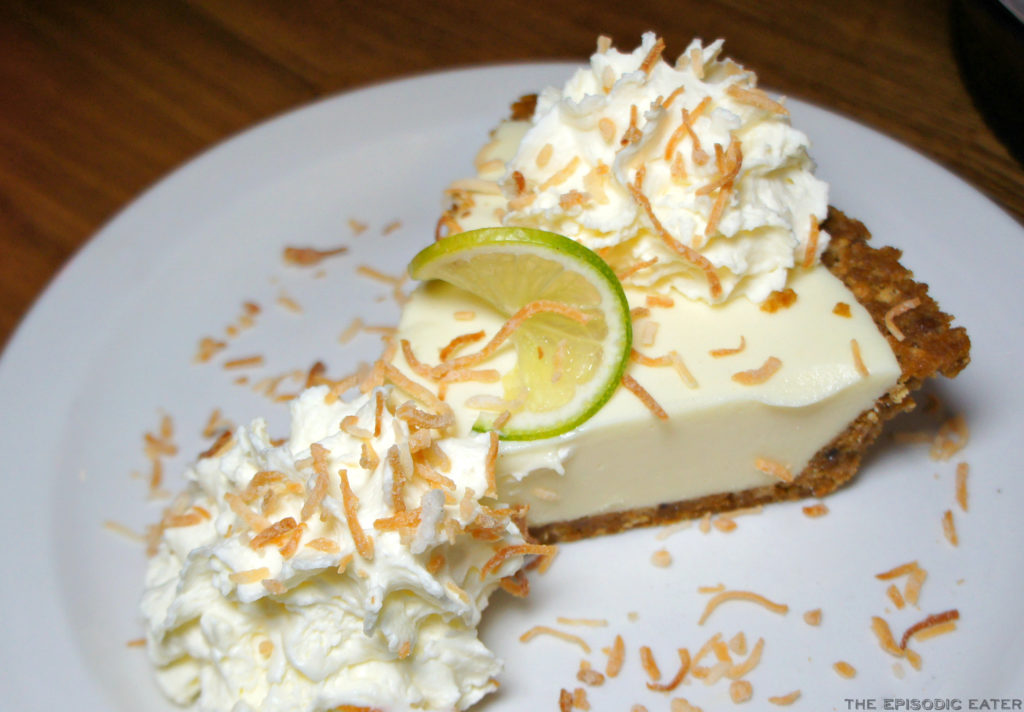 I really didn't think of eating dessert, but when out it came, I was excited. 🙂 Besides, key lime pie is one of my favorites and this one even looks like perfection!
Chocolate Filled French Donuts – Drizzled Raspberry Sauce – Whipped Cream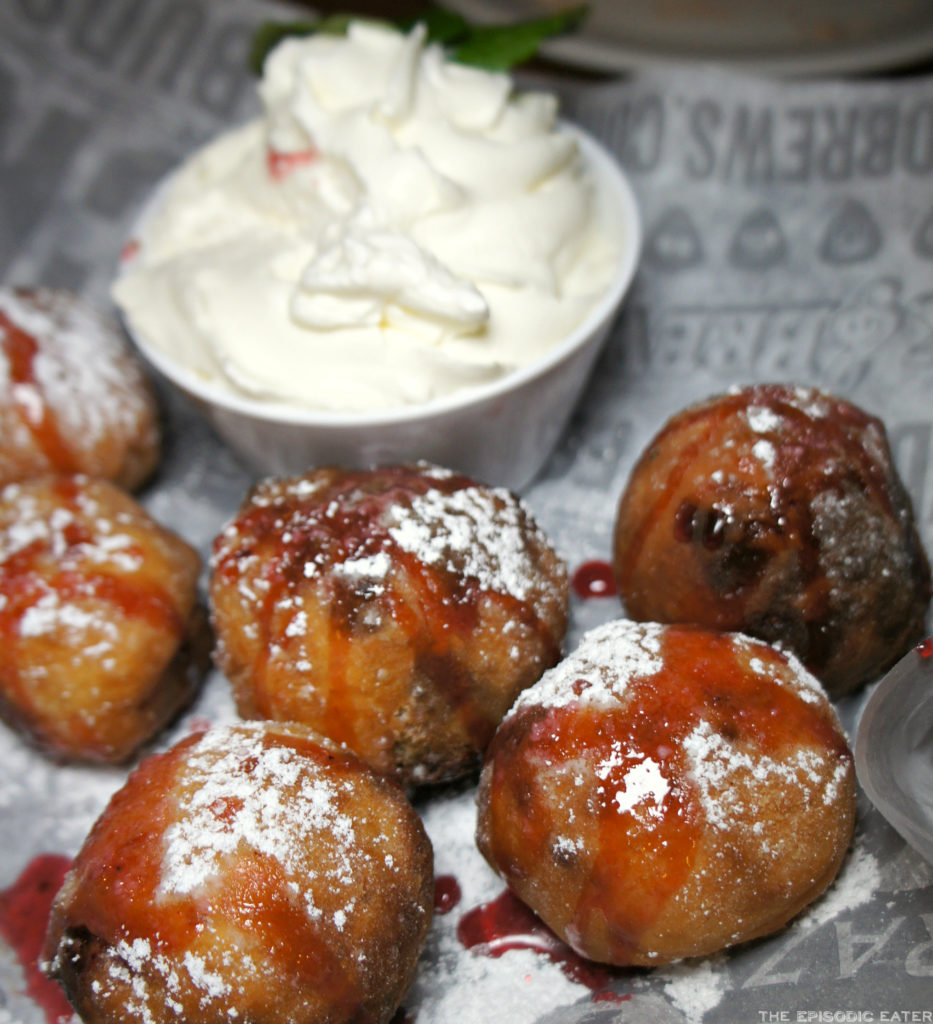 So you know when a dish comes out and there are like six pieces, so you do a quick scan of the table to see how many people are around, to see if you can grab that second piece? That was me. And yes, my quick counting skills were rewarded.  🙂
Besides being named for one of my favorite songs of all time, I REALLY loved this. For some reason, by the time we attacked the donuts I forgot that there was chocolate in the middle, so when I bit into it, it was like a heavenly surprise! I rarely order the same dish twice at a restaurant, but this will definitely be one for next time too!
P.S. – I feel like they should edit the menu to say "Drizzled Raspberry Beret Sauce". Yay or nay?
**********
Overall, I was really impressed by everything I tried, and Rock & Brews combined my love of comfort food with music and puns. Who could ask for more?
Rock & Brews Rancho Cucamonga
12225 E Foothill Blvd
Rancho Cucamonga, CA 91739
www.rockandbrews.com
(909) 922-8586